New unstained or natural wood tones are cropping up in kitchen designs everywhere, and I think they will have a bit more staying power because they are lighter and more natural looking. Here's why these new wood kitchens work.
I've received a lot of requests lately for this post about an unstained wood kitchen so here it is:
A classic white kitchen will always be my first choice. But since white kitchens have (happily) been trending in the last 9 years since the fresh (grey) trend happened (and the average trend cycle lasts about 10 years) … well, there are naturally those who are looking for something new or different.
And guess what? There's a whole new look for wood kitchens, and it's so much fresher.
The new look of natural wood tones.
Lots of recently designed wood kitchens I have seen, manage to sidestep the main issue with traditional ones: dated stains and finishes that are intended to create a "rich" look like cherry, golden oak or espresso tend to look heavy, dark and overly formal.
And I've talked a lot about how a particular stain will date a kitchen quickly. For example, although there are outliers, generally, golden oak kitchens peaked in the 80s, cherry and orange maple wood kitchens 10 years after that, and then espresso kitchens had their moment in the early 2000s. They look like relics of their decade, and this is why I caution against installing a wood stained kitchen.
Should you paint your cherry cabinets? Read my Third Rule of Design: Expensive Does Not Equal Timeless
Right now, the wood stain that will be associated with this trend at the moment is anything grayed, weathered or "reclaimed".
It's much more difficult to guess the date of white cabinets, unless a trendy backsplash gives them away.
New ashy (cooler), unstained wood tones are cropping up in kitchens everywhere right now, and I think they will have a bit more staying power. Here's why.
First, they are lighter, airier and more natural looking, which has broad and enduring appeal.
Second, they are much less likely to be combined with busy earthy granite and tile which is what made the dated warm wood kitchens and made them so heavy and hard to live with.
In the nicest current wood stained kitchens, there is a beautiful balance of natural wood tones and crisp white.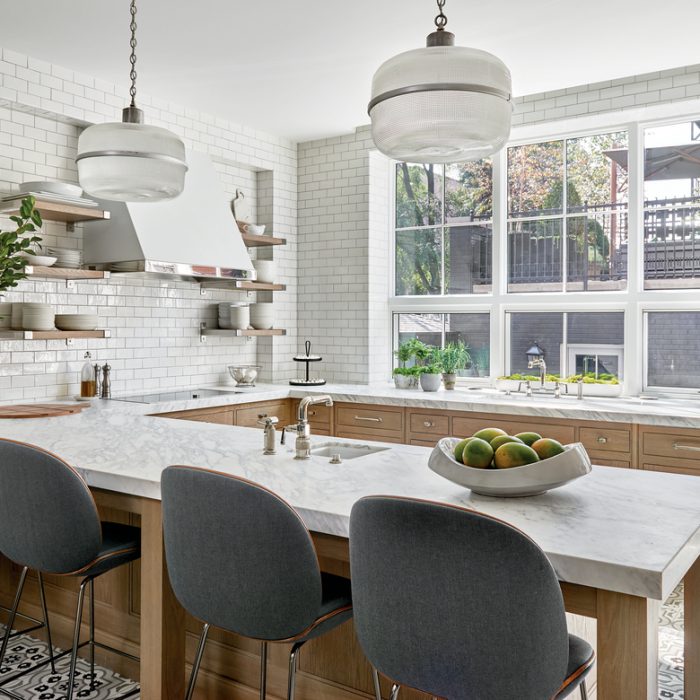 Natural Oak and White Kitchen via Luxe.Daily
Here's the pretty butler's pantry from the same kitchen below.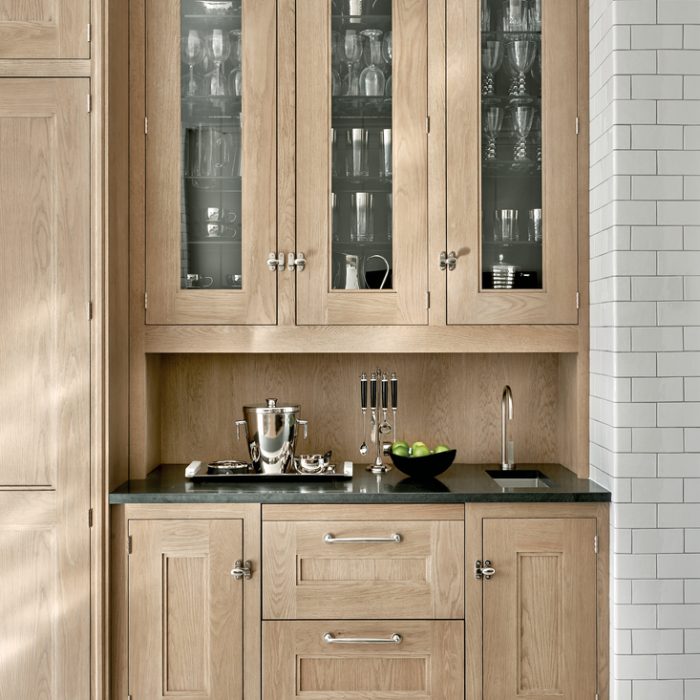 And I've always said that the way to make a wood stained kitchen look fresher and more timeless is to install a white countertop and backsplash.
More Modern Natural Wood Tones
Because of technological improvements, wood finishes don't yellow the way the old lacquers and alkyds did. These new natural wood tones are not just a passing trend, but a new classic. They are prettier because you can clear coat them without creating a warmer yellow cast. This allows the wood to look as fresh as when it was cut.
It's the same with the current natural, unstained oak floors. They are just as classic and neutral as a pale maple or medium brown walnut. It's when they are grayed or overly rustic that they become more of a fad and eventually dated.
People are looking for fresh, light and casual. And natural light wood tones fit the bill perfectly, while still providing some warm earthiness to a light and bright space. The new wood finishes are grounding but not stuffy or heavy.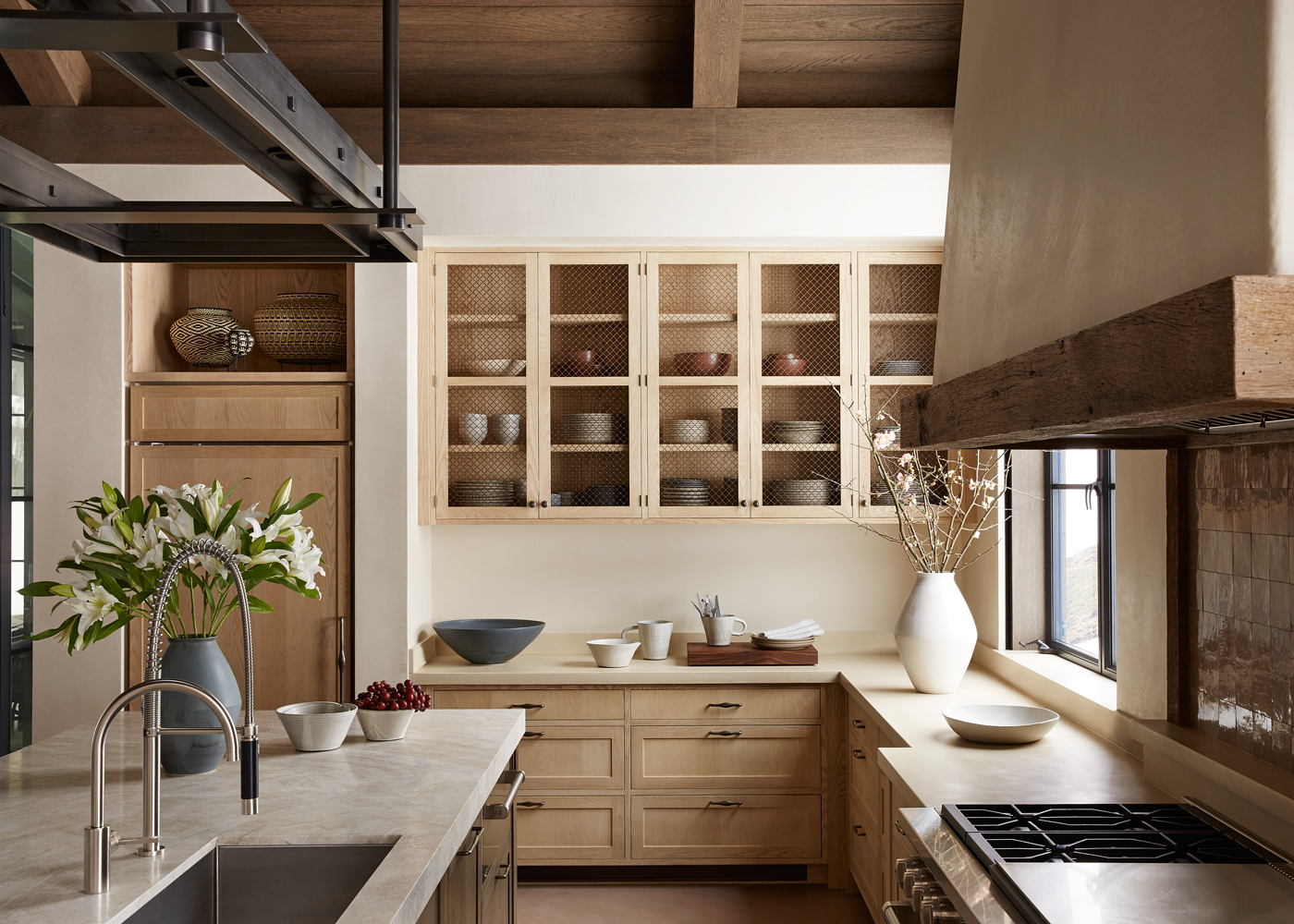 Incorporate lots of fresh white and cream with your wood tones.
I don't think the gold, orange and red wood stains of decades past will have time in the trend spotlight again anytime soon, but unstained wood has enduring appeal, it feels fresh and modern.
A little bit of wood or wicker is always pretty in a white kitchen and it's also true that what makes a light oak or maple kitchen just right is lots of crisp white. While grey or soapstone countertops can also look pretty in a light wood kitchen.
But, there should really be a white backsplash and nice light walls to balance it out.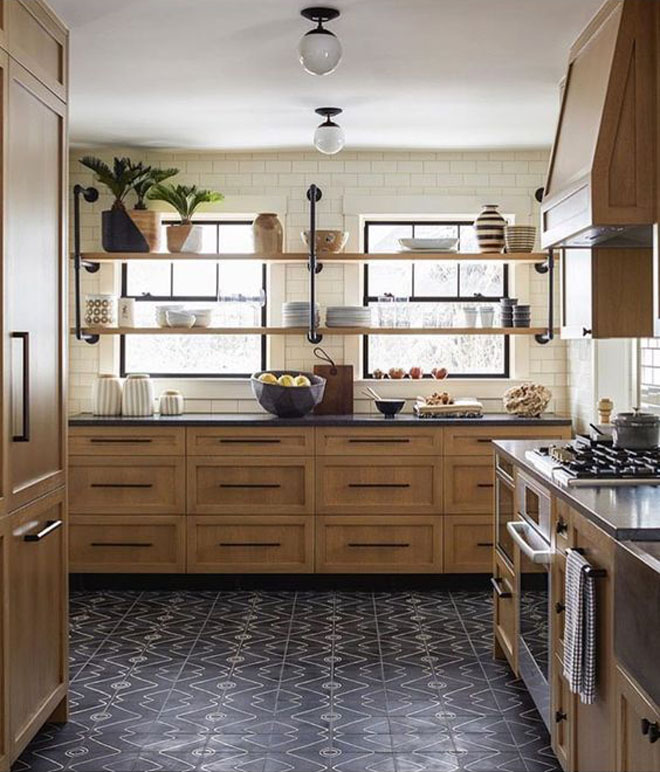 via Hernandez Greene
Here's another pretty rift oak kitchen with soapstone counters and a brick floor (below).
So, if a wood kitchen is your thing… natural, unstained oak or maple is what I recommend — along with lots of fresh white and maybe some soapstone, which I've been seeing a lot of lately; another trending classic.
Beware of Gray Wood Tones
A word of caution however, look for a truly natural looking finish and beware of anything with a gray or taupe cast, or anything that looks overly rustic. These details are part of the gray trend and will soon look dated.
I also think that cerused wood could come off as dated in time just as the pickled oak of the 80s did. In other words, the more natural the better, keep it simple.
If you like a gray wash, cerused or rustic feel to your wood, indulge instead with a furniture piece, just not your custom kitchen cabinets.
After all, the goal should be to only design your kitchen once and love it forever. #amIright
So over to you my lovelies, what do you think of the new look of wood kitchens?
P.S. OMG I keep forgetting to tell you that I won second place in the Best Design Influencers Award with Modenus! And that's because of your votes, thank you so much!!
I love my readers, ya'll are the best, truly! I am so grateful for this amazing community!
Want to download my "Exclusive Guide To Timeless Wood Flooring?" Click Here
Related posts:
White Kitchen Cabinets for the Most Timeless Kitchen
Ask Maria: About Kitchen Cabinet Uppers and Lowers in Different Colours