Okay the first of the two bathrooms I renovated last summer is finally here. Those of you who have been following me on my Instagram and my stories would have seen it already! This is our main bathroom:
Here's the bathroom before:
All our towels are stored in the cabinet beside the vanity and we still needed that storage but I didn't like how bulky it looked, so my good friend Jan Romanuk helped me design a much better, attractive vanity with towers on both sides instead.
This was how it looked for the last 5 years since we moved in, styled up, it worked for the interim:
And here it is now! Don't get hung up on the green paint colour, you may or may not like it (and it looks brighter in the photos because there's no natural light in here), but notice that because the hard finishes are black and white, the paint colour can easily be changed at any time.
When I say 'All bathrooms should be white or cream' this is what I mean. Keep your bathroom finishes classic and timeless and you'll love your bathrooms much longer than if you use the most current, trendy accent tile.
Why?
Because as much as you'll love it now, you might fall out of love quickly when the next trend comes along.
Related post: It's a Charcoal Tile Intervention, Don't Miss This One
After – Floor Carrara with black diamond Ann Sacks | Cabinet, BM Chantilly Lace
Terreeia wanted a walk-in shower, and we have a tub in the master bedroom so that worked. For re-sale, I wouldn't recommend removing every tub in your home, people need them to bathe their kids and who doesn't like to have a tub after a long day?
Here's what I've decided about bathtubs, now that I have the most beautiful master bathroom in the world (that post coming up shortly) if you don't bathe, it might be because you have nothing pretty to look at.
I love to take baths, but I certainly didn't when we had this pink beige insert (below), and our master tub (which you'll see very soon) was a huge jacuzzi tub for two, so this was my only option.
Here are my two niches for soap and shampoo:
And here's the before of the other side:
And here's the after. Now that I have large drawers in the vanity, there's lots of room for towel storage along with everything else that a main bathroom has in it.
The 4″ backsplash is pure white Caesarstone and the rest of the frame is millwork. You'll notice I only repeated the black and white floor in the quartz countertop because I knew my black and white framed artwork was coming back into the bathroom.
I've said this many times, but black quickly becomes too heavy and takes over visually. A little black goes a long way!
One more thing to notice is that my faucets are not higher than the backsplash. If you're doing a bathroom renovation, take a look at your inspiration pictures and you'll notice that this detail looks good.
Photography by Barry Calhoun
For those of you who have not toured my house, this is the hallway you can see in the mirror (above):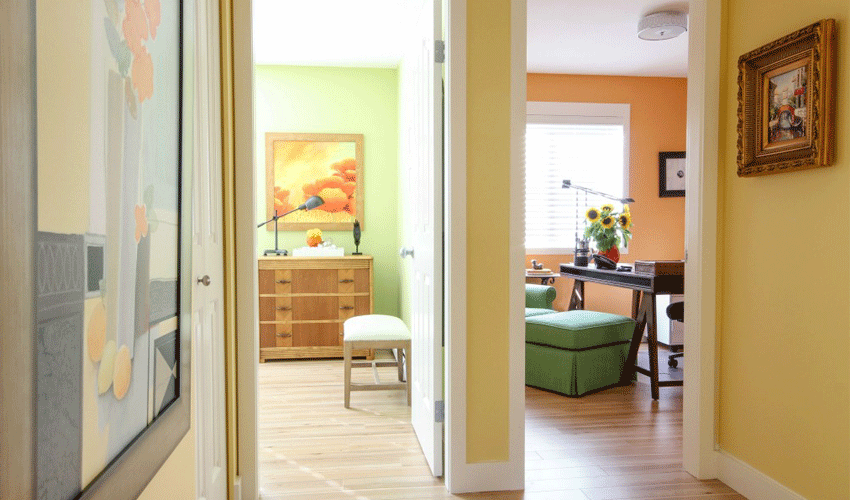 Here's the before again;
And the after:
After
We're pretty happy to have a brand new main bathroom!
If you'd like your bathroom to fill you with happiness when you walk in the door, take advantage of our Create a Classic Bathroom eDesign bundle here.
If you'd like to get your whites right, download my White is Complicated, a Decorators Guide to Choosing the Right White here.
Related posts:
Maria's Bathroom Renovation Plans: Lighting and Vanity Design