I'm so excited to share the before and after photos of my wonderful client Crystal and her husband Rob who live in Promontory Hill in Chilliwack. We renovated and decorated the two top floors of her house over a year ago now, and the main floor will be published in May (can't wait to show you those images).
This is their forever house and when you see their view, you'll understand.
We totally updated the house from the Tuscan brown trend to a way more classic and timeless look.
Pottery Barn Duvet (similar here and here) Art from Maria Killam Inc. Rug no longer available
Crystal and I were so happy when her husband shrugged and said he had no problem with introducing pink to these rooms!
Since cognac is a great colour to ground pink, I introduced it in the custom made upholstered bed. And we created a corner to sit and read and enjoy the uninterrupted view of the mountains.
Before
The after photo was taken by my professional photographer who stood enough to the right so that the neighbours house was not in the shot. The windows were fully painted white as they were half wood, half white in the before photo.
And, since there is no mullion in the window on the left, the photographer photoshopped the mullion on the right so that it would look consistent in the photo. This window is also shorter than the other one, but looks visually lengthened because the lower area is covered by the new chair. I love that happy accident!
Navy Table Lamp | Williams & Sonoma Campaign Dresser 
(Navy and white banded drapery were Custom made) Williams & Sonoma Occasional Chair & Ottoman
Before
Navy Table lamp (similar here) Williams & Sonoma Campaign Dresser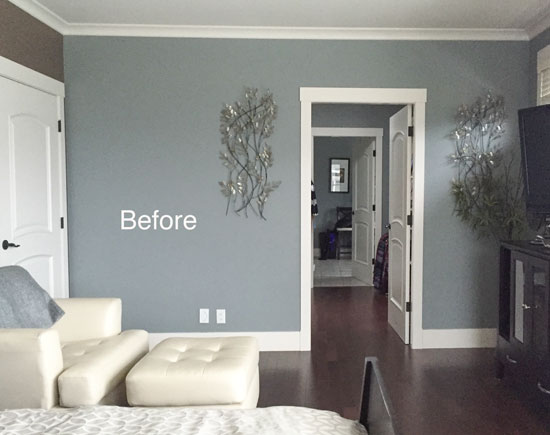 Before
AFTER White Campaign Dresser Williams & Sonoma (Also comes in black and navy)
Before
After (Notice how lovely the 1″ glass knobs vs. the bigger ones)
Millwork design by Jan Romanuk. Millwork by Quality Cabinet in North Vancouver. Vanity BM OC-61 White Diamond.
Before
The windows were small and high and not symmetrical to the new free-standing tub, so I added two walls of sheers to minimize this.
after (We chose a 12″ x 24″porcelain tile in faux marble)
after (Photography by Barry Calhoun)
AFTER (White 2″ hex tile in the steam shower with 4″ x 8 subway tiles)
Before
After (vanity mirror Pottery Barn, similar here)
I found the vanity at HomeSense already painted in this soft pink. We found the vanity chair on-line (it's no longer available).
Before
After (ottoman custom made, leopard carpet from Banner Carpets) Closet (SW 6316 Rosy Outlook)
Since the entire house was renovated, they opted to leave the master closet millwork for another time. As you can see, it's still cream, we ignored it and styled it instead!
After (Interior Design, Styling by Maria Killam)
Hope you enjoyed the tour, can't wait to show you the rest of their lovely home!
Related posts:
5 Ways to Transform Your Bedroom Right Now
The Best Colours for your Bedroom are Not What you Think