Trying to choose a front door colour? Here are the best front door colours inspired by mid century homes with ideas for gathering colour inspiration from inside your front entrance. 
There are many ways to choose the colour of your front door.
If you have a white or cream house (or another pretty neutral shade) without any fixed elements, then technically, your options seem endless.
But are they?
The way to create flow from the outside to the inside is to look inside your front door. What are the colours in your entry or your adjoining rooms? That's where you'll find inspiration for the best front door colour.
Here are my favorite front door colours for mid century homes. If you haven't really committed to a colour inside your house, then you can simply choose any of the ones shown below.
And these front door colours would work on other home architectural styles as well.
Terreeia and I have been in Palm Desert for the month of January with my Mom, and this weekend we took a drive around the Palm Canyon neighborhood where all the prettiest and most famous front doors live. My Mom drove the car and I jumped out to take photos.
Here's "that pink door" aka the most famous one on the door tour. There is constantly someone out front taking a picture. It's a good thing the design of many of these mid-century homes are focused around the pool in the back, so the owners aren't bothered by the constant stream of photographers.
All front door pics taken by yours truly 🙂
And I've even matched the colours for you in Benjamin Moore AND Sherwin Williams. And I've also included photos of what a room inside the house would look like if it flowed with the front door colour.
Front Door Colours Inspired by Mid Century Homes

Benjamin Moore Luscious 1369
No door here, just come amazing desert landscaping! So pretty.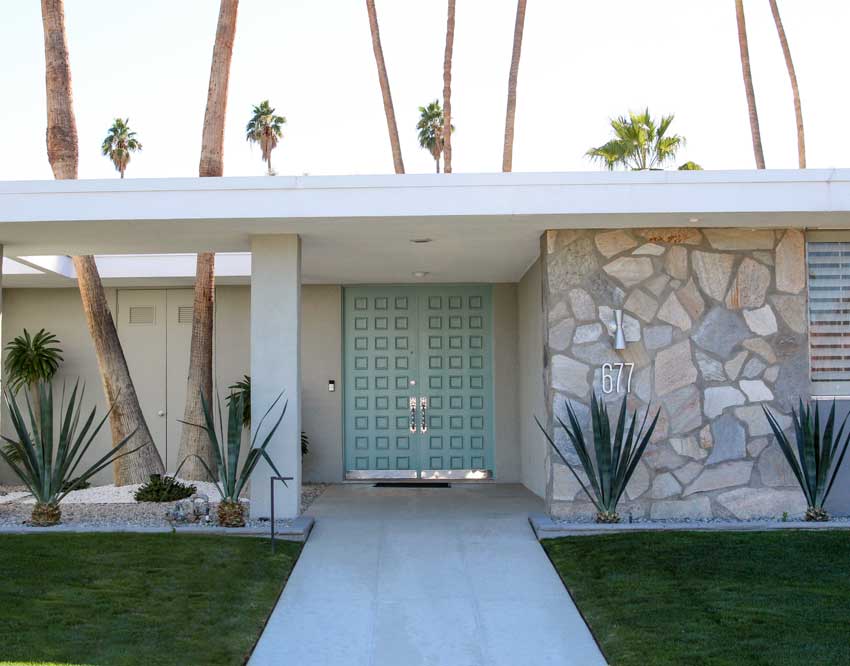 Benjamin Moore HC 138 Covington Blue | Sherwin-Williams 6479 Drizzle
Benjamin Moore Bryce Canyon 098 | Sherwin Williams 6634 Copper Harbor
BM Meridian Blue 761 | SW 6781 Jamaica Bay
Front Door Colours Inspired by Inside Your Front Entrance
Benjamin Moore Golden Vista 308 | Sherwin Williams 6678 Sunflower
If you had this art in your entry (below), it would be the perfect inspiration piece to coordinate with your front door colour.
via D Magazine
Benjamin Moore Athens Blue 797 | Sherwin Williams 6803 Danube
If your living room looked like this (below) it would be a no-brainer to choose a sky blue colour like the one above for the front door.
image via Rue Magazine
Benjamin Moore Un-teal We Meet Again 739 | Sherwin Williams 6766 Mariner
How about two modern accent chairs in the same colour as your front door? This cool aqua colour has a fun retro vibe.
image via Jonathan Adler
Benjamin Moore Coat of Arms 763 | Sherwin Williams 9059 Silken Peacock
Or maybe, your sofa colour provides inspiration for your front door colour? This pale colour looks so chic and pretty with lots of fresh white – both inside and out.
Benjamin Moore Glen Ridge Gold 301 | Sherwin Williams 6685 Trinket
Benjamin Moore Waterbury Green HC-136 | Sherwin Williams Composed 6472
No front door here! 🙂 Just an interesting, curved driveway with the car that matches the house.
Benjamin Moore Pomegranate AF-295 | Sherwin Williams 6321 Red Bay
Benjamin Moore Rhubarb 2007-30 | Sherwin Williams 6607 Red Tomato
Dramatic reds are a classic front door colour choice. Just repeat this colour in your art and accessories just inside your front entrance like this pretty vignette below.
via My Domaine
Benjamin Moore Buttered Yam AF-230 | Sherwin Williams 6643 Yam
Or, why not grab a bright hue from your accent wallpaper indoors.
via Homegirl London
Benjamin Moore Buckingham Gardens 545 | Sherwin Williams 9038 Cucuzza Verde
Green always connects easily both inside and out. This neutral vignette below is flanked by a bright green cactus. Don't be afraid to find inspiration in natural elements as well.
Image via My Domaine
So, which door is your favorite?
My Mom and I climbed the Bump & Grind trail in Palm Desert many times, because it was only a 10 minute walk from the house we rented (Terreeia has a bad knee so she couldn't come with us).
Today, we went the highest we'd been the entire month, and here we are (below):
I'm wearing the pocket plus which is this magnetic pouch you can put your phone in when you're running in your work-out gear. We bought it at the market in Palm Desert one weekend.
I feel so blessed to have a young Mom (she's only 20 years older than me).  If I didn't live just a 2 minutes drive away from her, I'd be REALLY missing her now that we're going home. It's been so nice living with her for the past five weeks.
Have a wonderful week everyone!
If you need help choosing a colour for your front door, I have the perfect eDesign package for you here.
Related posts:
10 Best Front Door Colours For Your House
Exterior Accents Change Everything: Before & After
Don't Make These 5 Common Mistakes with Your Exterior Colour