For a few years now, Terreeia has been talking about renting a place in Palm Springs for the month of January. We live out in the country to be close to my family.  Approximately one hour East of downtown Vancouver. We're also here because we could buy a house. That's very hard to do with the housing market in the city.
Because we live so close to my Sisters and my Mom, being in the country in the winter is not as hard on me as it is on Terreeia, she always says there is no reason to be here from January to March!
Anyway, when we tried to get here last January, we looked at Air B&B's and other similar sites and found nothing but houses basically decorated with black leather furniture for $10,000 a month. I was depressed looking at them so we gave up on the idea.
Then last Spring, Terreeia had some friends that were down here so and they gave us the name of an agent. And that's how we found this place.
We arrived on Christmas day and are here until the end of January. My Mom is with us. Here's the tour along with the colour lesson:
Here's the entrance.
Here's the living room with the adjoining sitting area for watching television. I loved the simple, classic fireplace surround. And the bird art, which makes this entire room. There is no signature so I'm wondering if the owner is an artist, we found a drawer full of paint and sketchbooks.
My sister Elizabeth and my two sweet nephews William (left) and Markus (right) arrived on New Years Day for a week and during that time Terreeia taught them how to play chess! They loved it and were into strategy right away! They also loved the pool (of course) they keep it really warm so that was fun since the days are short and the desert cools down quite a bit at night. I wish I had brought my Uggs and a puffer jacket. In fact I bought one immediately after I arrived.
When I saw the way the television was displayed, I couldn't wait to show you!
Such a creative and inexpensive way to have a flat screen floating on the wall and also take care of the components. Floating shelves installed close to the TV, give it the appearance of being wireless. Then you could run the plug along one of the shelves and hide it with the art similar to what the owner did here.
This is the dining room. What I want you to notice is how GOLD or actually PINK BEIGE the walls are.
The wall colour in the main living and dining room is BM CC-302 Rawhide. It definitely has a strong pink undertone. But when you take a mid-tone gold beige and compare it to a mid-tone pink beige, they are soooo close that they don't actually look terrible together.
If you're new to my blog, I talk a lot about how yellow beige and pink beige don't work together.
In the Tuscan trend there was lots of gold and pink beige combined in interiors everywhere. I was happy to see the colours in this house because they were a perfect example of the combination of both.
If you compare HC-34 Wilmington Tan and HC-38 Decatur Buff  you'll see that HC-34 is a little more orange than HC-38. CC-302 is even darker than both these gold beige colours but if you compare the gold beige colours in my system to the coordinating pink beige tones, they are very close.
And if you look at my neutral colour wheel (below), you'll see that gold beige (which is all by itself on the darker row) and pink beige visually are not that far apart.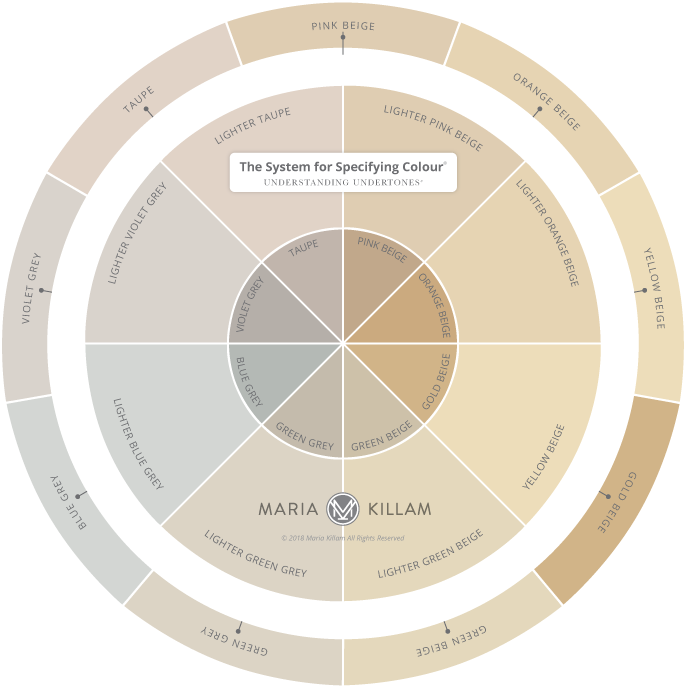 Understanding Undertones – The System for Specifying Colour
We had our first retreat with our team here this past week and Tricia (my Director of eDesign) and I were talking about how the reason the combination of pink and gold beige works here, is because the decorating is so layered. Also, both those shades are also very close to colours of wood, and cognac leather which is also a neutral.
All these colours are also found in animal print fabrics and rugs which also look really neutral in a lot of interiors.
In this post, I showed you the best way to freshen up earth tones and she's done that in this house with the white sofas.
Kelly, Maria & Tricia
Here we were out for dinner on Tuesday night. Hey the background is gold beige too!
Terrence Murtagh, our Chief Tech Officer, drove down from Arizona and here he was giving us an overview of Google suites and SEO. There is so much more I should have been doing over the years with my website, it makes me cringe when I think about it.
See the pink beige lampshade on the elephant lamps? If you look at the photo above you can see half of another lampshade in the living room (on the left) it's yellow beige.
This is a perfect example of why I think all lampshades should be off-white. The combination is not amazing.
You can see that the urns below are cream and gold beige, the elephant is even more greeny gold and the lampshade is pink beige. But there's so much to look at, the interesting masks in both rooms, the cowhide in varying shades of pink beige and gold, it just works.
Okay, so lets choose a new colour shall we? Here are the three steps to choosing a fresh colour:
Use LARGE painted samples and move them around. 
Okay so here we have the two gold beige undertones from my system. On the left is Wilmington tan and on the right is Decatur Buff.
I'm showing them to you without white paper, and with white paper behind them.
Comparing to white is how I can choose colour on-line for my clients. The light was not great on this side of the dining room so I moved to another area in the living room. What you can see, is that the walls are more pink than the tile and the two paint samples.
Also, when the wall colour is much darker than your tile, the paler undertone of the tile becomes less obvious. That's when it starts looking more neutral.
Never compare your new colour to the existing one without a white board behind it 
I was at High Point in the Fall and I struck up a conversation with a designer who said she was having a really hard time choosing colour for one of her clients.
She said had paint samples up but one day she'd arrive at her client's home and along with her client, decide they loved the colour, but the next day she would come back and it looked wrong again.
I asked what the existing colour was? She replied "It's an unfortunate shade of peach".
Then I asked if she was painting the colour directly on the old colour. And she said 'yes'.
"That's why you can't see anything." I said.
If you look at these two blues below propped up against the old colour (below), it's hard to tell if they are even different.
Adding white, changes everything.
And of course, using large paint samples (painted with real paint).
Here, I've moved them into the dining room which is what I would do if I was choosing a new colour. I just turn some of my other colour samples around which gives me an instant white background.
Related post: How I Discovered my System for Understanding Undertones
Since this is an open plan living area, I would probably not paint the walls blue in here. I'm just showing you where I would plunk the colours down when I'm standing back with a client, looking to see which one is the right colour.
Identify the neutral undertone (see my colour wheel above)
When you want to get a neutral just right, you would be amazed at the number of times you'll say 'meh', vs. 'That's perfect'. But you can only achieve close-to-perfect with a large sample.
Without large samples, you are guessing or using your spidey senses.
Overall the tile reads neutral and creamy in this house because the walls are so dark. As soon as you start looking for a fresher, lighter colour, the undertone of your tile will start to reveal itself.
In the tuscan brown trend, the colour could have also been gold beige because it relates better to the tile and the furnishings.
Here I'm showing Shaker Beige and Ballet White.
Here, Manchester Tan and Muslin.
Here it's Manchester Tan and Ballet White
Which one would you choose? Which would be your first choice and then second choice? Post your answer below and I'll post mine in a few days.
I thought I'd also show you the kitchen too because here the doors were removed in this old 60s kitchen which opens up the space. And the styling is good too, white dishes and natural elements. . . . it wouldn't look as amazing if we were looking at an open spice cupboard, for example. The food is in the cabinets on the other side of the kitchen (below).
The same tile from the living room is in here. The countertops and walls are all painted a green grey with a blue grey stripe.
I like the row of turquoise and blue ginger jars.
This is our juicing station (above). The trees outside are dripping with oranges, lemons and grapefruit so we've been drinking grapefruit juice every day.
Here's a glimpse of the master bedroom. Loved the monet inspired art!
More gold beige but paired with the white, cream, fresh green and animal prints it still looks current! I like how the art picks up the green pillows.
Here's a picture of the ensuite bathroom (below) All three bathrooms in this house have vessel sinks. The owner left a note saying "Please don't fill them with water or lean on them, the seal will break, NOT my best design choice".
And, the glass ones look dirty instantly! Keep this look in a powder room if you're in love with the idea of a vessel sink. Plus in this case they are way too high, the cabinet has to be that much lower if you're going to have one. I have started sporting the Alicia Keys no-makeup look here this month because it's too hard to wash my face in the sink at night.
Here the old cabinets remain with a white marble tiled countertop and floor.
And here's my sweet Mom picking grapefruits in the front yard! We were thrilled to find the grapefruit picker in one of the closets!
Photos by Maria Killam
We only have a few days left here before we go home!
Don't forget to post which colour you'd choose in the comments below!
Have a great weekend my lovelies!
If you'd like your home to fill you with happiness when you walk in the door use our eDesign services.
If you'd like to get your colours right, get my large colour samples.
Related posts:
What Everyone Should Know About Beige
How to Inject Fresh Into Your Earth-Toned House
Never pick a Neutral without Large Colour Boards (Pssst! They do it for you!)
PS. Here's Muslin & Manchester Tan on the fireplace!
I agree that Manchester Tan is the first choice and Ballet White the second. And someone said "It doesn't look like Tan" Ignore the names. they often aren't accurate. And what one person thinks is 'tan' is different for someone else. Insert 'Tan' in Pinterest and you'll get every single undertone that is in my system!
It's amazing how many times Manchester Tan wins. Unbelievable actually.
Ballet White (left) Manchester Tan (right)