If you are painting your exterior this season, don't make these 5 common mistakes with your exterior colour.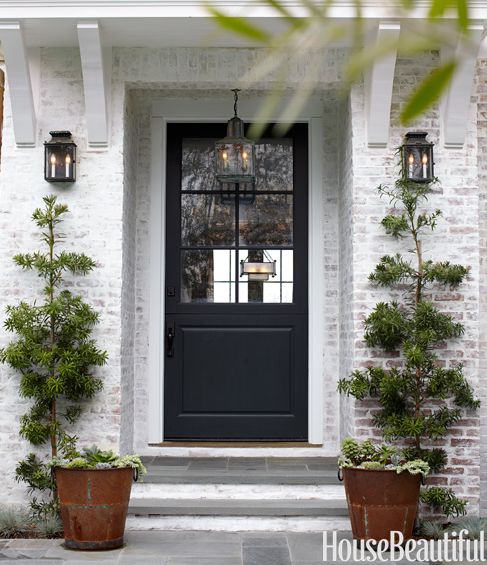 1. Don't choose fixed elements in the current, dark trendy neutral.
Recently I consulted with a couple on their new build. They spent 3 1/2 hours with me in my studio and we chose colours for all their major fixed elements for their interior like hardwood floors, countertops, tile, and then outside.
When we got to the conversation about exterior colour and started looking at stone and brick colours, I informed them that a beautiful combination of stone and brick was almost as rare as a unicorn sighting and I asked them if they had a photograph of an exterior they had seen that they both liked.
They gave me a stunned look and the wife said, "That's our biggest argument, we can't agree on an exterior colour combination that we both like."
"That's because most of them are bad," I said.  "It's rare that I drive by an exterior (even in expensive neighbourhoods where designers were clearly involved with colour choices) that I actually like.
The stone is NOT a trendy colour. source
In fact there's a subdivision built on a mountainside not far from where I live that is basically brown. You drive up the mountain and all the homes are varying shades of brown and then the closer you get to the newer homes, they turn into charcoals, greys and black shades.
I don't know about you but if I was building a house that I expected to live in more than 5-10 years — which is the lifespan of any colour trend — I wouldn't want it to scream, "We built this house in the grey trend, or the brown trend."
Colour by Debra Kling
This is the reason why I only specify charcoal for front doors or shutters.
Paint is okay, at least it can be changed, however if you paint your exterior a dark trendy neutral at the end of a 10 year trend, it will instantly make your paint job look 10 years old.
2. When choosing vinyl windows, don't ignore the colour of your house.
White goes with fresh and crisp colours and cream goes with earthy colours.
This is the most common mistake. If you are installing earthy stone or brick on the exterior of your house, your windows should be cream NOT bright white. The exception to this if your earth tones are pale, like this home below:
via Pinterest
Notice however that the stone (above) does not relate at all to the shutters. They are a blue grey while the dark colour in this stone is more of a pinky taupe. The best colour for these shutters is more of a pinky taupe, which one would you choose?
3. Don't install posts columns that are too skinny.
Builders notoriously install fence posts instead of columns. Beef up your skinny posts for an easy way to improve the curb appeal of your house instantly!
My former post looks thicker in the before picture (above) because of the angle it was taken and also because the downspout is attached to it but trust me, it was skinny. MaryAnne White my fabulous landscape designer specified the new, beefed up column. And as you can see in the after picture, I moved the downspout.
4. Don't be obsessed with installing an asphalt roof that has 'dimension'
Asphalt roofing companies try really hard to copy the look of a real slate roof or Mediterranean tile that have variation in colour.
If you have a solid colour house like mine (above) then a blotchy, asphalt roof is perfectly fine and might be more interesting than a solid coloured roof.
However, if you are installing brick or stone that will already be multicoloured, a patchy looking asphalt roof will not be ideal and will mostly clash with your fixed elements rather than relate to them nicely.
via Pinterest
What's the undertone of the roof in comparison to the brick in this house (above)? If this was your house and you had to do it again, would you choose that roof?
5. Don't choose too many colours.
It looks cleaner and more sophisticated with less.
Just because you have more than one siding product on your house, doesn't mean each one needs to be painted a different colour.
The house above is a pretty use of colour.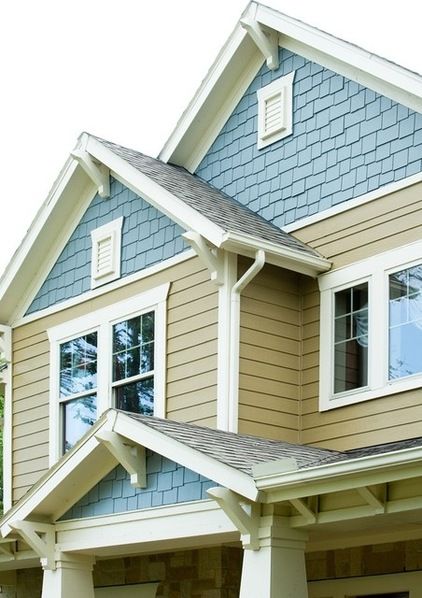 But the colour on this house (above) looks too random and unrelated.
If you are painting your exterior this season, don't make an expensive mistake. Buy my Exterior Colour Solutions advice here and get the right colours for your exterior via email. You can buy just the advice you need, every purchase whether it's paint for your trim or new windows is a colour decision first.
To get trained on choosing exterior colours, go here to get my no-nonsense, zero fluff. this is how you do it, webinar.
If you register for my Specify Colour with Confidence course, you will immediately receive my exterior training webinar and eBooks for free as a bonus!
If you would like to transform the way you see colour, become a True Colour Expert.
Related posts:
Should I Paint my House Charcoal?
5 Best Ways to Choose your Roof Colour
Can you Mix Brick and Stone on your Exterior?
If you would like your home to fill you with happiness when you walk in the door email me.