I don't know about you, but I'm kinda ready to put 2021 behind us and look ahead to a fresh start in 2022. Still, it's worth looking back to appreciate the highlights and what we've learned. And it's been a big year for learning.
Patience and perseverance are the big lessons. As well as faith. Faith that it will all get back to normal soon.
The highlights in tougher times are worth celebrating, so here's a round-up of the posts you read the most.
This is also the time of year to focus on gratitude. And I am SO VERY GRATEFUL to have you all here. You complete me and make it all possible.
Top 5 Posts from 2021
These were your favourite posts written this year.
Help! My White Painted Kitchen Cabinets Look Bad
We saw the real estate market peak in 2021 and with that lots of houses went on the market everywhere. That means there was a shocking amount of grey wood look floors installed and hasty kitchen updates to ready homes for market.
I mean, I'm just guessing, but I suspect it goes like this: let's slap some paint on that builder-grade kitchen and "update" the floors in grey (because hey, I found this grey LVP on sale!).
And, while I think white kitchens are timeless, slapping white paint on old oak, cherry or espresso cabinets without considering the details does little to turn the average, run-of-the-mill kitchen into the fabulous white kitchen that everyone wants. In fact, it can backfire and make it look worse.
But I want to help you make better kitchen design decisions. So, this post shares 4 ways to take your kitchen up a notch – whether you plan to put your house on the market or simply what to freshen up the look. [Click to Read]
Dos and Don'ts for Installing Vinyl Plank Floors in the Bathroom
And speaking of hasty design decisions, while I think that luxury vinyl plank (LVP) is a wonderful and versatile flooring option, and wildly popular for good reason, too often homeowners default to choosing it without regard to the rest of the floors in their house.
There are several instances when it isn't the right choice for your home and you should be looking at a tile instead. Especially in bathrooms.
But sometimes we don't know the right questions to ask, so we make choices based on what is most plentiful and convenient in the big box stores. Remember this video?
So, this post breaks it all down, when you should install LVP in your bathroom and all the times you shouldn't. You'll want to pin this one for later. [Click to Read]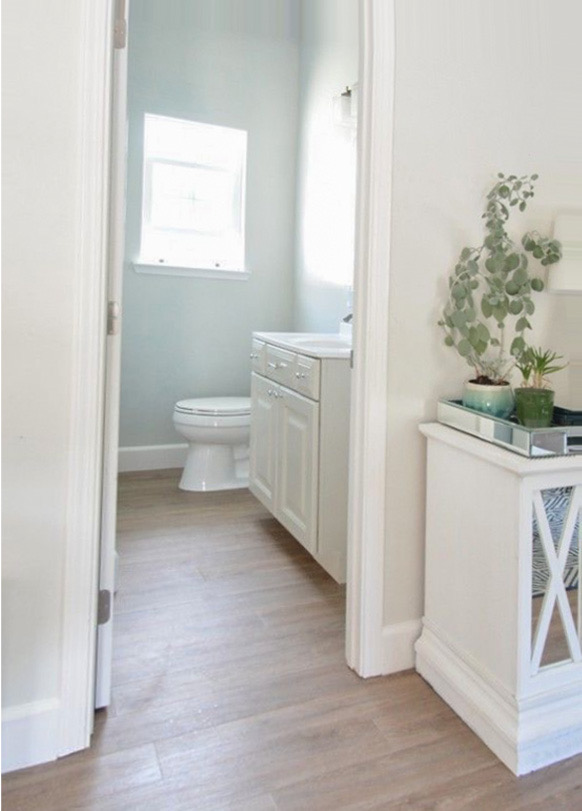 Why You Shouldn't Cherry-Pick Design Advice
I'm so glad this post resonated with you. It was a difficult one to write. But I truly believe that this making-selections-in-isolation approach to DIY renovation projects is the single biggest cause of all the disappointing, less than pretty rooms in homes worldwide.
Believe me, I get it. Most people choose finishes and soft furnishings for their homes on a need-to-have basis. Like, when you move into a new home and decide you need a new sofa. If you hired a design professional, they would plan out the entire room (colours, fabrics, everything).
But on your own? You find a sofa you like and bring it home. Although you had planned to keep your area rug, suddenly it makes your new sofa look bad. So now you are desperate to replace the rug too, and then what? Every decision is a colour decision, and when you make them in isolation, mistakes happen.
If you are thinking of hiring a professional for colour or design advice (either me or someone else) this is a great read. [Click to Read]
Top Kitchen Colour Trends from the Last 50 Years
This was a fun round-up post to write because kitchens are so important to how we feel about homes overall. And, when a kitchen feels dated, we can't ignore it. It's that impulse to update it that often has us lean into super trendy choices for finishes because we just want NEW!
So, if you're planning to renovate your dated kitchen in 2022, this is a must-read. I've curated my best posts for sprucing up kitchens of all eras. And, if you aren't sure which era your kitchen hails from, I've created a colourful timeline for you. [Click to Read]
Trend Alert: Black Accent Walls
I have discovered that if I write about black, you read it! I'm serious. And, black has quickly and alarmingly become the default for all decisions – windows, hardware, floors, and even accent walls.
For the record, I'm not against black.
It's just that it's trending everywhere, and when a neutral becomes a default consumer choice, it quickly gets overused. When I was searching for an AirBNB, it seemed like every single one of them had a black accent wall. So, this post takes a closer look at this trend in case it's something you want to indulge in. [Click to Read]
Your Favourite Reads from the Archives in 2021
I thought it might be fun to look at the most-read posts in 2021 that were written in prior years too. In other words, these are the posts you keep coming back to (or the posts you found on Pinterest that brought you to my blog).
Again, no surprise that three of the five are about black. 😉 I'm glad you want to know more about decorating with black. As I've said about any trendy neutral, it's the overuse of one neutral (i.e. gray sofa, grey drapes, grey carpet, etc.) in one room that makes it look dated and bleak.
And this is especially risky since black is the heaviest colour. I hope these posts help you find the right balance. Remember, a little black goes a looong way.
Just a few black accents in an otherwise timeless space is ideal The Spruce
Let's make this simple pact together. Keep black looking fresh and timeless by keeping it to lower commitment elements like paint and easy-to-swap-out decor. If there is a decorating lesson reflect on and take forward into the new year it's that if we allow black to become all and powerful like the recent grey on grey on grey look, it will be a bleak year in design for sure.
So, let's avoid making black the default choice for all finishes, decor and furnishings. #pinkypromise
If you missed the colour trends 2022 live webinar I was at last week with Susan Brinson and Rachel Moriarty hosted by Claire Jefford.
Here are my colour predictions, watch the entire event here.
Related posts:
Dos and Don'ts for Choosing the Right Fence Colour
Dos and Don'ts for Painting Your Doors Black
Are Black Windows the Best Choice for Your New Build?
The Perils of Decorating with (Too Much) Black
Don't Make These 5 Common Mistakes with Your Exterior Colour