Black is trending everywhere, and now it's showing up as an accent wall. Have you noticed it too? Paint is an easy and inexpensive way to indulge in a colour trend, but is a black accent wall for you?
Recently, I was searching AirBNBs in Whistler and I noticed a pattern. Almost every single RENOVATED condo had a black accent wall.
Since I started writing this blog, before the grey trend started, and all through the 10 year life span, it never occurred to me to write a post about charcoal accent walls because they just weren't a thing.
However, we did see a lot of charcoal dining rooms.
Why are black accent walls trending?
The reason black accent walls are suddenly trending is because it's the strongest colour trend happening right now. So while it's hard to imagine an entire room being black, everyone can commit to painting 25% of the room in a stronger, deeper colour.
Also, once your entire house is white, that might seem a bit. . . dull. Like maybe we need to add SOMETHING. I know BLACK?
So it seems right now, black accent walls are having a moment.
Flexible Design
Many, many years ago I helped my sister inject a little colour on the walls by painting a blue accent wall in her family room. She really wanted blue kitchen walls, but I said "no" because it would look like she was ignoring her earthy kitchen finishes. So instead, we added some blue to a wall that could be seen from the kitchen.
Accent walls are much less of an undertaking than painting a whole room. In under two hours, she had a lovely pop of colour in her space. So perhaps, if you are looking for an easy way to incorporate trendy black into your living room, the accent wall is least expensive and most flexible way to go. After all, it's just paint, right?!
A Caveat about Accent Walls
I've been known to say often that accent walls don't work for many situations. They can be difficult to balance visually (hoarding all the drama to one side of the room).
And they can quickly create a choppy look. Because where the contrast is, is where the eye lands. So you need to create enough interest to distract the eye away from the edges of your accent wall.
However, I get that in many cases, it's a way to inject some energy and drama into a room quickly. And again, it is just paint after all.
Where to Consider an Accent Wall
Where accent walls DO work well is when you want to create or emphasize a focal point in your room.
The end of your dining room where the credenza is topped with lamps and art is a good spot. As is the headboard wall of your bedroom, or the fireplace wall of your living room.
Just be mindful of where you place it. Adding random accents to unimportant architectural features and weirdly jutting angles for no reason is where an accent wall idea really goes sideways.
Don't Leave your Accent Wall Bald
Always layer an accent wall with art, lighting, mirrors, furniture, etc. DECORATE IT because it is now the focal point and the eye wants something to look at.
I'm also noticing more accent walls with a geometric take on traditional board and batten wall paneling. And then, to embrace the current trend, but with a little more texture, they are being painted out in a solid. Again, make your accent wall interesting.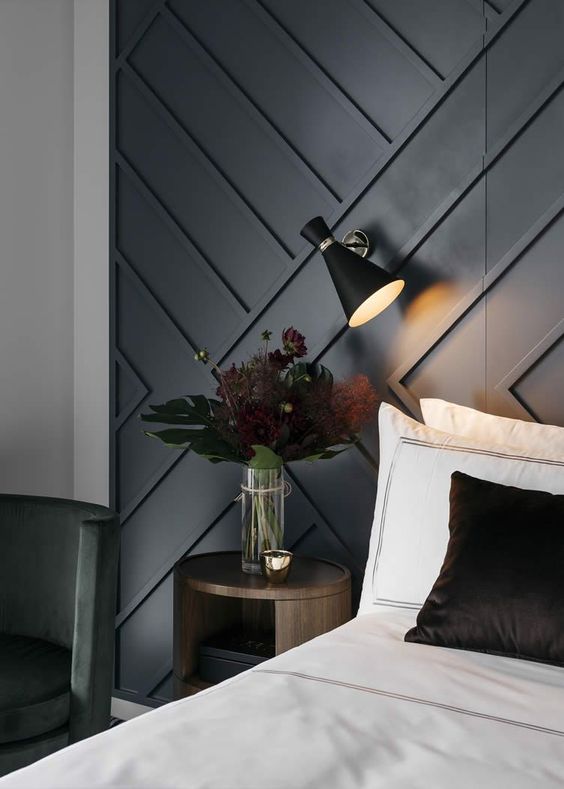 Where a Black Accent Wall Works Best
Black happens to work beautifully with brass accents, warm wood tones and crisp white. Oh and green, black white and green is always a winning combination. A dramatic black backdrop can make a washed out room come to life.
This black accent wall helps the warm brass accents, wood furniture, and pale beige upholstery look even richer in this room. And, by contrast, elevates this classic millwork fireplace, rather than having it fade into the background among all the other millwork on the walls.
The pretty architecture of this ceiling is highlighted by this black shiplap wall (below). Notice how this room avoids looking too harsh or heavy because there's a nice balance of contrast with these warmer, classic and timeless hardwood floors.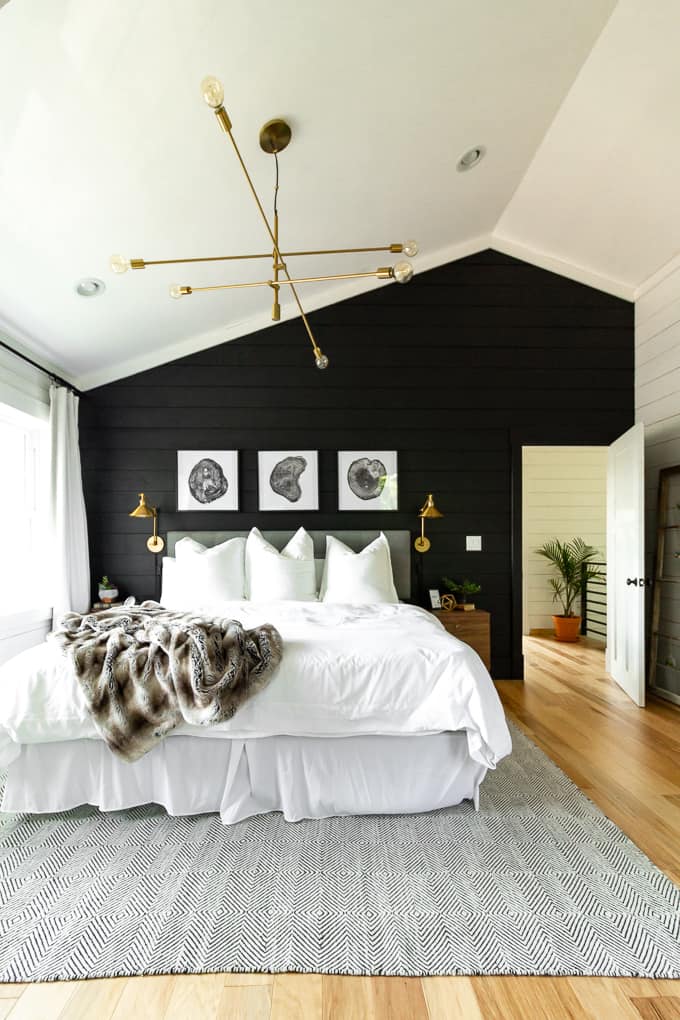 Adding black to even the smallest accent wall in your home (i.e. inside a closet) is also a lovely way to fuse some contrast into an all-white room. This almost-black paint colour instantly transforms this closet desk into a custom-looking built-in furniture piece. And again, layered art and warm brass to make it come alive.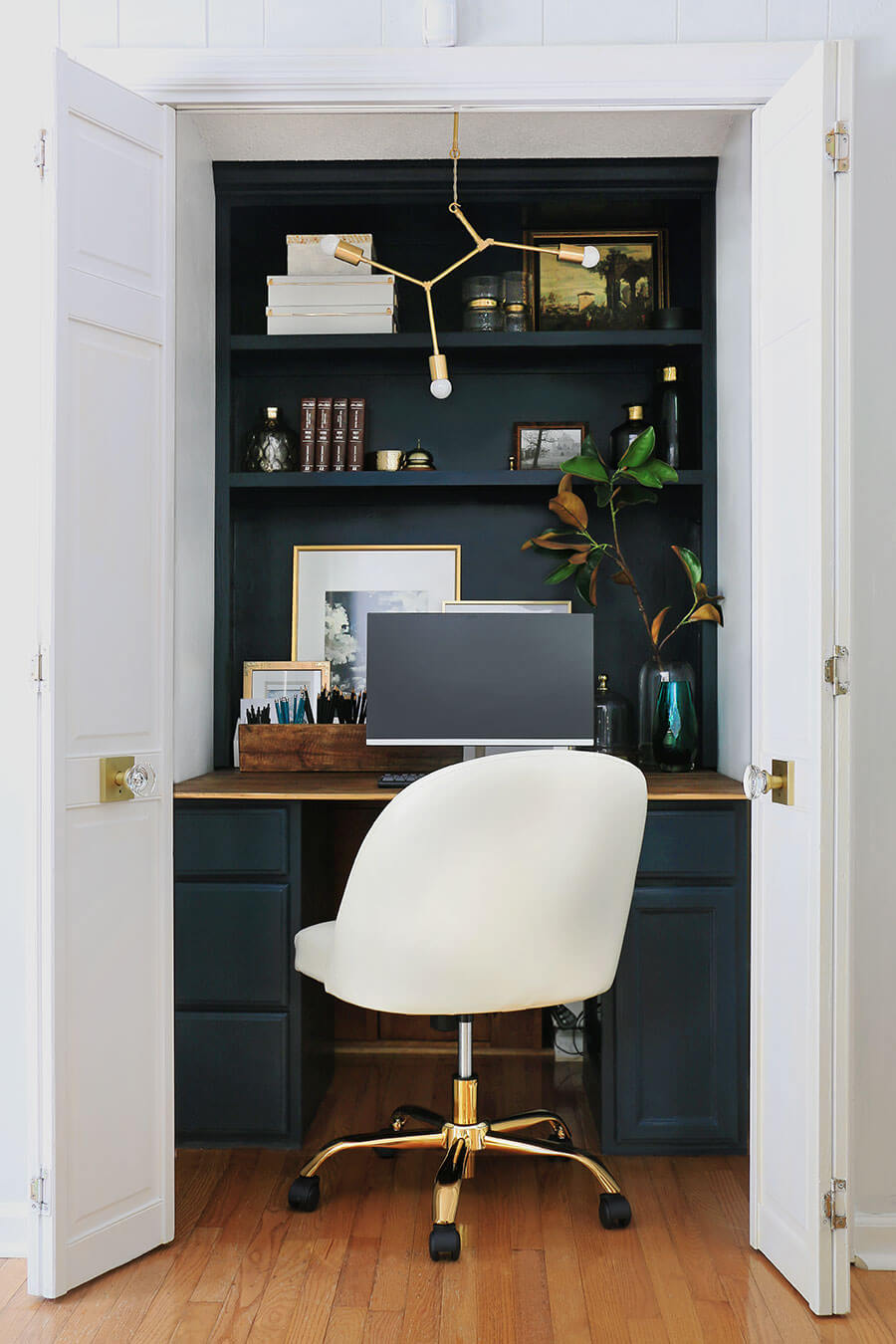 Homemade by Carmona | Paint Colour: Behr Winter Way
Black does best contrasted with warmer wood tones and rich accents like brass. If your room and floors are already grey, you might want to consider a warmer accent wall like mustard, cognac or a terracotta pink to bring in the warmth for balance.
Read More: Should I paint my doors black?
Other Accent Wall Colours to Consider
Perhaps the black accent wall has become the norm (seriously guys, EVERY recently decorated AirBnB I looked at) because it is drama without a specific colour commitment. Most people, especially in the current trend, have some black in their room (large unsightly TV screens I'm looking at you).
I like how this television is almost camouflaged by the dark accent wall. Totally genius.
Read more: 7 Best Ways to Decorate around the TV
But any deep and dramatic colour can work the same way.
If your room has an earthier palette? Try a deep greyed bronze. Same drama, warmer look that will harmonize better than stark black.
Notice the savvy way this designer sort of neutralized all the earthy colours and textures in the room with this greyed bronze accent wall? There's a lot going on in this room, but the dark wall is like a heavy blanket wrapped around the room, softening all of the little details.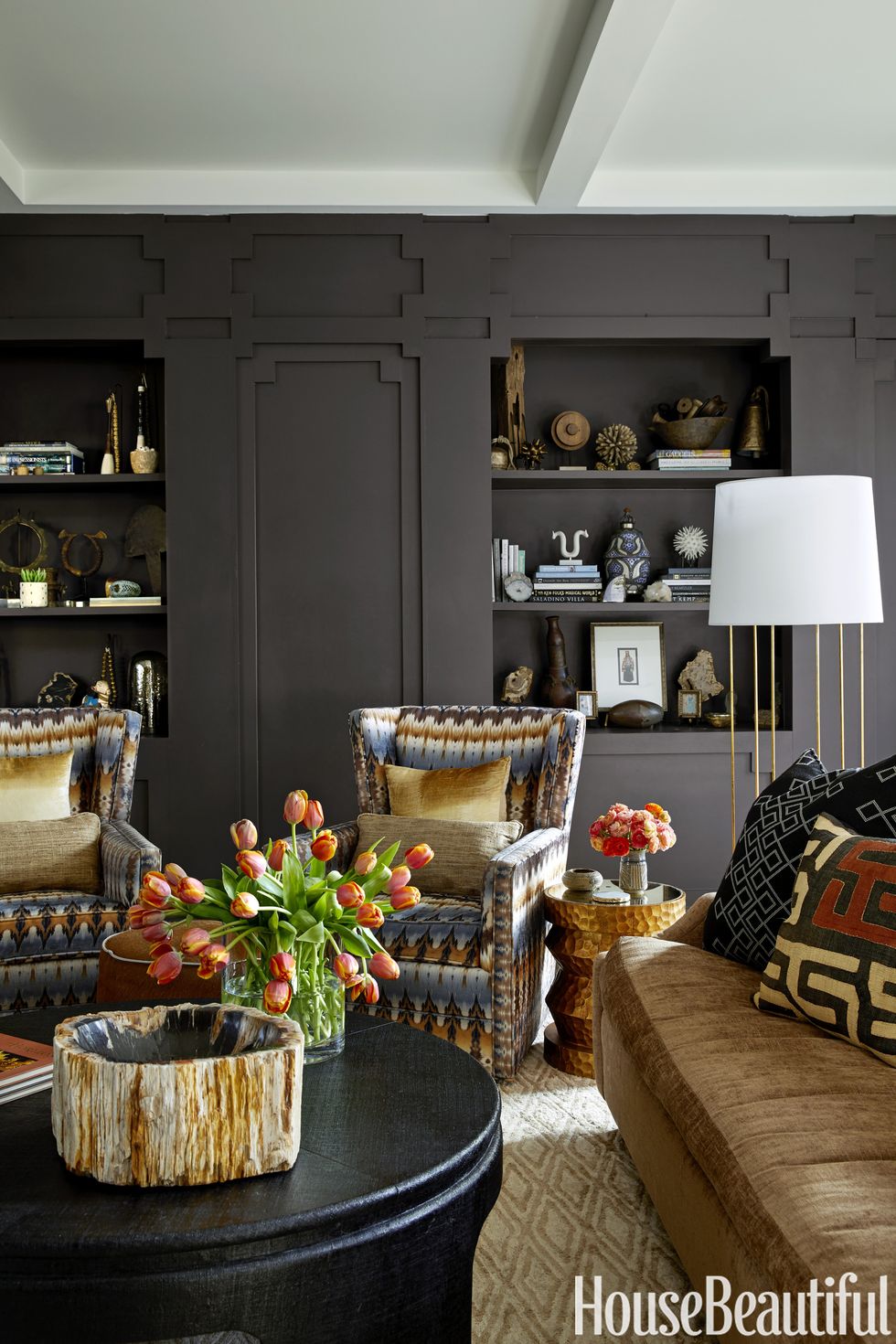 Kristen Kong | Paint Colour: Sherwin-Williams Black Fox
Before you grab that can of black paint, take pause to consider whether another deep and dramatic colour might give your room a bit more personality and dimension. Great options are dark moody blues, rich dark greens and even dark aubergine or wine tones. They are equally beautiful with neutral furnishings, brass and wood.
And as I mentioned, if your room already has quite a bit of black or grey, you might be happier with a warmer tone like mustard, mauve, terracotta or cognac to bring some life and balance in.
This bedroom below could have had a black accent wall, but the deep muted green gives it more personality.
While black, or any other colour accent walls are not the solution for every room, and should never be bald, they can be a very good way to take a step towards some bolder colour and drama in your room. So try it out! It's only paint.
If you need help choosing the right colour, I can help, check out our virtual paint packages here.
Related posts:
What Everyone Should Know About Black