Before you install a luxury vinyl plank floor in your bathroom, there are a few things you should consider first. Just because it's waterproof and everywhere, does NOT mean it's the right choice for every bathroom. Here are some dos and don'ts for installing vinyl plank floors in the bathroom.
Vinyl Plank Floors in the Bathroom
This mistake is so widespread, after I saw it again today in one of our eDesign projects (installed by a previous homeowner) I decided it was an emergency to post this list of Dos and Don'ts:
DO Install vinyl plank floors when it is continuous throughout your new build or renovation without interruption by a different flooring
It should visually look like, "How nice, the same hardwood floors (that's what a good LVP should look like) simply extend into the bathrooms too" just like this image below: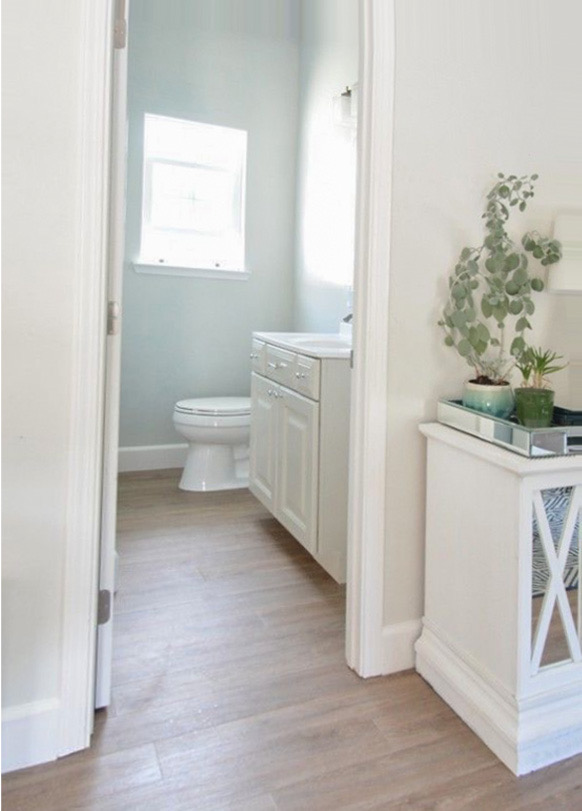 or this:
So I actually only have one DO when it comes to installing vinyl plank floors. And you just read it.
The rest are DON'Ts
In my opinion.
Please note, this is my opinion and it doesn't mean it's right. If you don't agree with me, you can just keep clicking. If you've already installed them, and they don't extend throughout the rest of your home, perhaps it's best if you keep clicking as well? After all, ignorance is bliss sometimes.
When I did a search to see what everyone was saying, about the world of LVP flooring, it reminded me of the time I searched black windows.
Everyone just talked about how great, inexpensive, durable and waterproof they were. NO ONE told me WHEN they would not be a good choice, design-wise.
This quote made me cringe:
The DIY crowd will benefit the most from LVT and LVP floor coverings. The ease of installation and the low cost rank pretty high for those wanting to install it themselves. Most people want the look of real wood or stone, without the hassle that comes along with it, and they don't want to empty too much of their wallets to get it.

Upgrading to vinyl is a cheap investment in your home and will look nearly identical to stone or wood. The next time you update your bathroom, consider using floating LVP or LVT to quickly transform that room into a modern space for you and your family.
Why? Because it's often the DIY crowd that gets seduced by a good sale on some taupe or grey LVP that does nothing to improve the look of the older, dated bathroom.
Okay now onto the don'ts, since there are so many.
DON'T install vinyl plank flooring into an old bathroom like this
It screams NEW floors, OLD bathroom.
If you are renovating a bathroom and not replacing everything, that's when you need to keep reading this mantra over and over again:
To avoid the "yesterday and today" look, your bathroom should look like everything was installed at the SAME TIME.
If the homeowner had chosen sheet vinyl flooring in a white hex pattern, for example, that would have been way better. It would simply have looked like an updated 70s bathroom, NOT a badly updated 70s bathroom.
DON'T install vinyl plank flooring if it connects to carpet
I was recently in a new build. The builder had installed a nice classic LVP downstairs and carpet upstairs. All the upstairs bathrooms had the same LVP as the rest of the house. But they were now installed right beside the carpeted hallways and bedrooms.
If you have carpet upstairs, and you want vinyl flooring that's fine. But now you should be choosing vinyl flooring that looks like tile (LVT) and NOT the look of hardwood planks.
Because a wood floor looks best, as I said, when it runs throughout a continuous space and the small rooms and bathrooms that run off the main space. In a bathroom abutted to a pile carpet, it just starts to look odd. Because unless you have the flow integrity of a continuous wood floor, tile is simply a more classic look for bathrooms.
In my mind, the goal with flooring should always be to minimize the transitions from one flooring to another. And actually, that is what LVP is great for, a single flooring that you can run EVERYWHERE.
But what happens too often in a DIY renovation is that we are renovating one room, one bathroom, just the kitchen, only the mudroom, etc. and the new LVP goes only in there, butting up to some other older flooring.
And that is never ever a good look.
Don't install LVP flooring connected directly to other wood or wood look floors
Especially don't consider wood look LVP for your bathroom (or bedroom, or laundry room, what have you) if it will connect directly to your existing hardwood or wood look floors. It's highly unlikely you will ever find a close enough match for this to work well. It will just look bad. Sorry.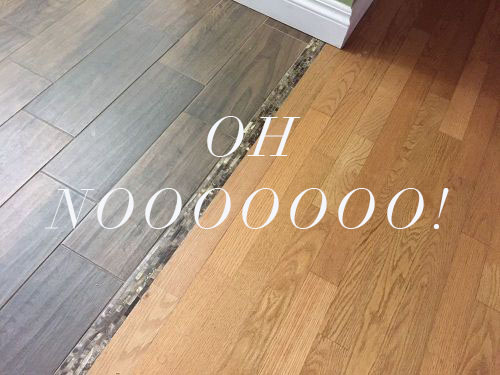 If you're tempted to do this, consider whether you can tackle floating LVP over ALL the flooring for a current, unified look instead. If not? Choose a timeless and classic tile for your bathroom, or kitchen, or foyer.
Some pretty floors to consider instead of LVP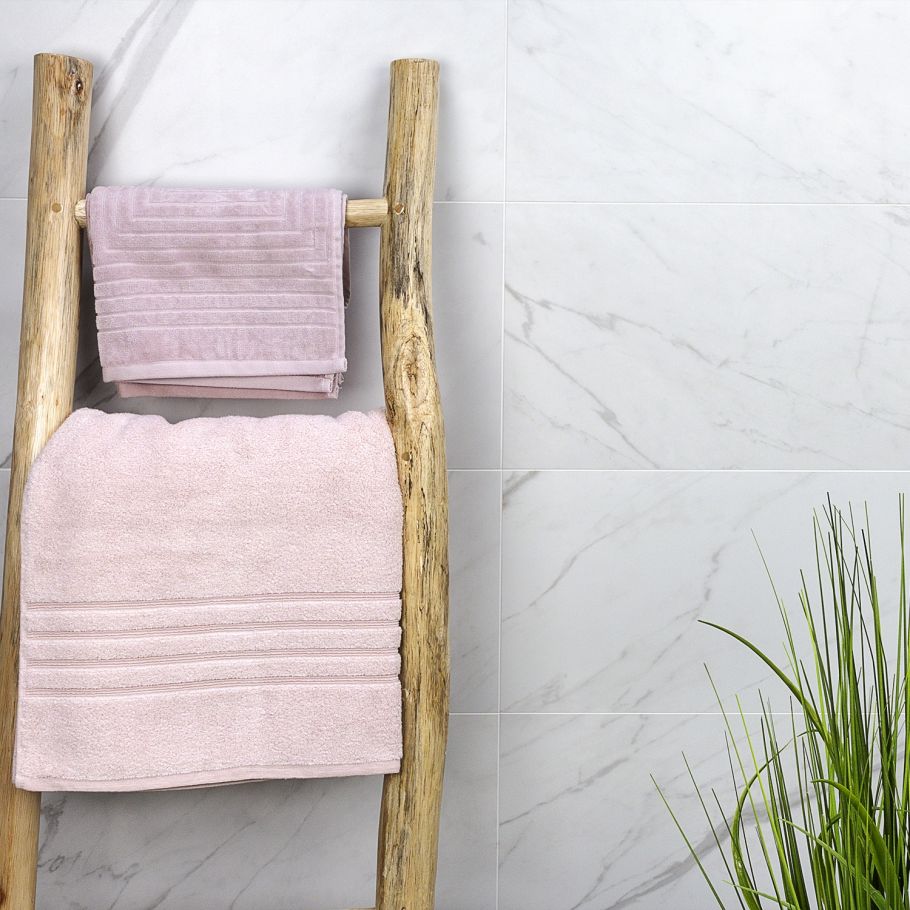 A large scale marble look tile like this one
Not into a white floor? A charcoal herringbone or hex is a pretty choice.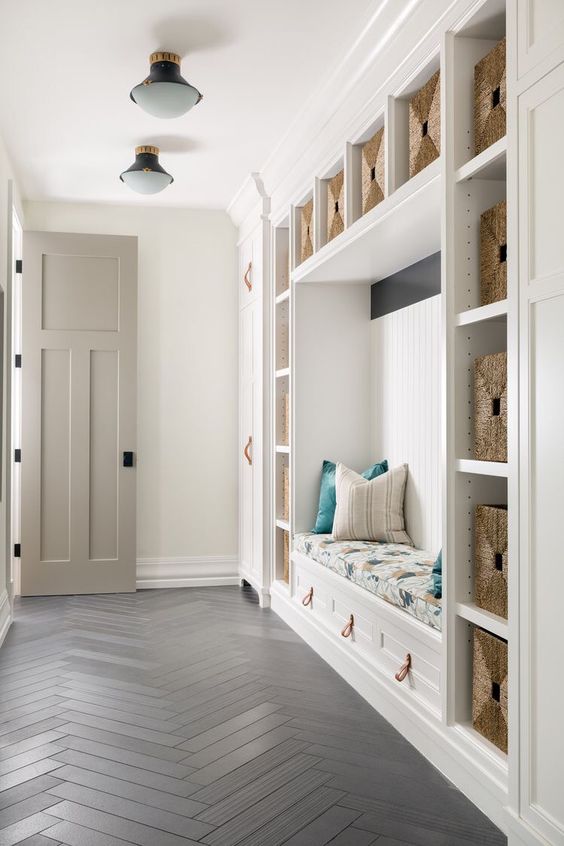 There are lots of other pretty options too, terracotta/saltillo in the right house, a pattern with colour is fun.
Since so many of you were confused by this last statement:
Wood look floors in the bathroom is a specifically rustic farmhouse look though that doesn't work in most homes, and certainly not if it's not continuous with the flooring in the adjoining spaces.
What I'm saying is that the world of LVP wood look flooring is ALL the relatively rustic, wide plank look that is ubiquitous in the Farmhouse trend. And that look is not right for every house. We are so deep in the farmhouse trend that we can't even see the edges of it. More traditional homes that have no business with rustic floors have them anyway because that is the only choice available, (as opposed to more traditional looking wood floors, with slimmer planks, stained and varnished, smoother and more formal).
And if your house is more traditional in style, especially if you have more traditional hardwood flooring in other areas of the house, a wide plank LVP wood look floor, is not perfect.
So I always advise my clients to look for the smoothest, quietest and most versatile looking options in LVP, without lots of rustic burnishing and detail. For longevity. Because we will see the other side of this tend soon.
It's important to be aware of the trends when you're doing any kind of expensive renovation, like a bathroom. Rustic wide plank wood floors in a bathroom is technically a more rustic farmhouse look. And that's fine if the same floor connects the bathroom to the rest of the house directly, but if you are flooring a bathroom that is not continuous with your wood floors, or a in more traditional home where more formal wood floors exist in the hall, it's worth considering a tile that will look like it has been there forever and is completely timeless.
Related posts:
Are Hardwood Floors Considered a Pattern?
Two Magic Questions Every Decorator Should Know