So many of us tend to get caught up in the colour of wood – whether it's hardwood floors, trims, cabinets, etc. And it often blinds our colour decision-making process. You may be asking what colour works with orange wood, but this isn't the only question you need to ask.
Johnson + McLeod Design Consultants
This question is so common and I have addressed it many times on the blog, here, here, & here.
However, sometimes a new decorator can forget basic design principles, when faced with a laundry list of requests from our client. This happened to me many times when I was starting out as a new decorator/colour consultant.
And it happened to one of my students, Julia (names have been changed to protect the innocent). This was her question:
Julia: Maria, Please help! I took the Specify Color With Confidence class in October but I'm finding myself unsure of some of the most basic rules. Should the undertones in a space match? For example, in a room with very orange wood floors should the walls be an orange beige complex cream OR just the opposite? Should the walls have a cooler undertone to balance things out? If so, I thought mixing colors that are opposite on the color wheel only intensified each of them. Please advise, as I'm driving myself a little bonkers here."
Maria: Send me a photo!
Julia: The picture of the kitchen shows more accurately the floor color, which is throughout the entire house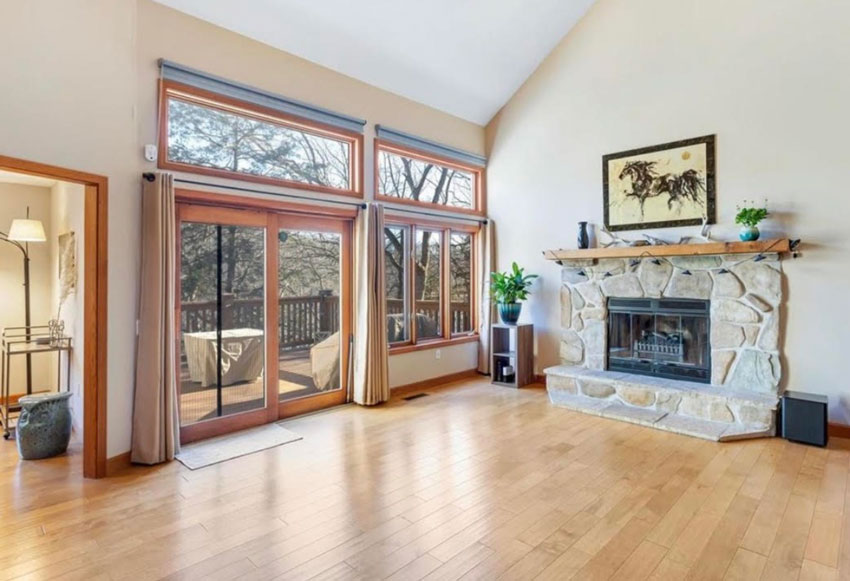 Maria: What's happening with the decorating?
Julia: I'm sorry, I should have given you more info. As of right now she has someone to paint the walls but she doesn't have anything but a sofa (pic below) in a grayish-blue. It's a lake house they just purchased so they don't have much else to work around besides the floors, stone fireplace and sofa. I didn't bother showing more of the kitchen because the undertones are all over the place (taupe backsplash, green beige counters, etc). She's most concerned with the living/dining area now. I feel like I don't know when to match undertones and when to mix them. Thank you so much for your help!!!!
Maria: So when you searched my blog for the answer what did you find? I'm going step-by-step because I want to learn how I can make this more clear. So pretend this is your house. You have a blue grey sofa, and the wood is all orange. If the right colour pulls your space together, what is the right colour?
Julia: After going through your posts my initial thought was Indian White but I was unsure. In your post, Should I Match the Color to the Wall, you tell someone with a similar situation that "the wall color needs to contrast and balance it, not match it… The walls should not have an orange undertone to relate to the floors". BUT, next you say a very pale orange beige complex cream would work. Part of my confusion is doesn't an orange beige complex cream have an orange undertone?
Maria: So, it looks like she has a blue grey sofa. Your walls should relate to the decorating. I'm just wondering why a pale blue grey was not something you were considering at all? Instead, your focus is on the orange wood. Truly her walls could be almost any neutral in my system, and certainly a complex cream. . . I would avoid a mid-tone pink beige, but even a paler pink beige would not be terrible if in fact all the decorating had pink undertones.
Here's a room with the same pink beige drapes as the living room we're talking about. Notice how this decorator cleverly repeated the orange tones of the windows in the furniture.
We then, don't notice that pink beige with orange wouldn't be our first choice.
Decorating my lovelies, distracts the eye from so many 'less than perfect' situations.
Read more: 10 Ways to Save Money Now by Creating a Focal Point
Damon Liss Design
Back to the post, here's the same room photoshopped to look like the walls are painted in Benjamin Moore Marilyn's Dress:
Julia: Thank you so much! I think I was so caught up in how much orange there was and how bossy that felt. It was taking my focus away from actually decorating. I appreciate your help.
Let's see how her client's blue sofa looks in her living room with the perfect river rock fireplace for a lake house. Way better than trendy, stacked stone, by the way.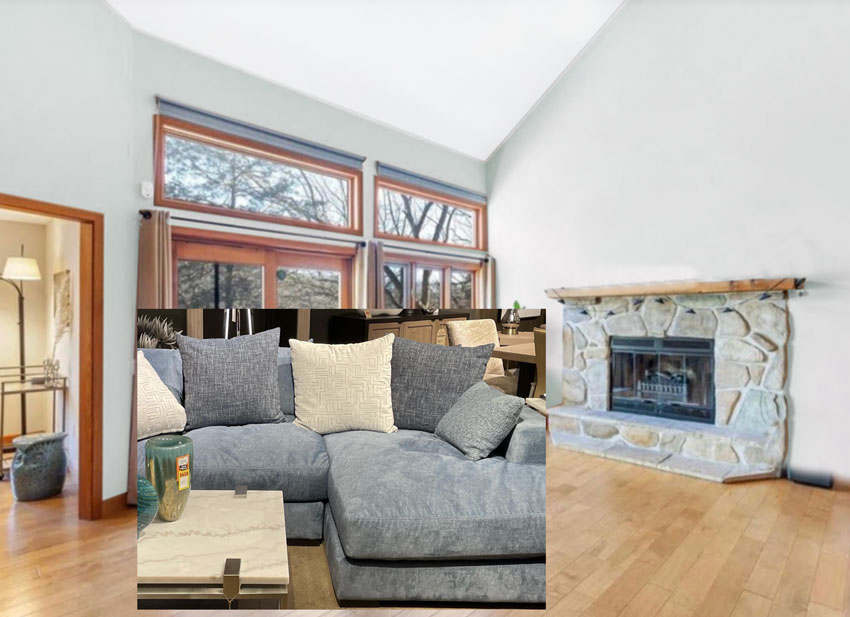 Beautiful! We have contrast with the wood trim and now a lovely balance of warm and cool.
Lately, every time I see wood trim, I think it looks the best with a colour over a neutral:
Read more: The Key to Great Design is Contrast
Want to download my "Exclusive Guide To Timeless Wood Flooring?" Click Here
Interior Design by Chris M Shields Design
Notice again, the walls here relate to the FURNITURE! Not the orange trim.
Could the walls be an off-white? Yes because it gives the room good contrast as well, however notice this room has white furniture which makes the white walls work.
White walls in a room without a lot of sun would also start reflecting other colours since that's what white does, it reflects.
Read more: How to Fix your white Room if it Turned Green (Before & After)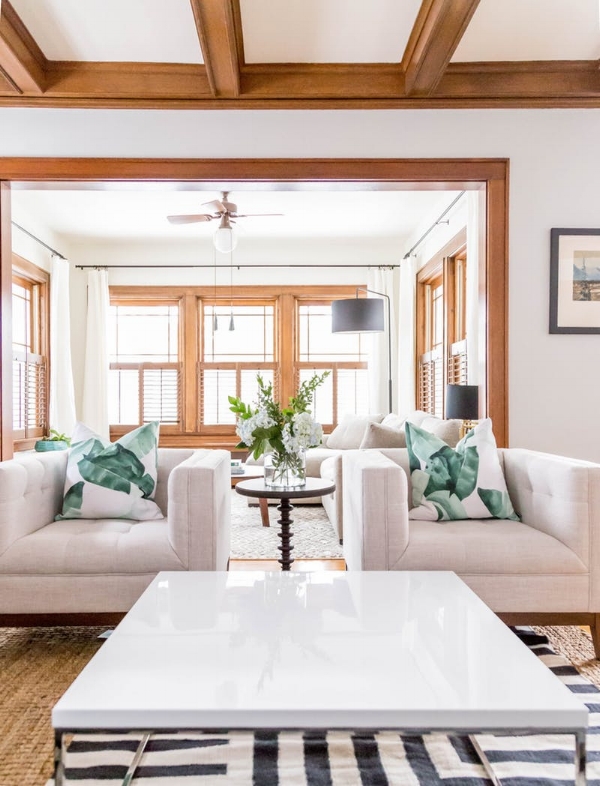 Apartment Therapy
So the white walls in this case, pull together the white furniture (above). The fundamental principle of choosing paint colour is that it should be working hard to pull your space together!
In other news, my 3rd Spring Virtual Colour workshop happened last week and here are some reviews:
First, this is a comment I receive often:
It was two very long days! I was inspired, but burnt out on Monday. I am still glad it was condensed like that, and there is nothing I would have wanted to leave out, so I am not sure what could be done about it.
Packed full of information but no one ever wants me to take anything out 🙂
Thank you to Maria Killam and her team for an AMAZING class! Despite the class being virtual, I learned so much in the 2 days and I feel absolutely more confident with specifying color. I love Maria Killam's teaching style. Her informative overviews and deep dives into color, shows her authenticity and enthusiasm. I have so much to take away from this class as I continue in my interior design journey. I LOVED THIS CLASS! Erica Banks

There were several take-aways but the one that resonated the most for me is: A color consultation goes beyond choosing paint colors for a wall, because you're also advising on the colors for furniture and decor in order to create a cohesive color scheme that flows throughout.In the past I would focus on specifying color that works well with every element in a room, and sometimes that's just not possible. Now I understand that it's better to let a client know what would look better, what could be added or removed to enhance the color scheme. Joanne Williams

I liked Maria's "rants" — they were insightful.

Loved the class. I expected Maria to teach color but not all the additional training in trends, lighting, decorating, vignettes, her go-to-List of colours, how to conduct a color consultation and much more training I didn't expect. 😀😀😀 Deborah Koker
Ever wondered what to say when you're client won't listen? Here's one thing you can say:
Register here to become a certified True Colour Expert®.
Want to download my "Exclusive Guide To Timeless Wood Flooring?" Click Here
Related posts:
First Rule of Design: Boring Now, Equals Timeless Later
Second Rule of Design: Waiting Now, Equals Beautiful Later