Whether you love your grey hardwood floors or you'd rather make them disappear, I'm sharing two of the best ways to decorate around them. The trick is to add some warmth, and I can show you how.
When you inherit your floors and paint colours
My client Deborah and her family moved and happily, all the timeless furniture we had chosen for her great room makeover in her last home, fit perfectly in the new one.
She loved the layout of their new home. However, what she did not love, were the grey hardwood floors and paint colour she inherited. Deborah decided not to replace the floors because she didn't think they would be in the house long enough to get their money back.
But, after living with these finishes through the pandemic, she asked me to come over and specify a new paint colour. We also chose a few other accessories to finish the rooms. After all every new home has custom spaces that need to be considered.
1. Add a complex cream
First things first, a complex cream to warm it ALL up (below). Get the full list of all the complex creams, in all four undertones (which are the palest of the beiges) in my system here.
I always place white boards BEHIND the colour I'm testing, as you'll see further down when I chose the island colour, however in this case we were not influenced by the grey behind it. Plus, I often like to balance the boards on top of the crown moulding because it gives a good visual as well.
But in general, you always want to create a clean backdrop behind the paint colours you're testing so that you don't start making decisions and comparing to the old paint colour.
Need help with your paint colours? See our eDesign packages here.
After the new paint colour went up, Deborah reported that it felt like the sun was shining every time she walked into the house.
After | Benjamin Moore OC-95 Navajo White
Notice if the walls were the same white as the trim, it still would have felt cold. Especially because there's no white in the decorating.
White walls need white furniture to really work well.
Read more: 4 Reasons Your White Walls Look Bad
After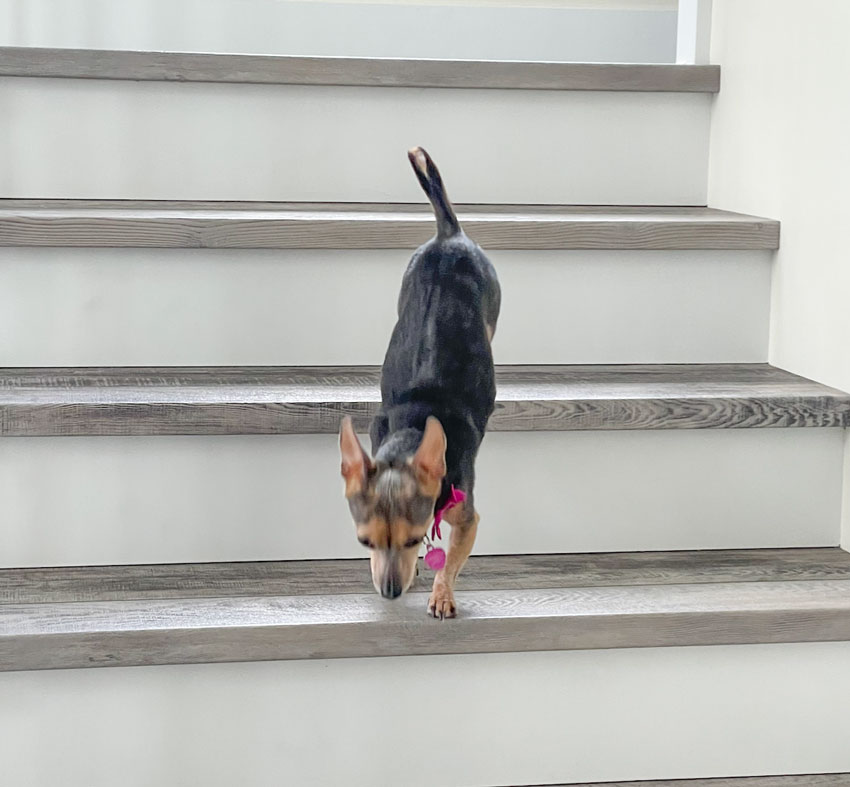 2. Introduce natural fiber rugs to warm up the floors:
Natural jute rugs are the easiest way to bring loads of warmth into your room – especially if you are decorating around a lot of grey finishes.
At first, Deborah tried this rug but it wasn't doing anything for her. The colours were pretty enough, but it ended up looking like an island. It wasn't connecting the floors to the rest of the space.
Then she bought this inexpensive jute rug that comes in every size.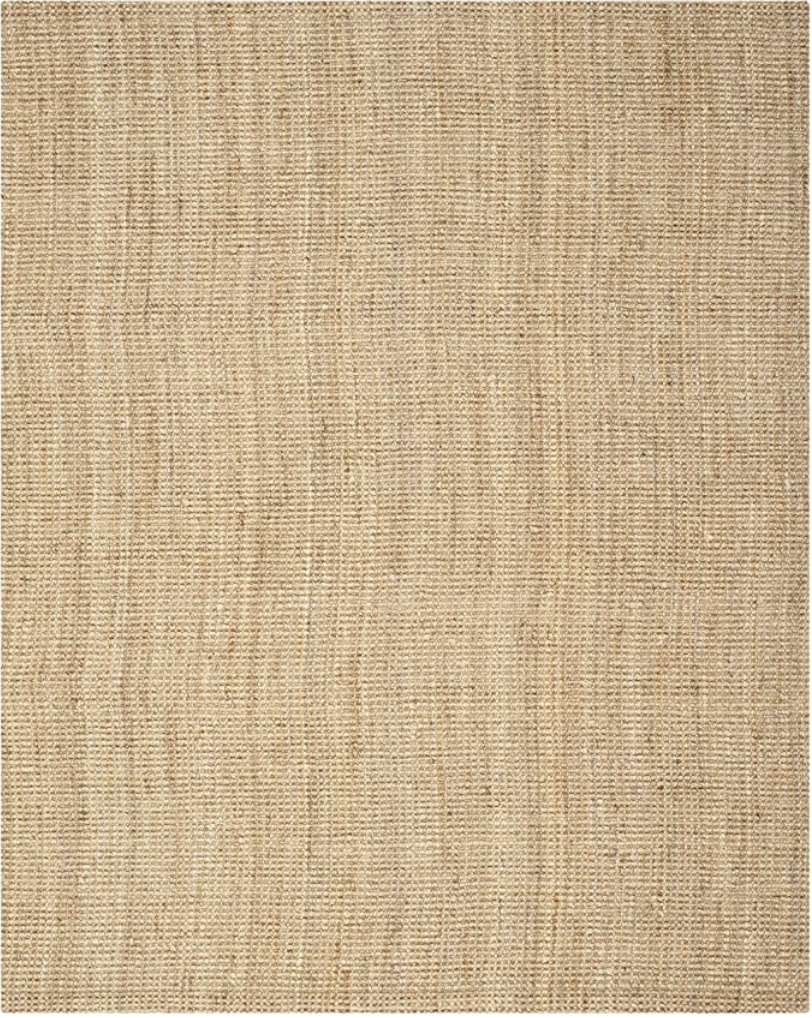 And when I arrived to choose a new paint colour, I suggested she order an even larger one to place underneath the dining table. This adds continuity and brings some much needed warmth to the entire area.
Now she doesn't even notice the grey wood floors.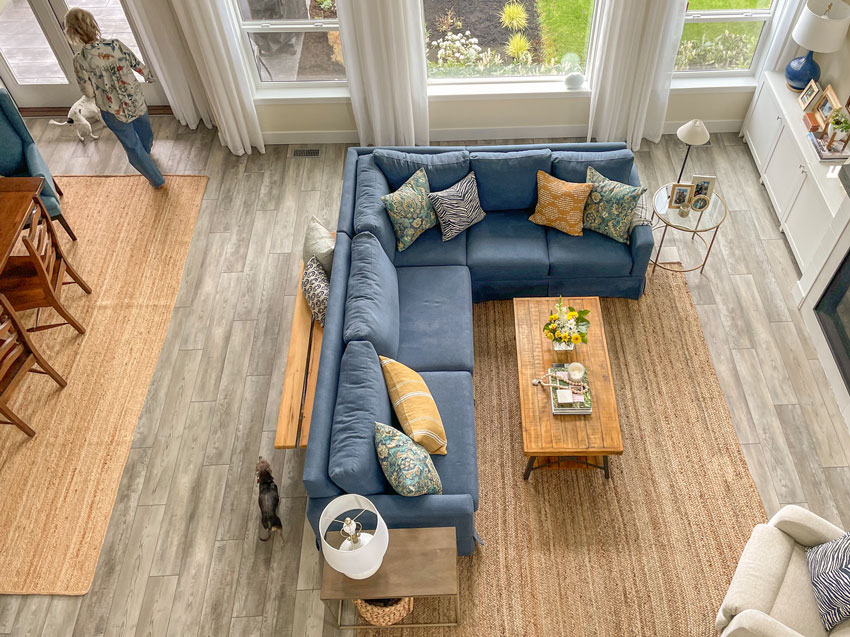 Here's another hot decorating tip: How do you decorate when you have six feet of space on each side and no millwork (below)? Find a cabinet that fits in the space, add some mirrors and lamps and some vignettes.
Read more: Need an Extra Window Somewhere? (Do this Instead)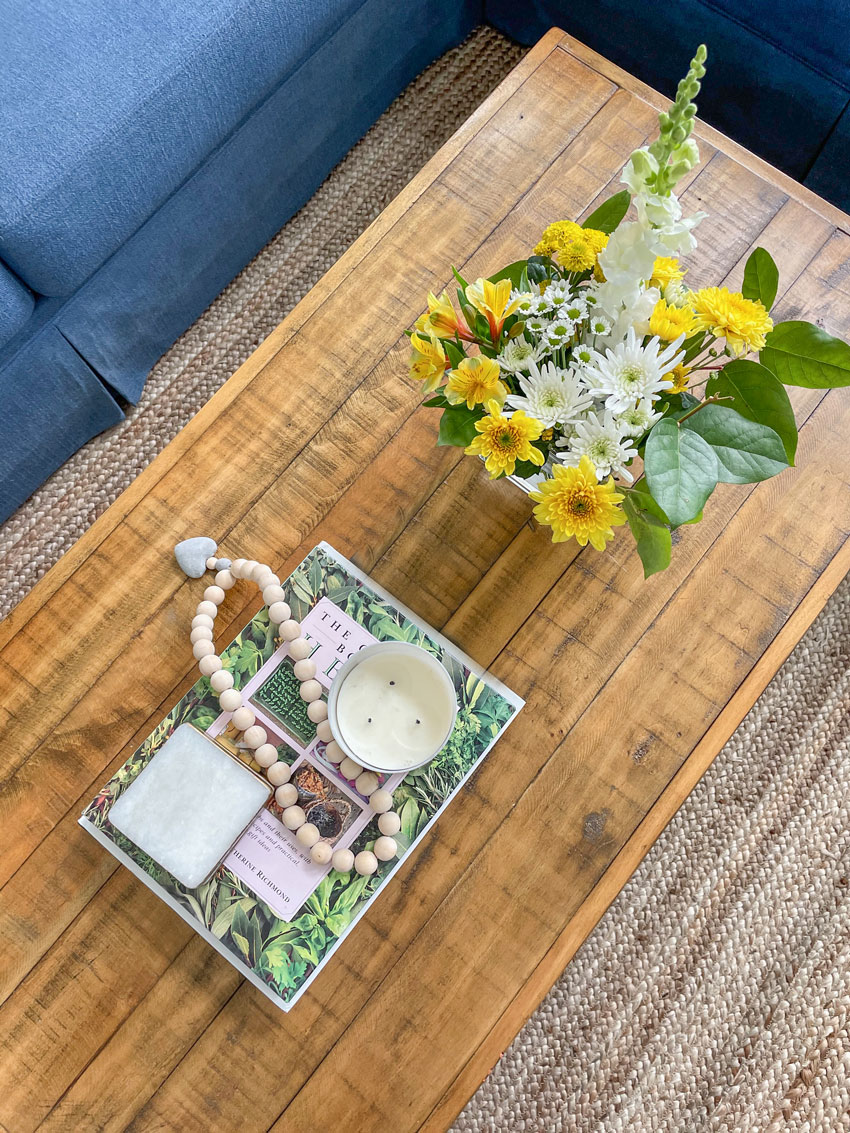 The grey island in the kitchen needed to be navy to bring flow from the great room so I turned one of my large colour samples around to the white side and placed all my navy blues down to choose the right one (below):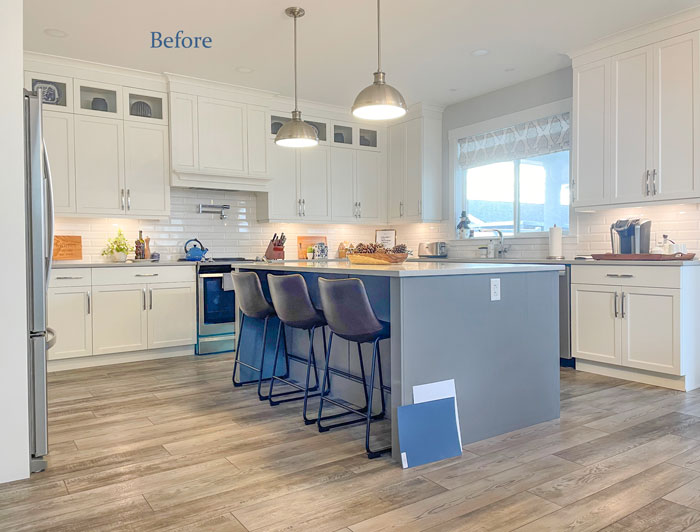 I also suggested that she add some moulding to make it look more like furniture. It's a simple detail that has a big impact.
Read more: My Sister Elizabeth's Fresh but Still Tuscan Kitchen Makeover
After
Then we found a much nicer piece of furniture for this wall in her dining room:
And the new piece gave us more room for bigger table lamps.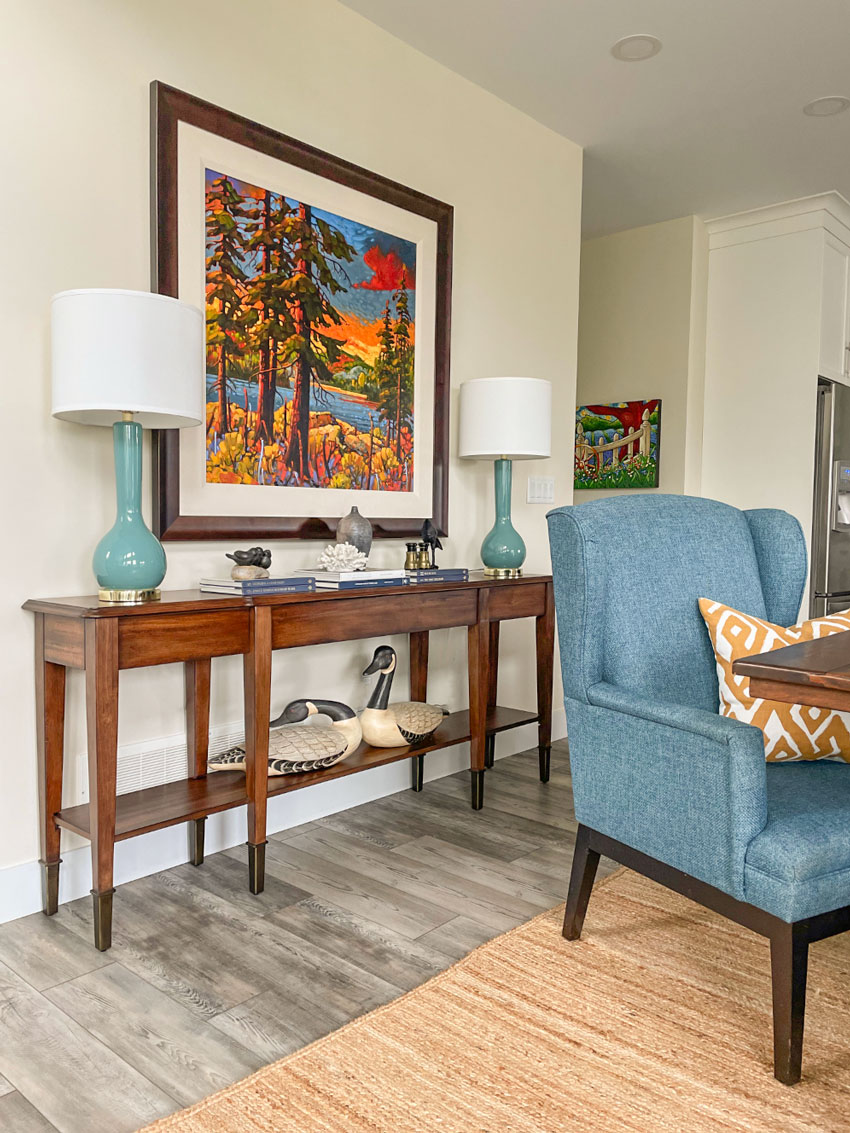 Geometric Pillow Cover | Table lamp similar | Console table sold out
This house does not have an official living room which leaves room for this layout, perfect for entertaining.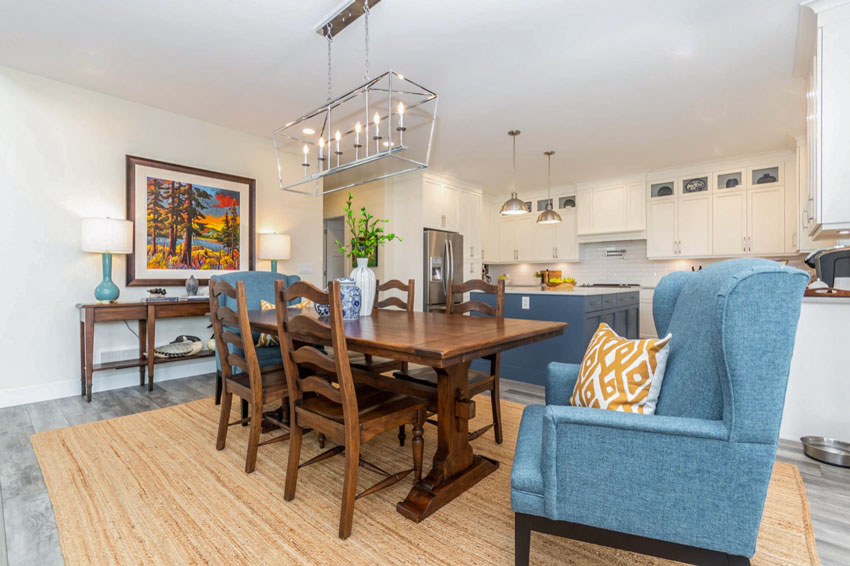 So if your house is feeling too grey, add some jute area rugs and some cognac pillows to warm it all up. And, dare I say it, welcome back beige!
If you'd like to learn how to choose the best colours for your home or your clients home, Friday, June 3 is the last day to register into my final Virtual Specify Colour with Confidence event this Spring.
"Thank you so much for all your insights! I have truly learned things that are practical in everyday use when it comes to color. Even as a new interior designer, I already feel more confident in choices I will be making which will translate to professionalism. I feel like what may have taken months to learn in an internship, I just learned in 2 days." Jacquelyn Boyd
"I signed up for the workshop to learn more about paint and decorating for myself. I read the ebooks twice, once when I first bought them (well before the class), and once in the three days leading up to the class. Reading them in-depth the second time (including following and reading all the links) really helped me to understand the material better. The workshop cemented this knowledge because it allowed me to ask questions and hear questions from others. In addition, I found the exercises Maria led us through to name undertones and come up with solutions were full of so many ah-ha moments that ultimately propelled me to make the biggest leap in my confidence." Evelyn Chan-Cox
The course is June 9 & 10. Register here.
I'm the keynote speaker for a real estate zoom conference this week:
I'm with my family in Osoyoos this week, follow along on my stories.
Well be back out this way in Nelson, the middle of August! I hope it's warmer then.
Related posts:
Ask Maria; What if I Don't Like the Grey Flooring that's Everywhere
Interior Colour Flow is Easy; Before & After