Here's a colourful Christmas living room tour from Kristy's home (my social media manager) in Indiana. See how she added cheerful colour to flatter her orange wood trim in her living room.
Hey there. . .  it's Kristy here. Maria asked me to share a little tour of my living room all dressed up and colourful for the holidays with my new sofa.
But first, a little bit about my eclectic style. I love decorating with chic vintage finds in my home decor. You'll see that I'm a bit obsessed in a few categories, like retro thermoses, bottle brush trees and shiny brites. I'm definitely not a minimalist and I believe that your home decor should bring you joy. So, I love to find new ways to use and repurpose old things.
And when you marry those ideas with the thrill of the hunt for retro treasures, the colour palette can become quite varied and abundant. My maximalism style isn't for everyone… but my curated vintage decor and collections landed me in the 2019 Aug/Sep issue of Flea Market Decor. 🙂
My vintage globe collection in my dining room.
Here's a look at my home tour from a Christmas past. Keep reading to see how I decorated a more colourful living room this season with the addition of my new sofa.
My home in the spring.
Our home was built in 1914 so it's seen a lot of love and living in its lifetime. The only thing I've never really loved about our home is the orange colour of wood stain on my floors and trim work.
But we also felt like the "paint all the trim white" was a fad that our house managed to outlive over the years and thus should stay true while we were living here as well.
My living room as 5 large windows and I realize how lucky we are to have such wonderful light in this room.
This is how my living room normally looks. (Paint colour: Sherwin Williams Pearly White 7009)
The oak trim colour also used to be something I just ignored in my decorating. It kind of worked in my favor during the tuscan trend (when we purchased our house I painted everything in warm browns, beiges and rust colours). I even used curtains and rugs to hide my floors and window trim. Here's a shot of my living room at Christmas circa 2014.
That pink beige wall colour was like an unwelcome guest that stayed in our home waaaayyy too long. All this brown was really never my style. At heart, I am truly a maximalist that loves to load up on all the colour.
And that grey sofa always felt blah, no matter what pillows I tried.
Before
Finding the right colour inspiration.
It wasn't until I found this beautiful saturated pink area rug with pops of orange and dark teal green that I could really appreciate the warm orange tones in my floors and oak trim work. I loved how it brought out the beauty in the aged wood. As a result, the stain colour no longer bothered me as much.
It's amazing how (the right) colour combination can pull everything together.
This new area rug motivated us to finally paint our living room out of the dark pink beige colour and into something fresher and lighter. I have realized over the years that styling with my colourful vintage collections pops more in a room with a lighter, neutral colour palette.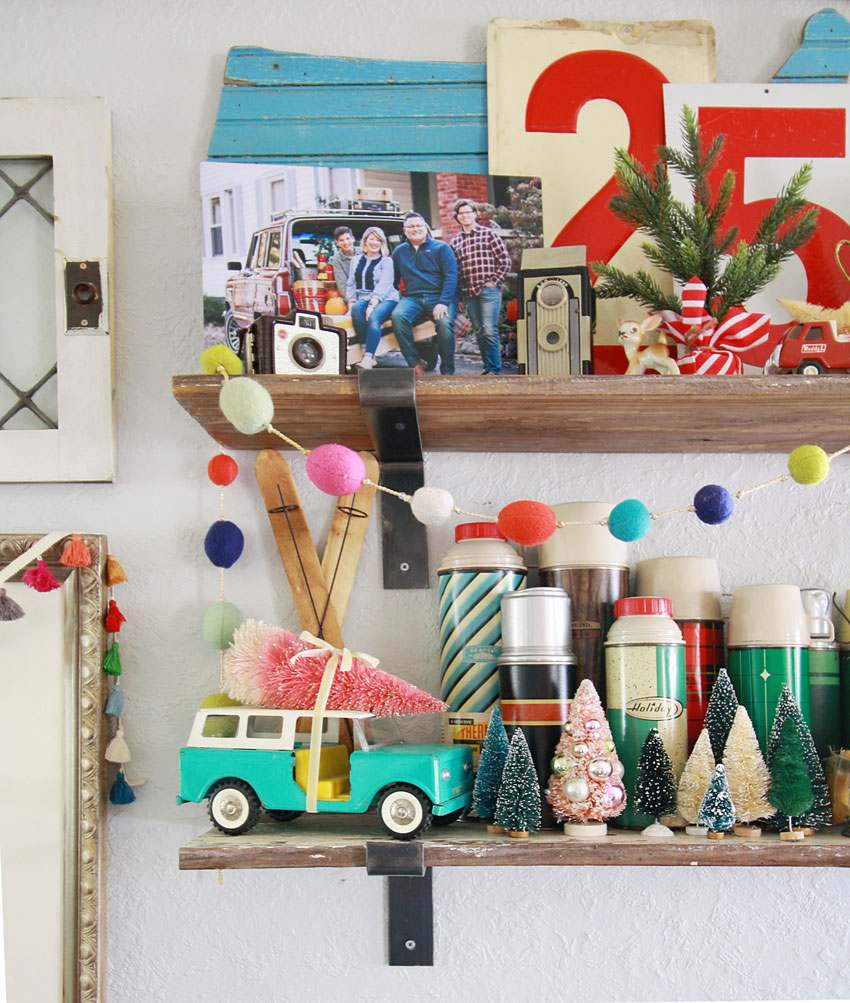 Choose a colour for your sofa, instead of a neutral.
You have likely heard Maria say this before! And, she's totally right!
When we were finally ready to purchase a new sofa, I decided to find something in a shade of blue inspired by the blues in my area rug – rather than a neutral (safe choice). It can be a bit scary to commit to a colour in such a large (and expensive) piece of furniture.
But I have found that colour is so much more generous to my eclectic design style.
I had long-dreamed of a deep velvet sofa material, like you might find in an old library.
However, our family has two boys and two dogs in it so that meant I needed a performance fabric on the sofa. That left me with only like 5 sofa colour options in the style of sofa I wanted. But, one of them was this dark blue-green colour (sort of teal). And it was perfect.
We went with a sectional since my living room is long and narrow. It's the best way to maximize the seating in this room. I've been playing around with both the amount and colours of pillows. I'm not sure I've found the sweet spot yet.
A sectional sofa can be tricky with three corners instead of two. This season I added the bright pink velour pillows for a little festive touch, but I'm really liking them so they might stay all winter long.
Now, bright colour dominates in this living room. And perhaps that's another reason why the colour of our woodwork bothers me less?
Our coffee table is a repurposed luggage cart from an old train station.
Decorate with what you love.
I buy bottle brush trees in bulk. You can never have too many! And, I love how they look when grouped together in little holiday vignettes. I also use velvet ribbon to tie them on to some of our vintage toy cars in our decor.
Really, that's an approach I try to use with all my collections. I think when you collect something or style with a group of objects that are varying in size and colour, it's best to layer like items together in one area.
This helps make it feel a little less like clutter and more like a curated and collected space.
Our flocked Christmas tree is decorated with a hodgepodge of heirloom ornaments from Christmases past and present. It's a tradition my husband and I both grew up with – so we don't do a designer-theme tree in here (although I adore seeing everyone else's).
My favorite detail about our medley tree is the extra large C4 retro bulbs and my colourful felted garland from Anthropologie.
I love that pink is a popular Christmas colour again. Heck, it's trending as a wall colour too, I mean did you see Tricia's beautiful new pink living room yet?
Many of my retro Christmas decorations already feature shades of pink from the 50s and 60s. I added this mini pink tree this year just to display my vintage shiny brites.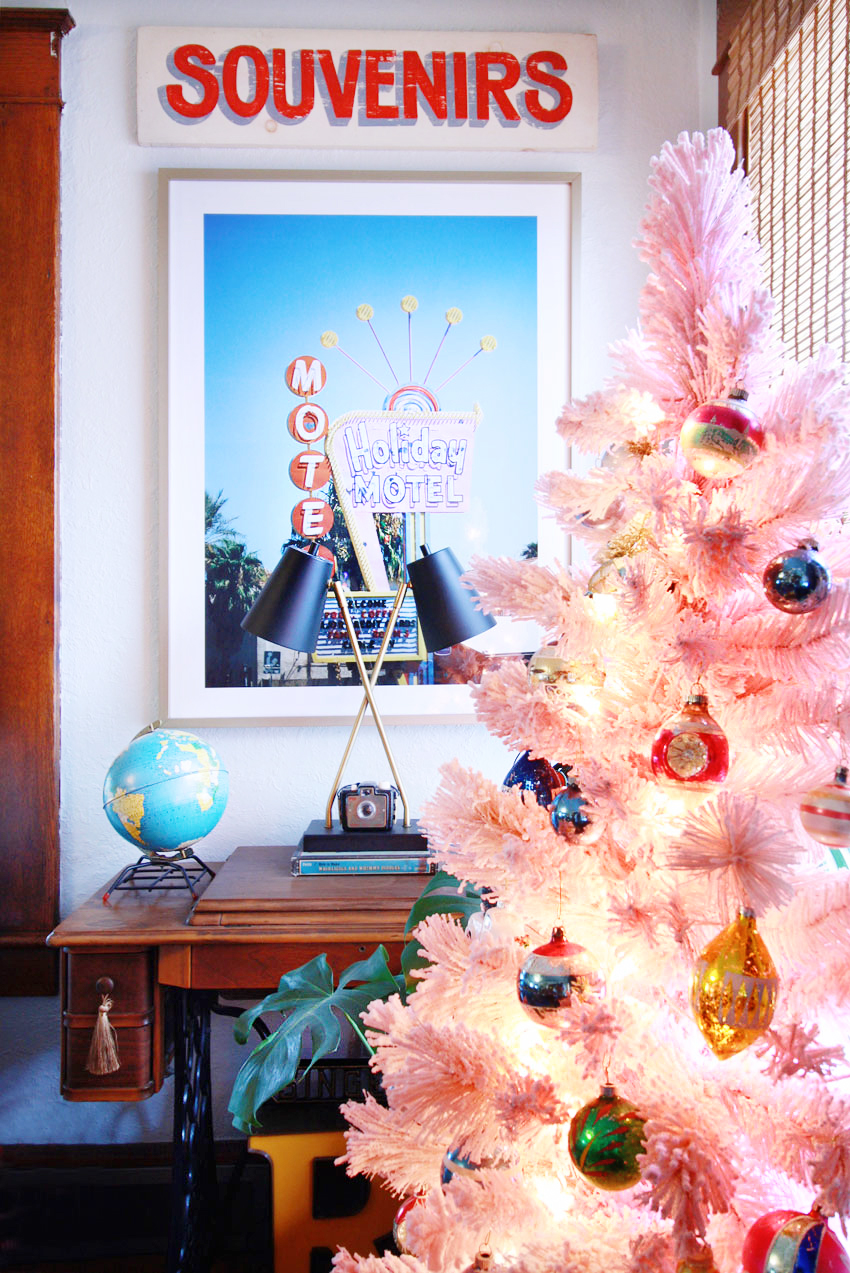 Overall, I'm so happy with my new vibrant sofa colour. It feels more like me and pulls together the colourful palette of our vintage finds (and even complements my Christmas decor). And it makes my orange wood trim feel a little less… orange.
Are you shopping for a new sofa soon? If so, what will you use to find your colour inspiration?
I hope you've enjoyed this little Christmas tour of my living room. Wishing you the merriest of holidays from Indiana!
Thank you to all my wonderful readers for your love and support! I wish you the most wonderful holiday with love, family and friends! I love you!
Related Posts
3 Tips for Adjusting to Your New Paint Colour
Why a Colourful Sofa is as Timeless as Subway Tile
Tricia's Living Room Refresh Before and After: The Best Sofa for Pets