So just to be clear, I am not a kitchen designer. In other words, if you need a new footprint, or you need someone to design your cabinetry, where your spices and cookie sheets will be stored, well I am not that person.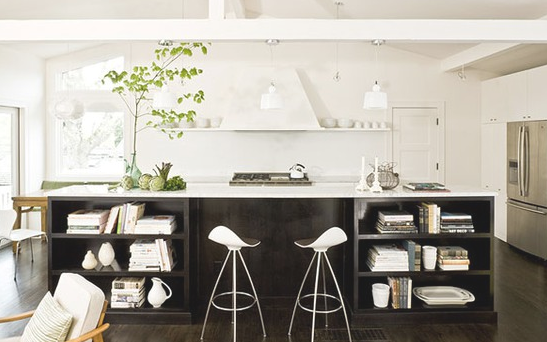 source
However, which colour? Which countertop? Floor? Which backsplash goes with granite? I'm your huckleberry!
In the literally thousands of homes I have been in, I have seen the good, the bad and the ugly and to save you from the latter, here are some thoughts on your island and what you should NOT do, so here goes:
House Beautiful
1. If your island is not designed to look like a piece of furniture similar to the one in the photo above, then DON'T paint it a different colour. You will simply draw attention to the fact that it's totally dated.
2. If you are happy with the footprint (layout) of your kitchen, paint the whole thing white instead of ripping it out. And sometimes just taking out a dated, too small island and getting that piece re-designed can make a huge difference to the look and feel of your kitchen.
Spend the rest on decorating your house instead.
3. Do you have a dated smallish island and want to DO SOMETHING to it?
See this island? Do NOT paint it to stand out unless you do this to it:
Before
So look! Tiny, dinky island, turn it around, extend it with a butcher block top, some new legs and Ta, Ta Da Da! So brilliant.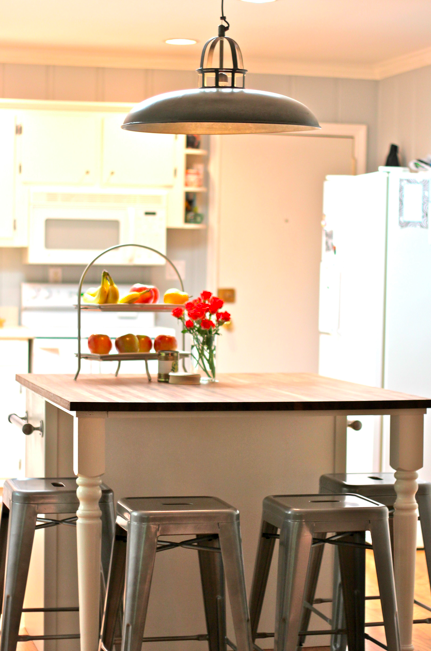 After (via The Nesting Game)
4. Your island should be a square or a rectangle, the end.
You will NEVER see an odd shaped island, or one finished in drywall, in House Beautiful magazine.
Download my eBook, It's All in the Undertones. If you have a computer, you can download my book!
If you would like your home to fill you with happiness every time you walk in, contact me.
To make sure the undertones in your home are right, get some large samples!
If you would like to learn to how choose the right colours for your home or for your clients, become a True Colour Expert.
Related posts:
Which Flooring is the best for your Kitchen; Tile or Hardwood?
Is White Worth the Extra Maintenance; Yay or Nay?