Colour theory isn't very helpful when it comes to decorating your home, but here is what I recommend instead to help you create a beautiful home you'll love forever.
I've always (not-so) secretly thought that applying the rules of colour theory in interior decorating were completely overrated.
Recently a designer invited me to write an article about colour theory and sent me a list of questions about this topic. Questions like, "How can one use color theory to decorate their home?" and, "What's one colour theory rule everyone should follow?"
So many people still think that colour theory may help them make the right colour choices when they're decorating their home, and choosing paint colours for their walls. Writing this article was a great opportunity for me to drill down into what applying the rules of colour theory can do for you, and what it can't!
So, what is colour theory?
I actually looked up the definition of colour theory: "Color theory is the collection of rules and guidelines which designers use to communicate with users through appealing color schemes in visual interfaces."
Here's what I think colour theory is—colour theory explains how colour is organized theoretically and describes the relationship between these colours.
Most people visualize the colour wheel when they think of colour theory, and they learn the terms that describe colour relationships on this wheel—colours opposite each other are complementary, while colours located next to each other are analogous, etc.
Here's why colour theory isn't helpful for decorating your home
The one useful fact colour theory does tell you is that colours exist in relationships. But knowing this fact doesn't help you make the choices you need to make when you're decorating your home.
Colour theory is really great at describing your colours only after the decorating is done. That's when you can describe the relationship between the colours as split-triad-complementary or some other description. But as far as I've experienced, no one ever stands in their (or their client's) living room and says, "Hmm, I've always wanted to design a room with complementary colors. I'm going to look at my colour wheel and choose colours that do that."
Creating a Colour Palette
So, if using colour theory isn't helpful, what is helpful? Creating a colour palette.
When it comes to creating a colour palette you need to keep something in mind. Creating a colour palette for any room with existing hard finishes such as tile or carpet – which happens to be MOST rooms – is different than creating a colour palette for a room that really is a blank canvas.
Rooms with hard finishes (kitchens, bathrooms, living/family rooms with stone fireplaces and rooms with wall-to-wall carpeting):
The rooms in your home that have hard finishes—countertops, wall and floor tile, stone, mid-tone or darker broadloom carpet, patterned or "stripey" vinyl or even wood floors, etc. already have a starting point limiting your colour palette.
When you're creating a colour palette for a room with these types of existing finishes, you need to look first at the colours already there. I call these finishes "bossy" because they dictate which colours you can add, or combine together, for your wall colour and decorating palette.
The multiple earth tones of stone is a good example of a bossy element that your decorating needs to coordinate with, like this neutral room below. Notice how the colour wheel above tells us nothing about the colours in this room?
If your finishes are simply solid black or white or cream, you are closer to a blank canvas situation. But if you instead have beige, taupe or grey finishes, especially if they have a mix of tones in them in the form of a pattern or texture, you need to take these colours into account when you decorate.
If you don't want to be bossed around by the colours in your existing hard finishes, there are two ways to have more freedom with creating a colour palette. If you can, paint over an existing, bossy finish, and if you can't paint it, change it. But, if neither option works for you, you can't simply ignore it.
Colours that relate to other finishes in the room, ALWAYS look more harmonious.
No matter what colour theory tells you.
Once you've identified the colours in your existing hard finishes, the next step is to find a magic pattern that relates to the colours in your finishes and introduces more colours you love. This becomes your colour palette. Simply repeat all the colours in the pattern in large, medium and small doses.
If you have a bossy finish like stone, be sure to repeat the dominant colours. In this case the violet greys (repeated in the sofa, and area rug). And pick a pattern that has that colour and pulls in a fresher colour you want to decorate with. Like this rusty coral blush introduced in with the zig zag fabric. Then repeat it.
Rooms without one or more existing finishes (living or bedrooms):
If you do have a room that is essentially a blank canvas, say just wood floors and four walls, or the perfect versatile white kitchen, and NO bossy finishes, you have many more options. So you need to start by finding some colour inspiration. This becomes the jumping-off point for your colour palette.
Colour inspiration can come from items like a piece of art, an area rug, or some pillows or other fabric. If you're choosing decorating colours for your bedroom with wood floors (because most often carpet needs to be treated as a colour), start by buying some bedding you love. It's much easier to commit to a paint colour when you can see how it relates to something else in the room.
The eye goes immediately to the soft furnishings in any room to see how they coordinate with the wall paint colours. Knowing what colour your hardwood floors are, or the colour of your wood-stained bedroom furniture will not help you choose paint or decorating colours. Unless there is wood up on the walls, trim or cabinetry, it's mostly pretty neutral.
Want white walls? It works best if your soft furnishings have a lot of white like this pretty room below.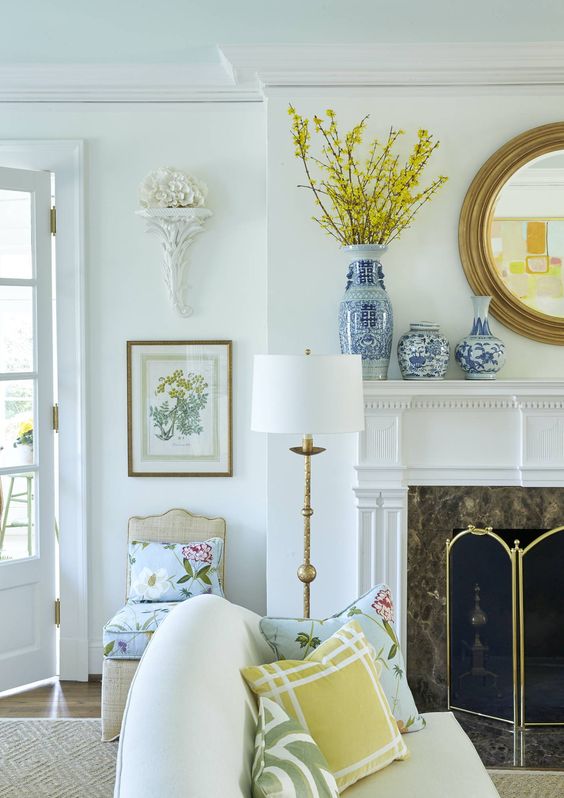 You'll have a lot more freedom of expression and confidence in the colours you have chosen if you've started with a pattern you love – one with at least two or three colours to work with. Find some beautiful art, wallpaper, or fabric you love and then match the paint colour and accessories to the colours in those items.
The colour rule everyone should follow
For the article I wrote, I was asked, "What's one colour theory rule everyone should follow?" If I could wave a magic wand and have the world follow one rule about colour theory, I would make this the rule—follow me. 🙂
It's been my life passion to unlock the mystery of how colour works and show you how to make every colour choice for your home. Just sayin'.
Basic colour theory teaches you about relationships between super-saturated colours, but in a world where 80% of the time we are choosing one kind of neutral or another, that isn't going to be much help. That's why I've developed a comprehensive system of identifying neutrals by their specific undertones, how to un-complicate whites, and everything you need to know about coordinating more saturated colours in real life.
And if my magic wand would allow me to have the world follow one more colour rule, I'd give them one to help choose tricky, subtle neutrals. Because most colour mistakes happen in the most nuanced of colours. And most often, those are the colours we are choosing for expensive paint jobs and glued down hard finishes like tile and stone.
Read more: Should you install the current fad tile?
The neutral rule everyone should follow
When working with neutrals, this rule is super important. Make sure you DO NOT, at all costs, make the current, trendy neutral the dominant colour scheme in your house!
Here's what I mean—during any and every trend, people install finishes, buy furnishings and decorate their home by shopping in stores stocked with tile, carpet, countertops, and even furnishings in the new neutral—sadly, often not just for one finish but for ALL of their finishes and furnishings.
For instance, the grey trend happened during the 2010s before the trends moved on to the current black, white, and cognac trend around 2020. In some parts of the country, grey has been OUT for years already.
Yet you can still find these grey finishes in flooring, cabinetry, etc. at your big box stores. This doesn't mean the grey trend is sticking around. If it's not "out" where you live, a change is coming your way.
Trends eventually move on and they leave in their wake homes filled with dated hard finishes and large furnishings. Just visit any realtor site and look up homes for sale in your neighbourhood. Count how many grey finishes you find. Do they look like the homes you are pinning on Pinterest?
Even more frustrating is that these finishes (ie. flooring and tile) and some of the furnishings are meant to last years—even decades—well past the trend cycles they were selected in. Remember this reader who didn't like any of the grey flooring?
Choosing Classic and Timeless Finishes
And this brings me back around to my mantra—choosing simple, solid, classic and timeless finishes lets you be the boss when creating a colour palette for your home that you love forever.
What qualifies a hard finish as classic and timeless? Basically, it's when you follow these guidelines:
Solid or so subtly patterned that it reads as a solid colour
Looks like it's "married" to every other hard finish in the room—not just matching, but meant to be together forever
Doesn't jump out and say, "Look at me! Look at me!"
The same neutral undertone or white gradation
This is what you get when you follow classic and timeless guidelines for your hard finishes (and large furnishings):
You will still love your finishes long after the latest trend has come and gone
You'll save money by not needing to rip out and replace dated (and expensive) tile, stone, counters, broadloom, etc.
The most freedom to choose a colour palette that you love AND that can be updated SIMPLY by changing paint colours and refreshing your decorating
No one will be able to walk into your home and instantly identify or date which year you built or renovated your home
So, if you are baffled about whether blue is the complement of orange and what that means in your decorating, you're onto something!
Bottom line: colour theory is much too theoretical to help you decorate. Stop worrying about complementary colours and start learning how to create colour palettes that relate to what you already have and bring in what you love.
If you've always wanted to find a more useful way to master colour—way beyond colour theory—Sign up to be notified when I launch the upcoming dates in my Virtual Specify Colour with Confidence workshop. This is where I reveal the guidelines I have discovered inside my system of Understanding Undertones to designers, decorators, architects, homeowners and stagers.
Related posts:
When Colour Theory is Literally Dangerous