Here's my expert advice for choosing the perfect wall to wall carpet colour. I have 4 easy steps that any homeowner can apply to make sure the carpet colours in your home are perfect.
Many of you have asked for this post. How do I choose the right wall to wall carpet? And, what are the best carpet colours? Well, here is my advice.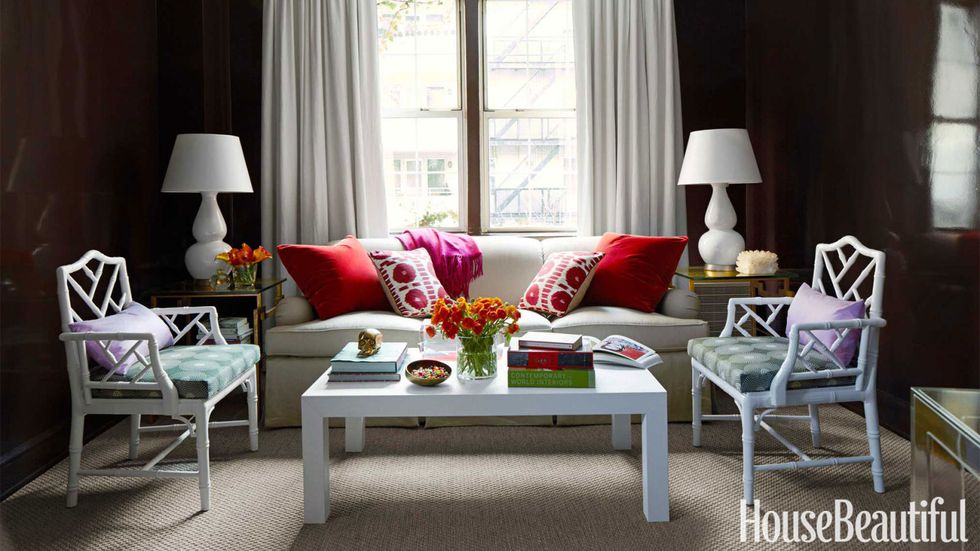 Wall to Wall Carpet in House Beautiful
My best advice for choosing the right wall-to-wall carpet is to select a current texture or pattern. Like the one in the image above from House Beautiful, natural fibre or "natural fibre look" carpets are a hot trend and for good reason. It's a classic look and introduces some beautiful texture into a room.
Want a little help choosing the right colours for your home, check out my eDesign package here.
Here is another dramatic room with a natural fibre carpet with a pretty herringbone texture below.
And a glamorous room with black and gold accents (below). Natural fibre carpet can work well with either a rustic casual, or a more refined look.
Real sisal, jute and seagrass carpets are beautiful, but not so soft underfoot. However, you can get a similar look with woven berbers for the best of both worlds. Look for a pretty waffle, herringbone or diamond pattern.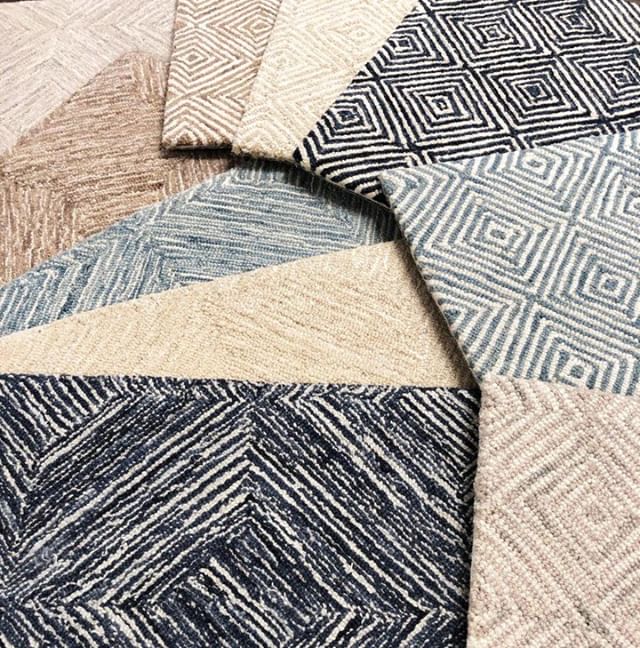 And speaking of pattern, There are lots of great examples of wall to wall carpet with actual pattern like checks, stripes and animal print. These look great on stairs which is the first place carpet gets dirty.
Pretty green grey diamond pattern runner. This kind of pattern can also be installed wall to wall
I specified a herringbone pattern for this stairwell which was a big hit in green: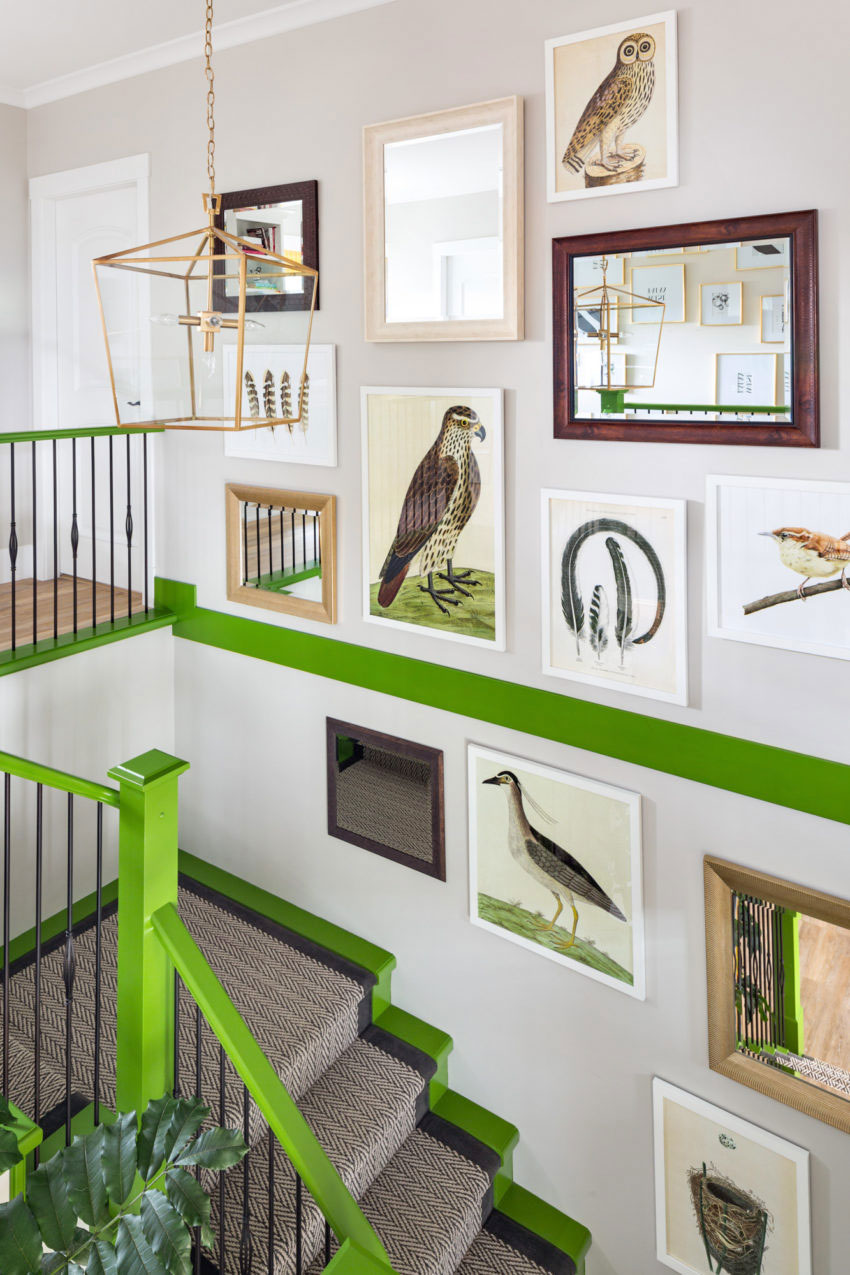 Interior Design by Maria Killam (See this entire project here)
Also, leopard prints are always a classic and so great for stairs as well! This doesn't need to be throughout the bedroom floor but what a great way to introduce yourself to the second floor carpet!
Here is a handsome dressing room by Studio McGee with an unexpected plaid carpet (below). A closet is another place where you can be creative with the carpet.
Inspired? Here are my very best tips for choosing one that will be beautiful without being BOSSY.
This is the most common mistake when choosing carpet.
First let me tell you about the most common mistake I see consumers make when they choose wall to wall carpeting.
Because there is so much pink beige carpet available, AND because most people who are not inducted into the world of neutral undertones take the descriptor "warm neutral" at face value, they have no idea they are about to install the bossiest undertone wall to wall in their home.
If you are choosing any other neutral besides white or cream, which is pretty straightforward–and obviously not a common choice given most people have kids and pets–the most common mistake consumers make is to choose a "warm neutral" pink beige like this one below.
The world is full of bossy pink beige carpet.
If you are not familiar with pink beige, in the world of neutral undertones, it is the MOST limiting neutral.
This is where it sits with all the rest of the neutrals on my colour wheel. Between taupe and orange beige near the top (below). The reason why it looks so appealing on a smaller sample is because compared to all the other neutrals, it's the warmest.
The System for Specifying Colour – Maria Killam
However, as I said, once it's installed in your house, it stops being neutral. It now reads as a bossy beige with a pink undertone that must be taken into consideration when you are decorating.
In my 20 year career as a decorator and colour expert, I have seen more pink beige carpet installed throughout the home than any other colour.
One of my readers sent me this photo while her brand new pink beige carpet was in the middle of being installed with this note:
Yes I know it's wrong, how much to help me figure out wall paint?
And she was not alone in making this mistake. I have spoken to so many clients over the years who've said "Please, come over and help me choose a paint colour, I always end up with pink walls".
This client (below) had almost finished her new build before she found my blog. She hired us to choose new paint colours for her house because the existing creamy/yellow (shown above) was so wrong with everything.
She said:
"I found Maria after so many decisions had already been made, I see so many choices that don't relate!"
The reason I've given you two examples (above) is because there's probably more carpet out there in varying shades of pink beige than any other neutral.
How do I know this? I have been in and seen photos of literally thousands of homes and the number one, most installed carpet colour is PINK BEIGE.
And pink beige is the most limiting undertone because it doesn't work with gold, orange or yellow beige. It generally doesn't work well with fresh colours either.
Here's a pretty bedroom with a lovely textured pink beige carpet with mint green walls. Is it clean and dirty? Borderline. And, it would have been even prettier if the colour had been repeated in the decorating.
Related post: How to Work with Bedroom Carpet You Don't Like
Home Decor Mag
Here are the steps for making sure the carpet that ends up in your home is the perfect colour:
1. Eliminate the colours you're sure won't work
So the first step in choosing the right colour when you come home with a board of carpet samples is eliminate all the dark colours (unless you really are looking for a navy blue, for example):
2. Look for these two neutral undertones:
The two best neutral undertones for carpet that are the most versatile for decorating are green grey and green beige.
BM Manchester Tan (green beige) and BM Edgecomb Gray (green grey)
There's no such thing as a neutral that will 'go with everything', even if you chose a white or cream carpet, you'd still need more white or cream repeated in the room so that it looks decorated. Carpet is never as neutral as a wood floor. However, green undertones are the most versatile.
Here are a few items that represent the world of green grey. Which is the most neutral grey, it's the colour of stone (below):
This is green beige, it's warmer and works really well in an earthier house.
Photos and styling by Maria Killam
3. Compare: paint larger samples of both undertones
The way to find the best options on any board of carpet samples is to paint up a large board of a colour in the neutral undertone you want. Or use my large painted boards which are curated and categorized by neutral undertone for you making it super easy.
When you sample any hard finish, you must set up your carpet and paint colour, in this example below, green beige, to simulate what it would look like installed in your home (below).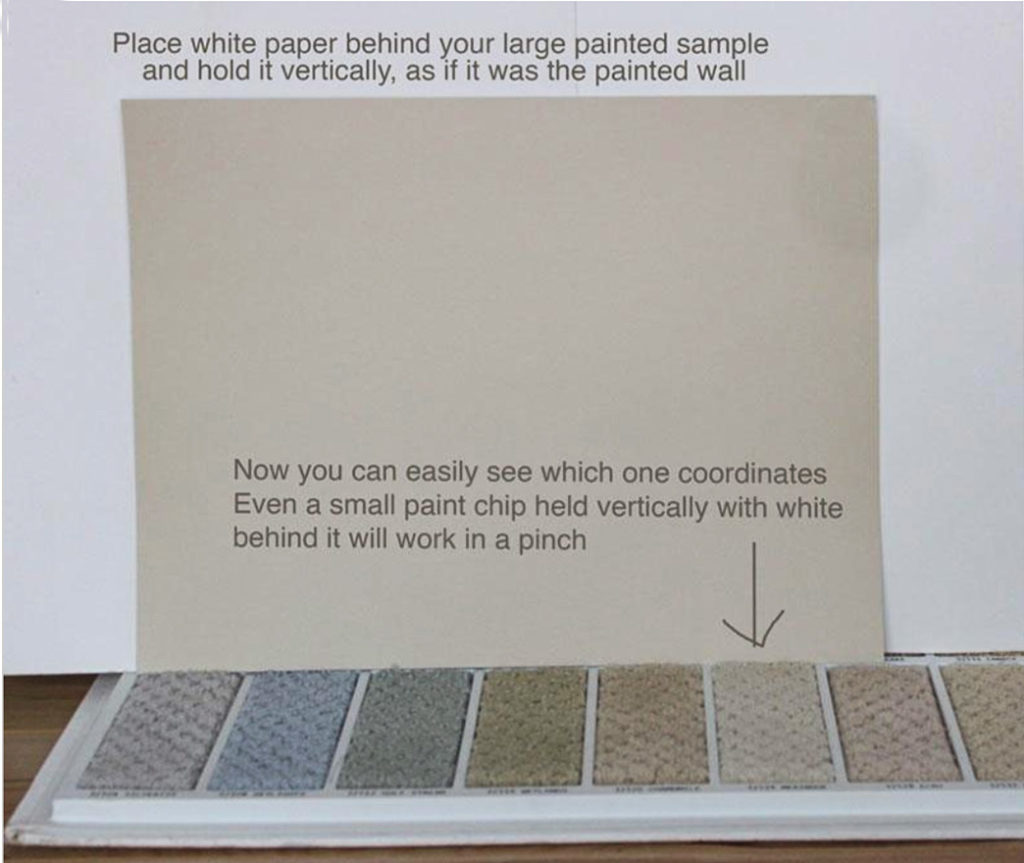 It's easy to see the versatile green beige choice when you compare it to a known green beige paint colour (BM Grant Beige is shown here)
Here is a typical board of samples (below). You can see that after eliminating the very dark ones, the options are mostly pink beige.
4. Test: DO NOT SKIP THIS STEP!
Once you've identified the best options in what looks like the right undertone, the next step is to order larger samples from the carpet store to test in your space with your other finishes. This is the ONLY way that you can make sure that the undertone you have chosen is the best one.
Larger samples allow you to see the colour much more accurately and you should be able to order a 9″ x 9″ sample which is often the standard size of a test sample.
The only way to know if you have the correct neutral undertone is to COMPARE it to a colour with the undertone you want. Since carpet is much more bossy in colour than relatively neutral wood floors, it's critical that you know which neutral undertone you are installing.
Set up your test the same way you did the smaller samples, with the paint colour propped vertically, and the larger carpet sample flat on the floor. Both with white board behind.
The only way to know for sure that you have the right undertone is to properly test it.
ALWAYS TEST, NEVER GUESS.
Don't be tempted to skip this step and choose your carpet at the store without taking a sample home first. It can be tricky to spot that bossy pink undertone without carefully comparing it.
When pink beige or taupe may be your only option
If you are already working with a lot of pink beige finishes such as travertine, or your finishes and upholstery are all taupe or violet grey from the grey trend, and you're not planning to change them out, it's best to coordinate your new carpet with them. In this case you are looking for the best pink beige or taupe carpet to coordinate with what you already have.
You'll want to avoid the pinker beige and pinker taupe options, again, by comparing your options to my curated collection of the most versatile and least obnoxious taupes and pink beiges. And of course by properly testing them.
What about kids rooms?
I usually ignore the carpet in kids rooms. Your childs room is usually smaller and then it's all about their bedding and decor. When I decorated my nephews bedroom, I ignored their earthy gold-beige carpet (below):
What about grey?
I talked about green grey (above) which is pretty versatile. Blue grey or violet grey would be more limiting.
However, it's always a good idea to coordinate your carpet to your decorating, so if you have blue colour scheme in your living and dining room and your wall-to-wall carpet is strictly in these rooms, then it makes sense to consider a blue grey area rug.
I'm suggesting green beige or green grey if your carpet is going throughout your home or your bedroom floor because that's where your colours will vary from room to room.
And if you have soft greys in your house and you need carpet, consider the natural fibre look instead of more grey like this below.
This warm herringbone seagrass rug warms up the soft violet grey walls by Tedxtuj
So these are my best tips on how to avoid the unpleasant shock of installing a bossy pink carpet.
However, if you need to install carpet in your home, and you're overwhelmed by boards of samples, or you're just not sure which neutral undertone would work best with the rest of your finishes, try our RENOVATION or NEW BUILD eDesign consultation here.
Related posts:
How to Choose the Right Carpet Colour for your Bedroom; Before & After
Ask Maria: About Carpets, Oak Cabinets and Dining Chairs