Recently I received an email that haunted me for days.
This happens often by the way, when you send me a good one. It puts me deeply in my head and sometimes I forget to respond. I really get upset when that happens.
This email from one of my subscribers, was one of those:
"I have been reading your blog for about a year now, and I have learned quite a bit about color and undertones from your books. However, I regret that I have to unsubscribe from your blog.

You see my house was built in the Tucson brown trend and believe it or not it seems to be still going strong here in Oklahoma. As a result, I get depressed looking at all the beautiful fresh and clean white interiors, and until I am able to build a house I won't ever have a house that is fresh, clean and white.

I finally talked my husband into painting the kitchen (used your book of whites and big samples to pick the color)  and it looks so much better but the counters and floors are still brown. He refuses to paint the trim and replace the doors especially since nothing is wrong with them.

I thought we could move but most of the houses in this area are the same, so every house I look at, I want to change everything in it. Hence, the reason I am giving up until we can build."
I did respond to this one but it took me a few days.
For all of you who often feel that way, my first piece of advice would be to stay off Pinterest. Even I get depressed when I see the fabulous architecture of so many interiors. They've ruined it with their new, bad, unrelated ads anyway.
So here's the thing. There are very few homes that cannot be transformed with some lighting, styling and new accessories.
In fact, if I had to live a house that was white or brown but the white one was not styled or didn't have any lighting, I'd choose the brown house.
I'm serious. Those of you who are cranky about your house, you think it's about the colour but it's not.
There are so many unnecessary and expensive paint jobs I have saved my clients from simply by introducing some great styling.
If you can paint, by all means. But if you've painted what you can and there's still too much brown in your house, well then it's time to break out the accessories.
Giving a not-so-awesome room a new focal point, with a new vignette on the mantle, or the entry table, or your kitchen island will help a lot!
When my nephews came over for pizza night this week, William said my new family room transformation made this space his new favourite.
When I dropped in to visit my sister Elizabeth this week, William had pulled out several Christmas ornaments and she said it's just a matter of time before it all comes out. Last year both my nephews pulled out Christmas in early November because they love the sparkly lights.
So I decided to get some more decorative pumpkins and we made a quick trip to HomeSense for some accessories on Saturday in the pouring rain.
This is what Elizabeth's kitchen looked like when we photographed it after the new subway tile was installed a few years ago (above).
That's the first step. Replacing backsplash tile is not expensive. Elizabeth had a dark travertine backsplash which was a very common installation during the tuscan brown trend.
Related post: My Sisters Fresh New Backsplash: Before & After
If you need help with the colour, you can go here to get an e-Design consultation.
At HomeSense we bought a cutting board in the shape of a whale (my nephews are studying the ocean right now, she's homeschooling them and they are into whales) and since Elizabeth is always baking, I found this coordinated pedestal with a glass cloche over it. Notice how it adds height to this vignette.
Then we dropped in at the local nursery and picked up a little Cypress topiary and a terra cotta pot to plant it in. They are outdoor plants but if you don't let them dry out, they last at least a month or more inside. My last Cypress tree lasted 6 months. Then you can just get a new one if it drys out.
Notice I repeated the green and cream in the gourds I chose to coordinate with this vignette.
You hardly notice the brown countertops now that there's something pretty to look at.
And that is my point. If you're depressed looking at your brown house, this is what's missing.
This is the other side of her kitchen:
Elizabeth wanted blue in her kitchen and it wouldn't have worked to paint all the walls blue because her countertop has so many colours in it already and no blue. So we found the art in the adjoining living room (at HomeSense) and then chose the blue which is P&L 27-22 Lovebird. Then we repeated it in the artwork on the pantry wall (above).
Related post: The Minimalist Way to Inject Colour (My Sisters Blue Accent Wall)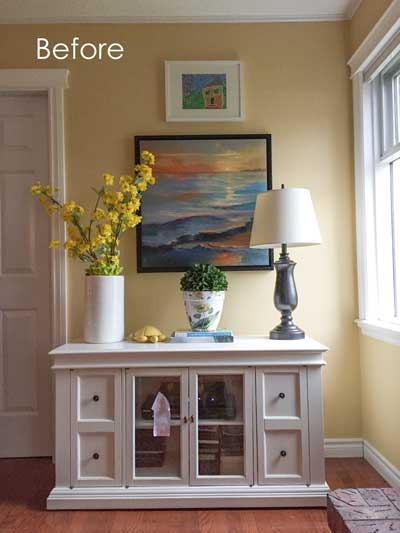 This was the vignette she's had here all Spring and Summer, time for a change.
Elizabeth had found some amazing large pinecones while hiking this Fall, so we arranged them in glass vases that she had to repeat the brown in the table lamp.
The framed picture above the HomeSense scene is a painting by William.
I brought over the blue and white ginger jar from my house and then we picked up some faux sunflowers to add a hit of permanent happy to the whole thing!
Well, until the Christmas decor comes out anyway 🙂
Notice that I have a collection of different size pumpkins and they are orange, yellow and white. And all 3 colours are found in the painting.
And pumpkins are an inexpensive and colourful way to add Fall to your home!
And don't forget the votives. . . this vignette looks so pretty at night with the candles burning.
Here's Elizabeth's back entry (which is really where everyone comes in from outside). You can see her Turquoise & Red Family room on the right.
Related post: Elizabeth's Turquoise and Red Family Room: Before & After
Here's the new Fall vignette. We only added white pumpkins here, because orange pumpkins won't coordinate with the red in the adjoining room.
Elizabeth and the kids go for lots of walks and a collection of rocks and sticks have gathered on the entry cabinet and on the windowsill above it, so I incorporated them into the tablescape.
Just pile them up and add some hazelnut shells with a little puppy peeking over the stone wall.
To keep the white candles looking nice, I suggested that she replace them with votives when she wants to light them. Easier, and votives have a shelf life because they only last about 4 hours. Then you can light them and almost forget about them.
Here's the other side of Elizabeth's entry:
BM Moonshine
What do you do with an awkward wall with a railing on it? Arrange some starburst mirrors.
So there you have it, there is no shame in copying anything and everything that's out there. There's nothing original anywhere so if you see something you like, just copy it and bring some happiness inside your house!
Trends come and go and it's impossible to keep up with them! Even my white kitchen feels dated right now because I don't have any gold fixtures or hardware. Oh well. The list goes on because trends change constantly.
And it's the reason why all conversations about classic and timeless with me come right back down to subway tile.
Boring it might be to you, but it's hard to argue with the timeless factor.
Related post: Boring Now Equals Timeless Later
I'm flying to DC today because my Specify Colour with Confidence workshop starts Wednesday! Then Terreeia (pronounced Maria with a T) and I will stay in DC for the weekend and be tourists before we go to Charlotte where my course will be at the Carmel Country Club right before High Point.
Traci Zeller will be reviewing the course (she is famous on this blog for being the first TCE) and she'll also be sharing with us how she does her "Designer in a Day" consultations. Traci has come a long way in her career and business since doing my very first workshop 7 years ago.
The reason why it's so hard to figure out how to charge for services is because everyone does something a little different. So in order to figure out how much YOU should charge, it's super valuable to hear other ways of doing it.
Register here if you'd like to transform the way you see colour!
Related posts:
How to Create an Ethereal Colour Scheme