Now that beige is trending again, it's time to revisit the pink beige undertone because we're about to see more of it. And that's ok, if it's paired correctly with other finishes and colours in your home. Here is some additional guidance for working with pink beige.
Get your 'real paint' Understanding Undertones colour wheel here.
There is little in my colour community that causes more hand wringing than PINK BEIGE. #truestory
When I started this blog, beige was very much in the range of neutrals people were grappling with. And thus PINK BEIGE became the default neutral for every selection. So I wrote a number of posts, here, here & here, warning good people not to fall for the warmest undertone of beige just because it was WARM. I also cautioned that it is the most limiting undertone of beige. I (might have) even said it should be BANISHED.
These are still among my most popular posts.
Fast forward to today, and I constantly get frantic messages worrying about pink beige finishes in my readers' homes as well as from my eDesign clients.
Pink Beige is Ok
I want to put this whole fear of pink beige back into perspective because beige is trending again. I've posted about it a few times over the last couple of years. And this year, beige is starting to dominate my Instagram feed.
That's how I know that it's not just on the fringes anymore. It's HERE.
Trending beige colours
Beige is back, but differently. Now it's here to warm up the countless black and white rooms. Typically you see beige paired with fresher contrast from the lightest and darkest of colours already mixed in. See the balance of fresh white in the bedroom above with the gold beige ceiling and pink beige linen drapes. That's a perfect strategy for keeping the addition of beige fresh and current.
We haven't seen many rooms wrapped head to toe in beige, yet. But if it really catches on, it will inevitably get overused again in beige-on-beige rooms with no light or airy balance.
Interestingly, where I've seen the most heavy-handed use of beige recently is in the new "warm minimalist" look. See this room below, where the entire room is wrapped in beige and earth tones, but the furniture shapes are so modern and current that you can't mistake it for a dated room, right? It's a fascinating tendency since minimalism can be quite sterile. This is another interesting way to create balance with warm neutrals.
Gold beige, taupe and orange beige are being used in the new beige colour trend. But pink beige, once again, seems to be a popular choice. This is likely for the same reasons it was before. It's simply warmer and looks "light brown" more than yellow.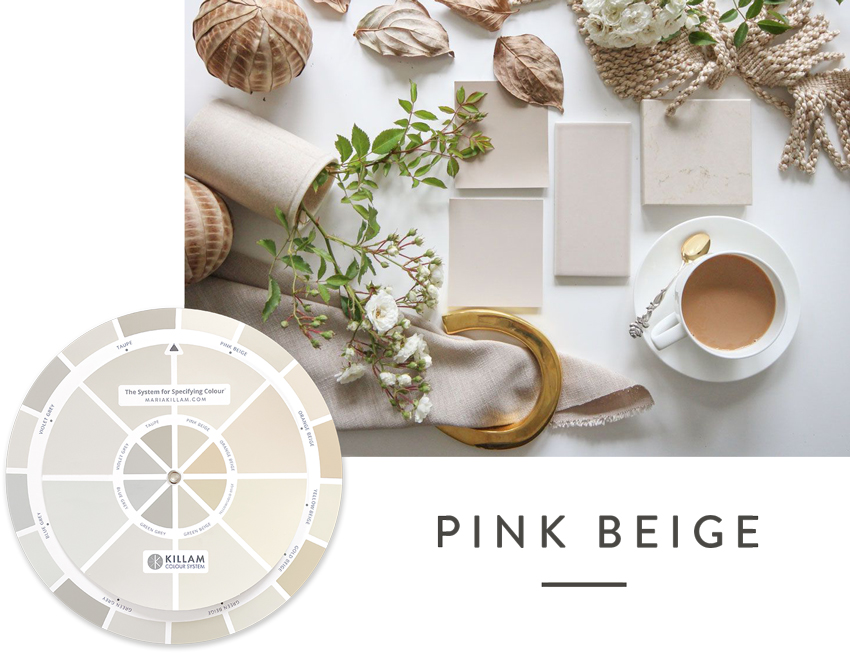 Order the new real-paint colour wheel here
Some important popular materials also have pink beige undertones
Timeless natural linen ranges from pink beige to taupe. Travertine is usually pink to orange beige. And while natural wood can be treated as a true neutral in most situations, the popular pale oak flooring and cabinetry is also pink beige (light brown).
Limestone can be green beige or pink beige, as well as green grey. At this time (and I expect this will change as beige becomes a bigger, more mainstream trend) light beige to cream quartz options for kitchens and bathrooms are extremely limited and the best ones have slight pink undertones.
Plus, a vast number of homes in North America have pink beige tile, granite and carpet installed through thousands of square feet.
So here's the thing. There is nothing inherently wrong with latte-coloured, light brown, mocha, or linen. These are all popular terms for describing PINK BEIGE.
And, pink beige has a special affinity for the warm terracotta, blush and salmon accents that are trending. Benjamin Moore featured a pink beige in their trend palettes for both 2021 and 2022.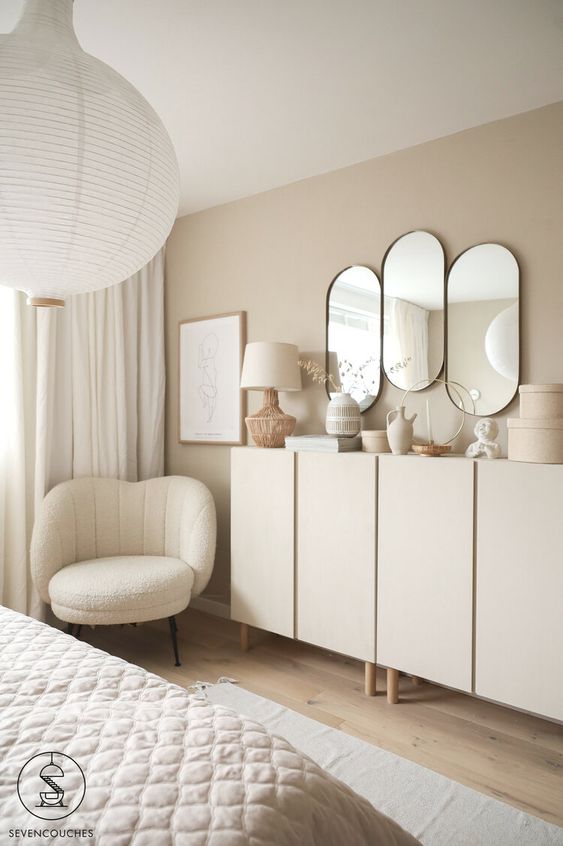 What if the finishes in my home are already pink beige?
If you have pink beige finishes in your home it's MUCH more preferable to try to work with the pink undertone in the best paint colours and finishes – that is, those with subtle, creamy pink beige undertones – than it is to try to ignore the pink beige and switch over to taupe or green beige.
The reason why it's better to work with your existing pink beige by adding more pink beige is because it's not possible to "tone down the pink" by switching to a taupe or green beige, or green grey. That's not a thing. Switching to beige or taupe undertones does not tone it down, but rather it usually highlights your pink beige finishes even more.
This is why I'm still specifying pink beige for my eDesign clients. And there's nothing wrong with it when used correctly.
But if I had a blank slate, let's say I was building a new home or starting a complete renovation, pink beige finishes would not be my first choice. In fact, my house has NO neutral finishes in beige or grey undertones. The finishes in my home include black and white tile, white hard finishes and a wood-look floor.
Why? Because I don't want to be stuck with a specific neutral undertone when I decorate. I love to decorate with vibrant colours that look best with crisp white and subtle hits of black. The palest beiges, the complex creams, as well as pale greys and greiges, are also very accommodating of colour. But when you get into those mid-toned greys and beiges in your tile or countertops, you have to be more careful in coordinating your decor with them.
So really, that means that beige, in general, is a more limiting choice for finishes than timeless white. However, among all 4 undertones of beige, the pink undertone is the MOST limiting because it doesn't look good with yellow and yellow beige.
You already know that yellow is my favourite colour. So I would have a very hard time being happy in a house with pink beige finishes because yellows make them look dirty by comparison. In other words, pink beige is too muddy to work as a backdrop for my colourful decorating, which always has some happy yellow.
I just completely redecorated my living room around my yellow sofa for the third time (below).
If you are in the majority of people who don't care for yellow, and you have a house with pink beige finishes, go ahead and work with the pink beige. It's a beautiful backdrop for many other popular accent colours, particularly greens and blues. At the end of the day, the world tends to favour those colours anyway.
Here's a good example of pink beige of the bathtub repeated beautifully in the hex tile and the wallpaper (below). If you look closely, the wallpaper is actually primarily taupe and the pink beige here is lighter but it all still works to create a harmonious look.
Have I talked you off the ledge yet?
If you're reading this blog you already have an eye that is more trained than most people and if you'd like to train your eye even more, there are three dates still available for my Virtual Specify Colour with Confidence workshops.
If you'd like your home to fill you with happiness when you walk in the door see my eDesign packages here.
Related posts:
Why Pink Beige Should be Banished Forever
The Easy Way to Decorate around a Pink Beige Sofa
Ask Maria: How do I Decorate around my Bossy Pink Beige Driveway?