I'm always getting asked if this is timeless or that is trendy. So, today I'm sharing 5 timeless decorating details to help you know what exactly is timeless vs. trendy and more importantly, when this distinction matters.
Any time my Instagram account picks up a bunch of new followers, I start getting a lot of messages that go like this:
"Maria, is zellige tile timeless or trendy?"
"What about gold/bronze hardware?"
"Is upper shelving timeless or trendy?"
And on and on….
But here's the thing, many of these questions are confusing one major point of distinction. That is, many of you are mixing up questions about decorating vs. questions about hard finishes.
And, decorating is very different than installing hard finishes. Once you understand this, you can rest a bit easier.
Because you don't need to worry about whether your lighting, wallpaper, or your leopard staircase runner is timeless. It's unlikely anyone else will like any of your choices in these categories anyway because decorating is so personal.
And since decorating elements are so easy to replace when compared to hard finishes like tile and countertops, decorating is where you really can choose what you like or indulge in a trendy element.
5 Timeless Decorating Details You Can't Ignore
By the way, it's not like I have some magical insight that makes me the gatekeeper of what's timeless. BUT, I've been decorating, blogging and teaching colour for a loooong time. So, I've seen many trends and fads come and go. Patterns often emerge in what ends up standing the test of time. It's a bit more subtle than a firm checklist of attributes.
However, here are 5 timeless decorating details you can apply to help you recognize and make TIMELESS decorating choices in your home.
1. Colour is Timeless
Yep.
You know, it's easy to find many designers making the opposite claim, saying that a neutral room is more timeless. But that kind of advice is flawed and not helpful to you. Because if you follow my content, you know that nothing dates your home faster than choosing everything in the trendy neutral of the moment.
And to be clear, timeless decorating does NOT mean safe and boring decorating. But Maria, isn't it possible to create a timeless AND neutral room? Absolutely. But there is nothing timeless about a room furnished top-to-bottom in brown and beige (Tuscan trend of the early 2000s), or grey-on-grey (grey trend of the 2010s).
Read more: What Makes a Neutral Room Timeless & Beautiful
But Maria, what about white?
Great question! Yes, white is neutral and I would also call it timeless. However, there's an important detail we need to consider, especially during this current trend. Choosing EVERYTHING in black and white does not make timeless decor. Too often the interiors of the black and white trend look bland, stark, predictable.
Again it must be said – choosing everything in the trendy neutral of the moment is NOT timeless.
May I also remind you that boring now equals timeless later (design rule #1). But this particular design rule applies to glued-down, permanent or semi-permanent hard finishes such as tile and countertops. But I wouldn't apply this rule to decorating overall.
See what I'm getting at?
If you choose natural wood floors with white or cream for your glued down hard finishes like tile, rather than a trending beige, grey, taupe, or black, you'll never have to rip it out and you can decorate it a million different ways over time. It will be so easy to change it up if you like or decorate with your favourite colour, which will always make you happy.
And that includes PAINT. White finishes allow you to wrap any room in luxurious COLOUR. That means you can choose a trending and/or bold colour for your paint, decorating, art, and styling. My favourite decorating formula is to make sure you have at least one or two large elements in your room in COLOUR.
So for example, in this video, when I said, "if all else fails, choose white" I meant TILE. Not stark white walls.
One of my favourite ways to help you incorporate colour into your decorating is by choosing a sofa in your favourite colour.
Read more: 3 Colourful Sofas to Save You from Decision Fatigue
My sunflower yellow sofa
Timeless refers to something that will never go out of style. In other words, it is created with a long view in mind. Timeless decorating is making selections that will last well beyond the current trend and shouldn't need replacing until it is threadbare. But, a timeless room can also easily be styled and accessorized to reflect your interests in the moment.
And what is the most timeless furniture, you ask? Classical antique furniture. As I mentioned in this post.
2. Timeless generally means anything that is expensive or difficult to replace should be boring
Here's a list of things that should be chosen deliberately to be simple, plain and safe (which is not to say they aren't pretty). But, they should be considered backdrop items, not the stars of the show:
Plumbing fixtures: Soft, silver finishes like polished nickel and chrome are so much more versatile and less likely to be instantly dated like the look-at-me-black hardware that's everywhere.
Tile: Big, messy job (IYKYK). Tile fads are among the quickest to cycle in and then out. Some tile patterns are out in just a few years! Stick with solid white or cream. Consider tiles as the art canvas, not the main art.
Wood flooring: How much will it cost you (not to mention the hassle) to replace that dated weathered-wood-look floor you thought was so fresh looking in the grey trend? Because replacing flooring is a ginormous job. Where will you put all your furniture? That's why we generally replace flooring right BEFORE we move in because doing it later means you're packing up and moving everything again. Instead, I recommend simple natural light to medium brown wood look flooring. The end.
Countertops: You will NOT love the busy, artsy slab full of "interesting movement" that caught your eye today at the stone yard forever. I can promise that. Simple and subtle countertops in white, cream, black or very pale neutrals will give you maximum longevity. And that's good, because good countertops are not cheap.
Cabinet Hardware: Those 4 or 6 inch blocky matte black pulls that so many of us are installing on every drawer and cabinet? Just don't. The most timeless hardware should look integrated and soft. Stick with small knobs on cabinets and pulls on drawers ONLY.
3. Timeless means your backdrop is versatile enough to decorate with COLOUR
I have wondered many times why so many people will absolutely insist on an interesting tile choice for their backsplash but suddenly can't be bold with their area rug and sofa.
To set things straight, here is a list of things that you can absolutely go wild with and choose a pretty colour:
Sofa: Yes, you might need a practical colour so the dog can snuggle up or spilling your coffee isn't the end of the world. But that doesn't mean your sofa needs to be the colour of mud. Choose a rich colour that you LOVE for your sofa. You'll never regret it.
Area rug: This is probably the biggest MISSED opportunity for colour. That is, when people choose BOTH the SOFA and the AREA RUG in the safe, trending neutral of the moment. Two great colour moments were just missed. Not to mention, this is one of the best ways to pull together and repeat colour like a designer. Learn more here.
Accent Chairs: Having trouble committing to a sofa in a bold colour? Then your next stop is accent chairs. They're not an accent if they're drab and colourless. Just sayin'.
Bedding: Even if you love hotel white sheets, coverlets and pillows are destined for colour. Don't let them down. And if you're trying to choose a wall colour for your bedroom – THIS is a great starting point.
Toss Pillows: Ditto.👆🏼
Artwork: Don't just settle for the taupe and charcoal pretend painting. Instead of looking chic and sophisticated, it looks sad. Opt for artwork that INSPIRES colour choice. This is also a great starting point for choosing your wall colour.
Lighting: This one may surprise you. But, while it's a bit of a hassle to replace ALL your lighting, you can absolutely go for a trendy statement piece. You just might have to be willing to replace it down the road (or take it with you when you move, like I did with my dining room light).
PAINT: Ok, so I get that repainting all 5,000 square feet is not inexpensive (I know because I just did it). But repainting a fun colour in a bedroom, bathroom, vanity, or kitchen island? That's pretty minor. And SO worth it. Even adding colour on your cabinetry, if you know you love it, is a great place to incorporate colour.

4. The litmus test for trendy vs. timeless
I hate to be the bearer of bad news, but there is no easy foolproof way to know what is trendy vs. timeless. It takes awareness of what the trends are, where they've been, and where they are going. But, that's where I can help. Because this is what I do. Follow me for endless fun and guidance to help you understand what is timeless vs. trendy.
Sometimes things become dated when they prove to be impractical, after all.
Many are declaring open shelving over because they don't like the dusting. However, it's still a good way to take a dated, builder kitchen and make it feel more current.
Everything becomes dated when we've all seen something that was originally sexy, say for example, the trending rustic villa on the Mediterranean Tuscan (aka vibes of 25 years ago) done badly and worse, over and over. And also, NOT located in Tuscany.
Overdone = dated
Badly done = dated
Versatile and fresh (sometimes boring) backdrop for decorating = timeless
Decorating with your favourite colours = timeless
Looks so new and exciting, gotta have it = TRY IT out on a pillow or rug, but don't choose it for your glued-down surfaces
5. The refined side of timeless decorating
So yes, there are more advanced levels of timeless decorating like having the 'Devil Wears Prada' level of taste (below).
Or, like knowing which investment pieces like art and antiques will elevate your space and stand the test of time.
Or, like knowing the most timeless way to use neutrals.
Or, like having a fancy design education that allows you to identify the period of any style.
Because, the cliche is true. The devil is in the details.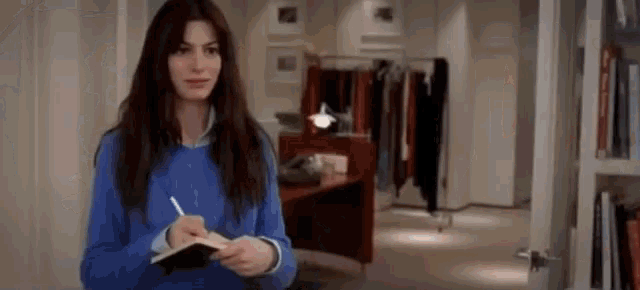 Here's the clip if you haven't seen the movie
And while that's true, I promise you, that if you save this post and refer back to these 5 decorating details WHENEVER you need to make a big decision for your house, you will be leaps and bounds ahead of the game. You'll jump right off the trend treadmill and into timeless decorating that still allows you to express yourself.
Have you seen my new weekly Instagram series? I've started sharing trendy or timeless Thursdays. Here's one about subway tile sizes (even that's not as easy as you think).
Got a timeless vs. trendy question? Pop it in the comments below and maybe it'll end up in my weekly Instagram series!
Related posts:
Magazine Worthy Kitchen Designs Cannot be Easily Copied
How NOT to Choose Paint Colours, but Everybody Dressed