Furniture stores make it easy to choose a neutral (black, grey or beige) sofa, but a colourful sofa is way more timeless. So, here are 3 colourful sofa ideas to convince you not to choose a neutral when you are shopping for a sofa.
Miles and Miles of Neutral
I've been seeing a lot of charcoal furniture lately and as I mentioned in this post, it's because that's the only available colour in big box furniture stores.
Anything off-the-shelf, ready for delivery TODAY, is either beige, black or charcoal. These showrooms are full of miles and miles of neutral furniture.
It seems like custom is the only way to get colour. Yes you can get a colourful sofa in the furniture showroom but you have to wade through a lot of fabric, you end up with too many choices, go into overwhelm, and walk out with a neutral sofa. Or, as I wrote in 2008, the year this blog began, that's why there is so much leather out there.
After all, neutral is easy. Simple.
Choosing between black, white, beige or grey is a lot easier than, red, orange, yellow, green, blue, purple.
Then, after you finally commit to purple, for example, it's still not over because now you're choosing between clean and dirty (muted), lighter or darker? Cooler or warmer? Next, between all the solid fabric choices, there are also all the options with patterns. The endless list goes on!
For example, if black was the only colour you had in your wardrobe, getting dressed would take no time at all.
And, shopping? Even easier.
I read an article that reported Obama only wore grey or blue suits:
"You'll see I wear only gray or blue suits," [Obama] said. "I'm trying to pare down decisions. I don't want to make decisions about what I'm eating or wearing. Because I have too many other decisions to make."
Decision fatigue is real, it directly relates to willpower. You start out with lots of willpower first thing in the morning and throughout the day, similar to how your muscles get tired at the end of a workout, the strength of your willpower fades as you make more decisions.
3 Colourful Sofa Ideas (to Choose Instead of a Neutral)
Therefore, I thought I would help you with the decision by choosing some colourful sofas for you today, and include some pretty living room inspiration as well.
Mustard Yellow Sofa Living Room Inspiration
Let's start with this mustard shade that is currently trending big time (hooray):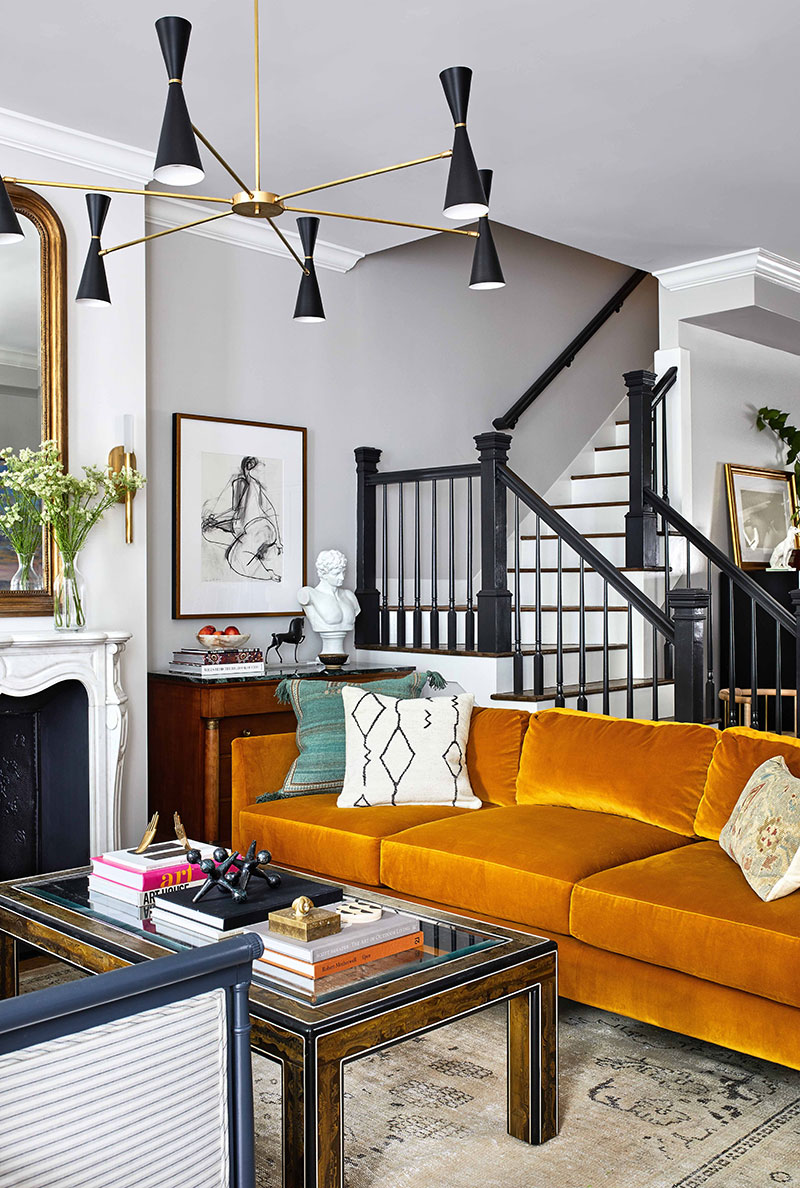 Red Sofa Living Room Inspiration
Mark Sikes
Blue Sofa Living Room Inspiration
Ballard Designs (this sofa is stocked in this colour)
Over to you my lovelies!
Since we're talking about colour I'm doing a poll. If you were starting from nothing today and had to choose two colours (besides adding in neutrals like black, white, grey or beige) to decorate with, which would you choose?
Red, pink, orange, rust, peach, mustard, gold, yellow, forest, emerald or avocado green, blue, navy, teal or aqua, purple, or lavender?
I'd love to find out what's trending for my readers! I'm adding lavender to my yellow living room, that reveal is coming this Spring!
For even more colourful sofa inspiration, head on over to my Pinterest board.
Related posts:
Why a Colourful Sofa is as Timeless as Subway Tile
How to Decorate with Black and How NOT to Decorate with It