Spring is in the air and that means it's time to choose new exterior paint colours for my house. Here are some colours I'm "trying on" to see what looks best.
Before
This is what my exterior looks like now:
This is a French country home built in 2011. I like the design of the exterior just as it is. The only thing that immediately needs to be changed is the paint colour. This entire home was painted a mid-tone taupe inside and out. All 5100 square feet. *eye roll*
Even the exterior stone is not a complete dealbreaker for me. I'm planning to have it over-grouted, so it will be a lot less earthy and still look like a small French chateau.
Read more: Which Siding Colour Looks Best with Stone? Before & After
House Beautiful
Choosing exterior paint colour
However, the colours that I can paint my house are still limited by the earthy stone.
Here's another before, before photo:
And, here's a look at it now that the house has been power-washed and the overgrown trees removed.
You'll notice I took this photo during golden hour – that early evening hour when everything is softly lit. This is the hour when most homes with black windows are photographed. It makes my dark purple french doors look less bleak.
I'll be adding more landscaping too. I plan to install white hydrangeas inside this garden bed, but the house needs to be painted first.
The current taupe exterior colour
The existing paint colour is BM Ashley Grey (taupe) with SW 6149 Relaxed Khaki (green beige) trim.
The pale green beige neutrals in my system are a good neutral to use on exterior when you want the appearance of cream without being yellow. However, Grant Beige was just one shade too dark from being perfect on this house. This colour would only work if your exterior has stone that is darker than mine.
Here's a close up with the neutral colour wheel. My existing windows are a true white. In this image you can see how green the trim looks next to the taupe, which looks pinker by comparison. The stone on my exterior is a mix of taupe, green beige and orange beige.
To learn more about how to achieve the perfect cream for your exterior and get my bonus go-to exterior paint colours when you buy my masterclass here.
Currently the french doors are painted an eggplant shade. They look darker usually because they are underneath the shadows of the portico. I am considering painting them a french blue like you see in the options I'm sharing below.
Trying on exterior paint colours
My team has done some extensive and very time consuming photoshopping to help me choose the perfect paint colour. Here are a few varying shades of greige and complex creams to work with my existing stone.
Read more: Everything You Need to Know About Choosing Stone for Your Exterior
Also the stone shown in these options is obviously not exactly the same as mine. We had to find one that looked over-grouted.
Exterior option 1 – too stark, wrong white
This white is way too stark. I'm including it here so you can see how wrong white would be with earthy stone.
I see this all of the time on real estate listings. The owner wants to freshen things up and simply ignores the earthy interior or exterior and chooses a white that looks wrong.
Get your neutrals and whites right: Order This
Exterior option 2 – a bit grayer
Here's a paint colour that looks a little greyer:
Exterior option 3 – a bit warmer
Here is a paint colour that looks a little warmer by comparison:
Exterior option 4 – with shutters
In this option we added the shutters back. I took them down in this post.
Notice the shutters on the three windows above the doors. Can you see why black shutters would NOT work at all here?
If my shutters were black, then you would miss the pretty railing on the second floor because they would blend in with the shutters. There's a lot going on with this house after all, so no need to make these details compete for attention.
Exterior option 5 – no shutters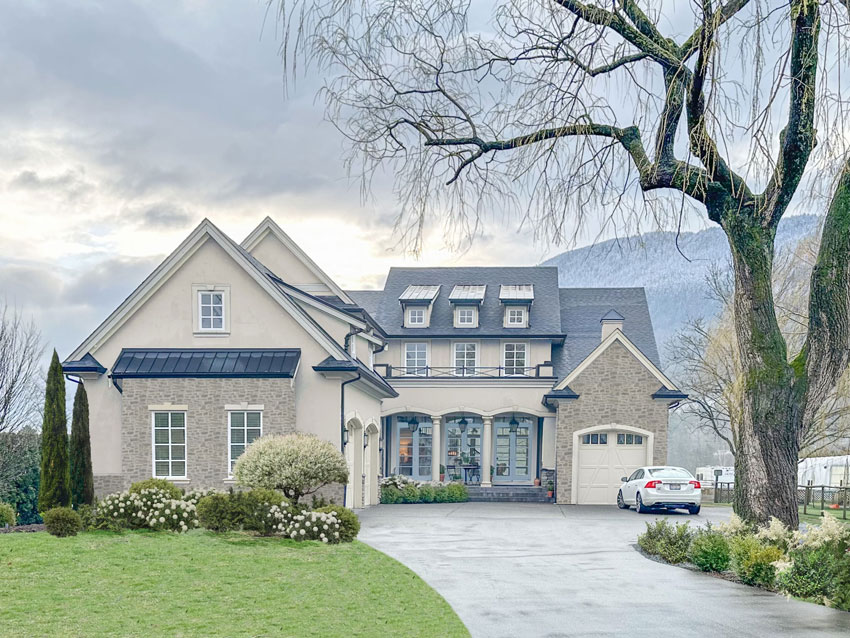 And before you say, "Oh Maria, you're just painting it a cream because that's what EVERYONE is doing right now."
Here's the thing, if I didn't have the earthy stone, this house could have been a COLOUR instead of a creamy neutral. And I definitely would have chosen one. As I have said many times, if you can identify the era when you painted your house within about 5 years, it's trendy.
Colour is always more timeless than the a trendy neutral, especially when it's the same neutral as every other new build or recently painted house.
But, when you have stone on your home's exterior, it CANNOT be ignored.
The neighborhood
My neighbour on one side painted their new build a classic and timeless green grey and white. They also have a white-on-white garden.
In fact, I actually included this house in my Exterior Masterclass. I snapped this photo a few years ago when they built this house.
You can get a tiny glimpse of our house through the trees on the right (above).
The house on the other side of ours is black and white.
Let's take another look at the before again, shall we?
And the photoshopped after, again:
The style of this house is perfect for me because of my love for the French look in my decorating as well. And I'm thrilled to be starting this project this Spring.
Of course, MaryAnne White has been creating a new landscape plan for us, and it's going to be beautiful.
Do you have a favourite option? Comment below…
Real-time colour training
To create a classic and timeless home for you or your clients register here for one of my Spring workshops.
You'll learn how to make the RIGHT colour choices that will leave you feeling satisfied with your decisions for years to come. And we're not just talking about neutrals. I'll show you how to create a cohesive colour palette that flows throughout your (or your client's) entire home.
Plus, this two-day workshop is filled with decorating secrets.
Don't wait any longer, sign up now and let's make your home a happy, colourful place!
April 12 & 13, 2023 – SOLD OUT
May 10 & 11, 2023
May 20 & 21, 2023 (weekend)
June 21 & 22, 2023
Related posts:
My new Living Room (Center Fireplace) Living Room Layout
Get Sold! Updates that Deliver the Highest Return
True Colour Experts Know Colour