Kitchen designs are expensive, but when you try to go it alone – without designer guidance – it's easy to make even MORE EXPENSIVE mistakes that you'll regret. Working with a designer not only saves you from these extra expenses, but also may save your sanity.
And when it comes to choosing the right lighting or hardware, these two details that can make or break your kitchen design.
But first, just wanted to share the fabulous view from our new backyard, I'm so blessed we get to enjoy this kind of sunrise on the regular!
Help! My very expensive dream kitchen drives me bonkers!
Recently, I received this message on Instagram:
"There was some miscommunication with my cabinets and they turned out a true white instead of warm white. My whole house has warm tones. Then I made the dumb decision of black hardware but really couldn't decide what other colour blended because my husband insisted on a black faucet (I saw your warnings after so I know, I know). And now my very expensive dream kitchen drives me bonkers!!

Is it just the stark white and how it doesn't relate anywhere else? Do I save my pennies and eventually repaint? Or could hardware help? The counter stools will also change.

Also, I hate the size of the hardware which I just saw that post of yours. So disheartening and yes we needed a designer but we contracted ourselves because it's expensive."
My response was something like this:
Your kitchen is just fine. But if I were your designer, I would definitely recommend that you change the hardware and lighting. Because, frankly, it kills the design.

Your kitchen needs a softer look, which would be easy to do if you chose gold metal to warm it all up. And since you are replacing your counter stools, they should be white.
I also sent her this pendant lighting recommendation (to fit within her budget):
Schoolhouse pendant (similar and similar)
To be clear, if budget wasn't an issue, she could also have installed something larger, like in this kitchen below.
Timeless Bungalow Renovation – Similar Pendant – Another Similar Pendant
And here is her kitchen again with the lighting and hardware changes I recommended:
Later she sent me this sweet note:
"Wanted to wait for the kitchen to be finished to send but this transformation!!! So much better! I am so grateful for your help. Finally got the pendants hung and couldn't be happier!

Now I want to change the faucet and the rest of the lighting in the house but that will come, haha. I'm really good at doing things backwards and wish I found your account pre build instead of mid build but you rescued me from painting my entire house white and I love the green beige I chose.

I'm also going to buy white stools or paint mine, but wow!! You rescued my expensive dream kitchen, thank you!"
Choosing the right counter stools for your kitchen
Ok, so let's talk about counter stools for a second.
PHOTOGRAPHY BY ALEXANDRA RIBAR; DESIGN BY LEANNE FORD INTERIORS
It generally looks best, especially if your view of the kitchen is from the back of the island, to create contrast with your stools and island (see above).
So that means, if you have a black island, don't buy black counter stools, etc.
And in this case, with a brown island, the cherry counter stools do not look the best. And my reader did already say she was changing them.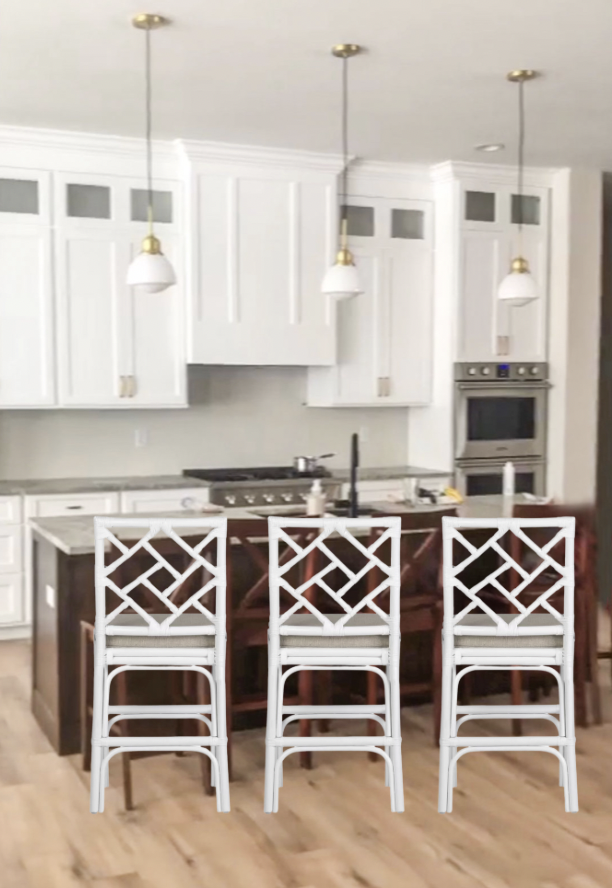 white counter stools (also come in blue and gray)
Choosing the right hardware for your kitchen
The other hot tip I have for you regarding hardware is to avoid any drawer or cabinet pulls that look remotely like this one, at all costs:
Why? Because it's modern.
And most of your homes are traditional. Even a modern farmhouse style is still more traditional/transitional than a flat out modern home design.
Even if you choose this pull because you have flat, slab cabinet doors, it's still not the correct to slap a 4″ pull on EVERYTHING.
And as I mentioned in this post about decorating with black, if you don't have any black in your kitchen, avoid black hardware and faucets. The end.
Kitchen design is all about the details
Notice what a huge transformation just the hardware and lighting made in this kitchen design. Lighting is hard to choose if you've never done it and I can help you make the right colour and design decisions that fit YOUR kitchen specifically with my eDesign package for timeless kitchens.
Because getting the DETAILS right is what makes a design truly beautiful.
Don't be afraid to ask for design help with your kitchen
Without a designer, many of us make isolated decisions about our kitchen. In a new build or complete renovation, we may just pick out what the contractor needs at the moment – without considering everything altogether. And that is a big mistake.
You see, one colour decision plants a seed for ALL the other colour and design decisions you will make after it. And ignoring this first decision or working without a design plan will lead to expensive mistakes.
And fixing just ONE of those mistakes often pays for the designer.
P.S. Please remember to be kind in the comments. It takes courage to admit (and then share) your mistakes with others. 💛
Related posts:
5 Kitchen Design Details that Matter; Before & After
Top Kitchen Colour Trends from the Last 50 Years
Transform Your Kitchen with this One Update; Before & After