You know how much I love a white kitchen. But sometimes, a white kitchen is not the best choice. Here's my advice for a a two readers who want to know if a white kitchen will work with their existing granite countertops. Because, you cannot simply ignore your earthy granite countertops and just paint your cabinets white and/or install white subway tile and call it a white kitchen. Here's why.
I came across your YouTube channel today! I am desperate for some advice. My girlfriend and I just bought an older home and we are slowly changing some things … (EVERYTHING).

She doesn't want to change the granite countertops. So, my best bet was to suggest we make everything around them white.

Here is my worry: White won't drown out the messy granite. We are painting all the cabinets white and we painted the entire house Sherwin Williams Agreeable Gray. Now we are looking for a backsplash and flooring. Will white subway tile be too much? What do you suggest for floors? I've attached some photos. Please let me know what you think.
Ariane's Kitchen Renovation with cabinets already painted white
Will a white kitchen work with my existing granite countertops?
This is a great question because I fear many people are doing the same thing – trying to design a white kitchen around their existing granite countertops (or even their existing earthy flooring or backsplash tile). You know I LOVE A WHITE KITCHEN. But this, my friends, is when a white kitchen is not the best choice.
Some of the backsplash tile Ariane is considering.
As you can see, white isn't always the answer. I know, I can't believe I'm saying this… but it's true.
Adding new white subway tile will simply look like NEW combined with OLD (yesterday and today). These glass and linear cuts are especially too cold and contemporary for the earthy granite. Similar to this kitchen with creamy countertops and a white backsplash and cabinets below. It just ends up looking like we decorated all around something old.
Yesterday and today all in one kitchen.
It will be obvious that they were installed at different times and the goal for any renovation is that when the renovation is complete, everything should STILL look like it was installed intentionally and at the same time.
Thinking about a white bathroom, but keeping your existing tile? Read this: How to refresh your bathroom without replacing the tile.
You cannot ignore the granite just by adding lots of white (because white is current), you must work with the countertop that is staying.
Paint your cabinets a richer colour
One strategy is to paint the cabinets a warmer complex cream or greige to better relate to the granite, but there are other ways to update your kitchen if you don't want to change your granite.
The solutions used in both kitchens that I talked about that had 90s granite in this post would help solve the dilemmas here. That is painting the cabinets a rich colour that better balances the granite.
As a bonus, a deep cabinet colour can help disguise a less-than-current cabinet door profile better than white which puts every panel and edge into high relief.
Pay attention to the kitchen details and styling
It's also important to note that it's the DETAILS that take an average builder kitchen (with OLD granite) and bring it into 2020.
This kitchen renovator (below) paid careful attention to the details that would update their peach granite. They removed cabinets and added stained wood shelving (a nice update for many older kitchens). But what's important to notice is that the natural wood tone of the shelves they installed perfectly repeats the peachy colour of the granite.
They also repeated the colour in copper accessories, wood cutting boards and a hit of terracotta and WHAM, the kitchen feels new again.
Because the colour of the granite wasn't ignored, careful consideration of the details makes it looks right and intentional.
Although the rich navy cabinetry contributes to the success of the kitchen above, a similar trick was used in this kitchen below with white cabinets.
Technically, this countertop should also have been paired with cream countertops/backsplash but the overall READ (pink beige/brown) of the countertops was repeated in the brown, wood-stained countertop on the island, the wood hood fan detail, as well as the baskets.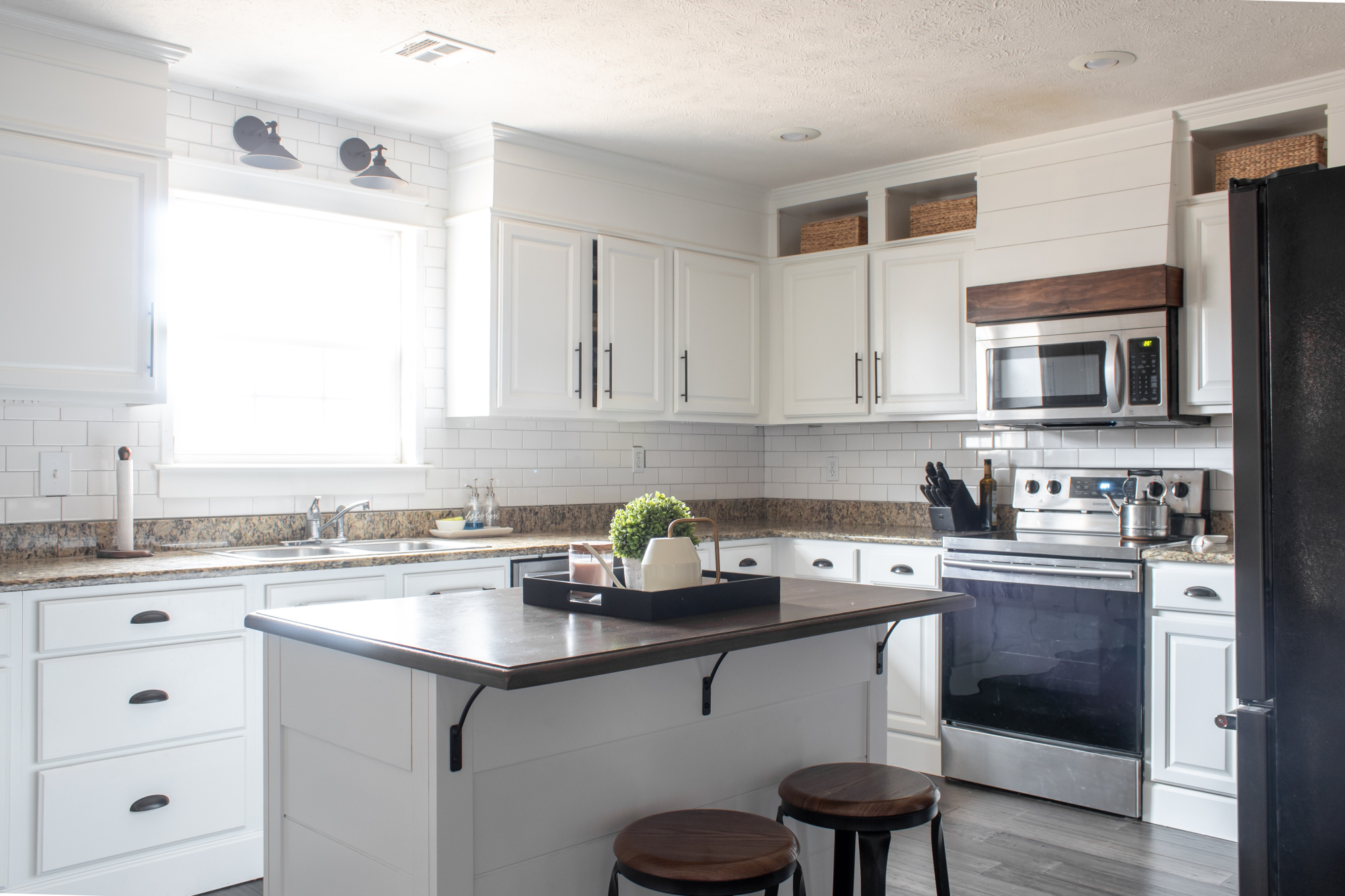 Look at what the kitchen was BEFORE. This transformation took a lot of creative vision!
So, what would Maria do?
Let's go over this again. . . If you are keeping your granite countertops, you simply cannot ignore them and paint your cabinets white and/or install a white subway tile. A white kitchen without regard to the existing hard finishes (whether you're keeping the existing floor, countertops or backsplash) will not give you the fresh new look you're hoping for. It is very likely to backfire and make the old finish you're working around stick out even more.
Get out your brushes and rollers and paint your cabinets a deeper colour, and/or repeat the colour of the granite with wood tones in an intentional way. Pay attention to the layout of your uppers. Could you remove some and install nice open wood shelving instead to repeat the granite colour and give you opportunities for styling?
Here is another similar kitchen dilemma I received from a reader the other day:
Can I paint my kitchen cabinets blue grey and introduce black hardware with my existing granite countertops?
I do think it's a good idea to paint the lowers a blue grey colour. It would definitely help make these countertops disappear, again, just like this kitchen (below) which I talked about in this post about how to update your 90s granite a few months ago.
Here is the kitchen from that post below. Along with the rich cabinet colour, see how the details and styling are what makes it work.
Beautiful way to update a kitchen with 90s granite by Chris Loves Julia
The beadboard backsplash painted the same colour as the cabinets lends a moody and modern English country look that balances the earthy granite. And the woody, pink beige tones of the granite are repeated in the wood accessories prominently displayed.
Stuck with a design element that sticks out or looks wrong? Repeat it.
It doesn't take much to repeat an element that is a bit of an anomaly to make it look like it belongs. If this kitchen (above), with its almost white floor also had white cabinets, the granite would stick out sorely as being wrong IF it wasn't repeated in relatively large doses somewhere. Wood floors can sometimes repeat the brown tones of earthy granite successfully, but usually, it will need a bit more than just flooring.
Back to my reader's kitchen, they also asked if 2″ x 8″ polished white subway tile would work here.
What would Maria do? Well, if the granite is staying, introducing a white herringbone backsplash (like this one above) would make the countertop feel even more dated and out of place.
Subway tile installed in a brick pattern would look more like it was installed the same time as the granite instead of a fancy installation like the herringbone. AND, clearly any white tile would be much better than what is there.
Is black hardware a good kitchen update?
And as for black hardware, there is not enough black in this kitchen (shown again below) to continue repeating it in the hardware and new ceiling fan. Really, the raised bar top technically should never have been black in the first place.
Which brings me to a point that I think is important to make right now in the black trend: just because black is trending, does not mean it is the answer for updating every kitchen. A black faucet and hardware plunked into an older kitchen with granite countertops will not magically make it new. It's better to opt for a softer finish for a more timeless look in most cases.
So if you're stuck with a finish that feels earthy? Don't ignore it! Pair it with a richer colour palette and make sure to repeat the colour of your earthy finish (granite or tile) in other elements of your design and styling.
Now, over to you, my lovelies. Since the black and white trend has completely obliterated this kind of granite in a kitchen, if you have a granite countertop like this, maybe the first place to look is dark and dramatic to take the attention away from it?
What do you think? Yay or Nay?
If you'd like to make sure that your kitchen colours and finishes end up perfect, try my Classic Kitchen eDesign package.
Please note, the smaller eDesign packages are still marked SOLD OUT, but my Bathroom package, kitchen package, renovation and new build packages, plus the Exterior Bundles are still available. My subscribers will the the first to know when they open up again. Thank you for your patience!
Trying the nail down the perfect white colour? Download my White is Complicated; A Decorator's Guide to Choosing the Right White.
Related Posts:
Why Does Travertine Backsplash Look Wrong in a White Kitchen (and how to fix it)
Do This Before you Choose a Cabinet Colour
Ask Maria: Help! My White Kitchen Cabinets Seem to Change Colour