Are you tired of looking at dated kitchen finishes you didn't choose, but not quite ready for a gut renovation? Here are some easy ways to work with what you've got and make your dated 90s granite disappear.
Since the grey trend has been replaced with black/dark and moody kitchens (the pendulum has to swing back and forth between light and dark after all), here's where incorporating a trend works really well:
You can make your 90s granite disappear!
So first, notice I didn't say 80s granite even though there are lots of unpainted oak kitchens today with granite countertops that were installed in the 90s and onwards. FYI, if you did that without painting your cabinets, you would likely end up with a 'new granite, old kitchen' look, because we weren't doing granite countertops in the 80s.
However, if you do have pink beige or earthy granite and you want to create a new and current look, painting your cabinets a deep colour works well to downplay the stone and create an upscale look. This way you can extend the life of your dated granite for another 10 years as long as this look is trending.
Look at this amazing transformation that makes the best of pink beige granite by Chris Loves Julia (below).
Moody painted kitchen transformation by Chris Loves Julia
See how the arched display cabinet perfectly echos the arch of the black window AND the window design as well! Really clever. I've seen a lot more arches lately in doors and windows, have you been noticing that too?
While the blue green grey colour (above) feels a bit like the grey trend, (slate blues and greens are certainly trending, especially for cabinetry), these cabinets could just as easily have been a muted navy or a deep green, red or violet based colour too for a similar effect.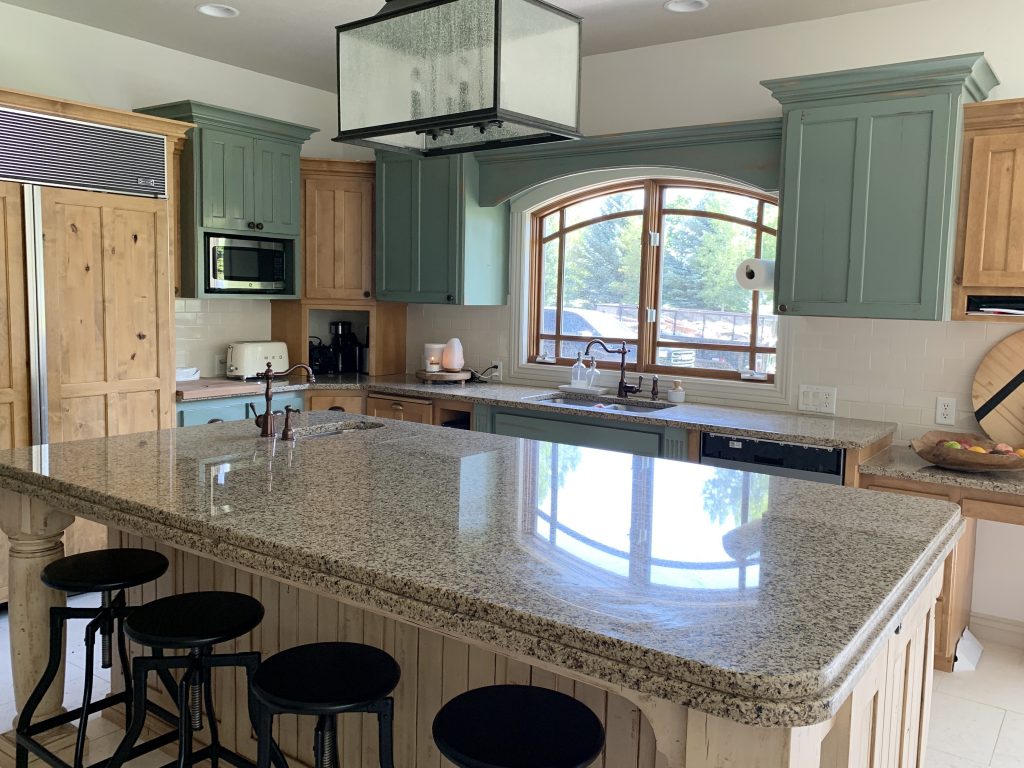 Notice, that the uppers were removed on either side of the window.
That's what will make an average, builder kitchen feel a lot more current.
A dark colour for your cabinets is definitely something to consider if you want to work with dated earthy granite.
Peach Granite + Navy Cabinets
Here is good example of peachy/pink granite working with painted navy cabinets for a smart update below.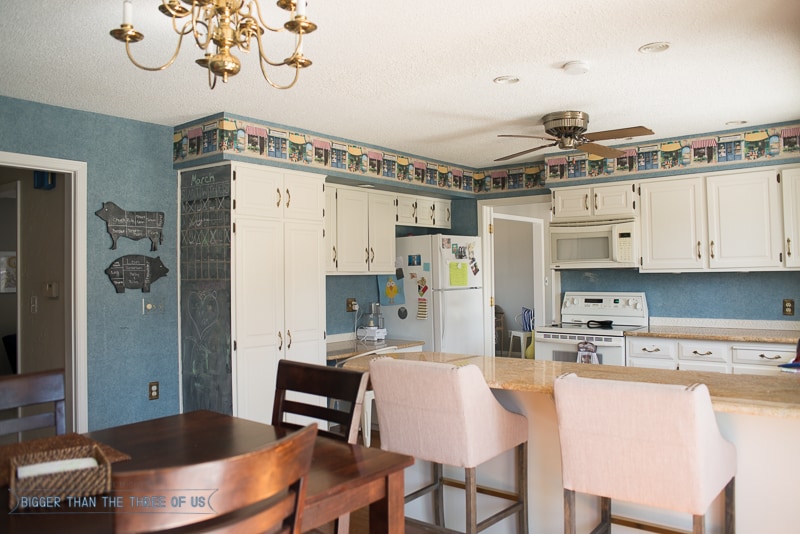 Before
Notice that the peach granite (easier to see below) has been visually repeated by the wood shelving that relates to it! And of course, the old uppers were removed (and the range area reconfigured) to create this updated makeover which is fabulous!
Choose your dark colours carefully
Still, be cautious if you want to try this. It won't work for every kitchen. The darker the colour, the more it shows finger prints and dust, just like dark espresso floors and cabinets did. And be especially careful with trendy, heavy black.
It's more likely for stark, inky black cabinets to look like 'trendy new painted black cabinets in an old kitchen'. In other words, black is more likely to make your earthy granite look old. Stick with softer darks in muted warm neutrals, blues, greens and slates if you want to try this look for your kitchen.
If you need help choosing colours for your kitchen makeover, be sure to check out my eDesign services here.
Become a True Colour Expert this Spring, learn how to choose the perfect white, learn when the perfect white should be greige or complex cream, and how to coordinate neutrals and colours in ALL finishes and fabrics. Join me for the best colour training in the world. Register here.
Related post:
3 Best Ways to Update your House NOW; Before you Sell
Ask Maria: Will my Cabinets Look Dated Even if I Paint Them?