Before you choose a cabinet colour for your kitchen, you can't ignore this first colour decision or the rest of your choices will be very limited. Once you know this kitchen design tip, you can choose the perfect kitchen cabinet colour.
Interior Design by Maria Killam | Kitchen Design by Jan Romanuk
Do this before you choose a kitchen cabinet colour.
The best colour for your kitchen cabinets is the one that coordinates with the countertop you've chosen.
This happens constantly in my eDesign department. A client will buy the Kitchen eDesign package and in the questionnaire, you're asked to note which countertop you've chosen.
Then they respond with, "I just need the cabinet colour now, I'm choosing the countertop later."
Here's the thing, it makes no sense to choose the cabinet colour BEFORE the countertop.
Always Choose Your Countertop First
If you choose your cabinet colour first, your countertop choices are instantly narrowed down for you. In other words, your options have just been abbreviated to ONLY the FEW that work with the cabinet colour you've already chosen (if there even are any options left that are perfect).
But the cabinet maker is likely harassing you for the paint colour right?
Your countertop is installed last, so that decision can technically be delayed.
How Kitchen Finish Selections Most Often Go Sideways
This post was prompted by a lovely visit I had with a local couple in Maple Ridge.
My clients had chosen Taupe LVP flooring to be installed in their kitchen. Then she had purchased true white subway tile for her backsplash and was considering BM Collingwood for the cabinets because she had seen it in the kitchen of a celebrity designer.
The countertop decision was still pending.
So first, when I arrived, she had all her samples laid out flat on her brown dining room table:
Can you tell by looking at the backsplash tile that one is off white and one is, in fact a true white?
No.
What about the countertop samples?
The Right Way to Test Kitchen Finishes
This is why, samples that are about to be installed in your home must always be laid out in the same position that they will be ONCE they are installed. And, always with plain white paper or poster board behind or underneath them. Like this: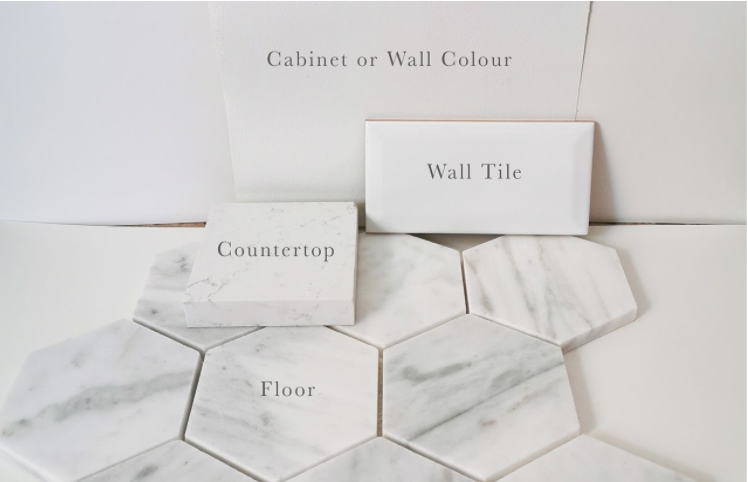 The right way to test kitchen and bathroom finishes
This is why my live colour workshops are so powerful. You do all of this in person, so you learn how to 'see' colour properly.
Back to the cabinet colour.
Don't Start with a Paint Colour. Just. Stop. It.
It doesn't matter how many times I advise against it on the blog, most people gravitate to choosing paint colours first.
I guess it's because paint seems non-threatening and non-committal all at the same time.
To make this all easier to understand, I taped a video to personally walk you through how to do this yourself.
You'll notice, if I'm showing you a colour, I always have white poster board behind it. Even in the photo below, where I'm showing you white, off-white and cream subway tile, I'm holding the samples IN FRONT of a white board so that you can see the subtle differences of the subway tiles I'm talking about.
Pattern and Scale Matter when Choosing Colour
In this video, I've mentioned Calcutta Nuvo because it happened to be the countertop my client was considering, not because I think it's the best choice. It is a very popular (but expensive) style. Be aware that the veining is quite large and you'll have to work with your installer to make sure that your countertop templates are in the right place so you end up with a look you are happy with. And for smaller kitchens, veining this big is typically not a great idea. Because the pattern is SO big, if you start seaming and turning the slabs to fit a small L or U shaped kitchen, you could end up with a very awkward placement of the pattern.
I have also seen this countertop installed on a very small vanity with a large sink cut out of it with very little veining left to be seen and, since this style is more expensive, more of it was left on the cutting room floor than on the countertop.
Just some things to consider if this is the countertop choice you have made.
But Maria, I Need my Cabinet Colour ASAP
If all else fails and you DO NEED to choose your white cabinet BEFORE your countertop choice has been finalized, go with an off-white because (as I mentioned in my White is Complicated eBook) the natural resin that quartz is made from is already off-white which is why this is a more versatile white to choose.
However, remember that any colour or even any greige or beige option that might have been better choices have now possibly become unavailable to you because you chose your cabinet colour first.
If you would like help with your kitchen design or remodel, my popular Create a Classic Kitchen package will get you my suggestions for your countertop, coordination countertop, backsplash, decorative lighting and hardware. It is full of helpful tips for your kitchen design and covers flooring, trim, ceiling and main neutral wall colour suggestions that can be carried throughout the house for a comprehensive refresh.
After all, the reason you haven't FINALIZED your countertop decision yet, is because you DON'T KNOW which one is right for YOUR home. You need to know the WHY. That's what you are buying.
WHY (Why is THIS colour the right choice for my kitchen/bathroom) equals PEACE OF MIND. And we all need more of that right now.
With everyone being cooped up at home, thinking about improvements they would like to make, our eDesign department is busier than ever!
The other day I saw an Instagram post that said: "Can we all stop saying 'Be safe' and change that to 'Be Well'?!"
I liked that. It sounded so much more positive!
I love you all, be well!
Related posts:
How to Avoid the 5 Most Common Kitchen Mistakes
Here's How to Embrace your Cream Kitchen; Before & After
Ask Maria: Help! My White Kitchen Cabinets Seem to Change Colour