Have you ever wished for a step-by-step guide to styling a vignette or creating a tablescape? Here are 5 easy steps for how to style a vignette and create the tablescape you long for. This is where the beginning of a "look and a feel" begins in your house!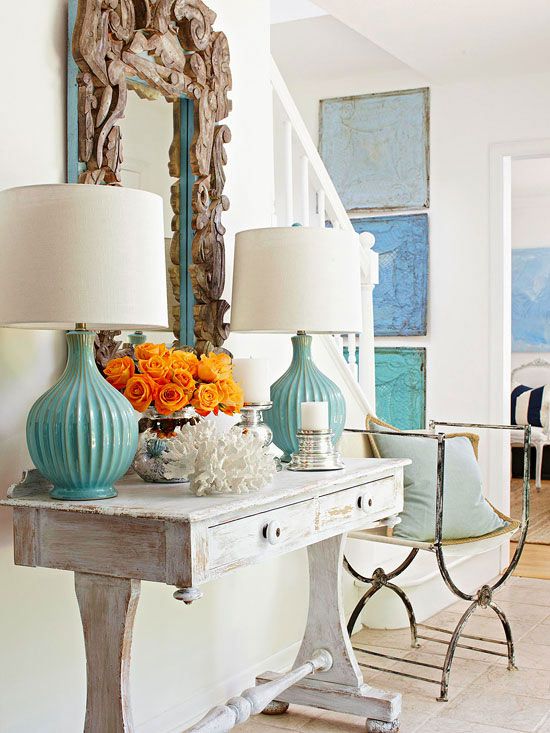 Tablescapes for Dummies – The Beginner's Guide
Hasn't everyone bought one of those "fill-in-the-blank for Dummies" books when you really don't know something and you're thinking "Talk to me like I'm 5 years old?".
I certainly have. Years ago I dated a guy who was into philosophy and I just felt stupid every time he started talking about it, so I bought Philosophy for Dummies. I'm not convinced I'm any smarter about that topic, but I did buy the book.
And while we're on this subject, I have an interesting piece of trivia for you. Apparently, if you buy a new book and don't start reading it within one week, the chances of you EVER reading that book are very slim.
Raise your hand if this is you? I laughed when I read it because I had two books on my bedside table that had been there for weeks (maybe even months) that I had not touched.
Anyway, this post is for anyone to whom decorating just doesn't come easy. Or maybe you just need some practice.
Regardless, you need someone to tell you EXACTLY what to buy so that once-and-for-all you too can have a lovely tablescape vignette in your living room.
Let's start with some decorating basics.
So obviously, there are a million different objects you could pull from your house that might create a lovely tablescape indeed. But I am not in your house, so instead of just filling this post with a bunch of pretty inspiration images that might just depress you, I'm just going to tell you what to buy.
Often when someone hires me to choose paint colours for them, they have the misconception that wall colours will do most of the heavy lifting in terms of creating a look and a feel.
NOT TRUE. This is the biggest paint colour mistake (and you keep making it).
The look and feel of your living room comes from floor and table lamps along with task lighting when necessary… NOT from installing multiple recessed lights into your ceiling. Recessed lighting should pretty much be relegated to the kitchen where task lighting like that is required. And here's one more reason to skip recessed lighting altogether.
Then, you need to style vignettes or create tablescapes on your coffee tables, end tables and sideboards.
I recently specified two lamps for one of my eDesign clients. She received the lamps, set them on her sideboard and sent me an photo (similar to this vignette by Lauren Liess below), worried that they were too BIG because they slightly overlapped her art.
I assured my client that they were definitely not too big. Read this post: Can you layer lamps in front of your artwork?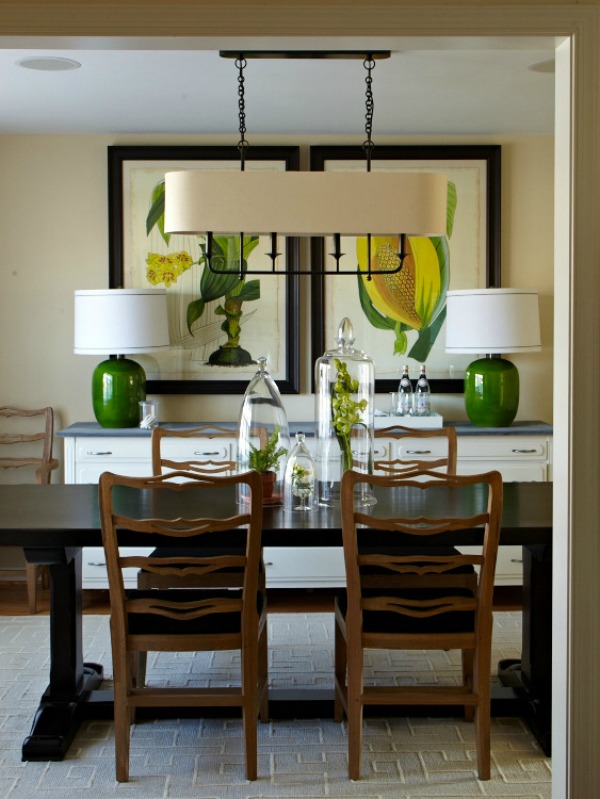 It's the same for master bedrooms. I can't tell you how many master bedrooms with king size beds I've seen with tiny little lamps on each end table.
A bedside lamp should generally be a minimum of 28″ high (see below).
So, think bigger not smaller. If it's a little bigger than it should be, it won't look as wrong as a miniature lamp beside a big bed. Here are 5 lamps everyone should have in their home.
Okay so now that I've covered the basics, let's get back to exactly what you need to create a tablescape.
How to Style a Vignette (or Tablescape) in 5 Easy Steps
One more thing, before we begin.
In case you might be thinking, "I already have too much stuff – nicknacks, whatnots, tchotchkes, or brick a brack – I can't buy anymore, I will have no place to put it." Consider that what you have is most likely DATED.
What you need to do is ship those dated picture frames and accessories to your local thrift store. This is your permission to shop for something new.
Step 1: Identify 3 Objects Essential in a Vignette or Tablescape
Tablescapes and vignettes typically have 3 of the following essential objects:
A tray
Coffee table books (larger ones can be used in place of a tray)
A vase of flowers
Candles
A bowl
Green apples, lemons or limes or green moss balls
The following optional items can be used to add texture and colour:
Decorative Boxes
Coral (Seashells are NOT just for beach houses)
A favourite object you might already own. Note that as soon as you place it on a book or a tray, it elevates it from a tchotchke into an accessory.
Anything with a cute face (okay this is just MY advice, but seriously, how can you walk away from a sweet looking bunny like this one I posted on my Instagram the other day).
Step 2: The Tray
If you have a large coffee table (or even if you don't) a tray always works nicely to corral smaller items. If your table is dark, get a white or cream tray, whichever one works with the foundation white in your room.
Here's one from Serena & Lily, if this size doesn't work, just search for white lacquered trays to find one that works for your table.
Or this gold one from the Pottery Barn is perfect if you want to repeat some brass or gold accents in your living room:
If you have a white or light coffee table, then a wooden tray might work well. But remember it needs CONTRAST. Don't put a white tray on a white coffee table. Or a black tray on an espresso brown coffee table.
Step 3: Coffee Table Books
Most people don't own enough of them. So, if you're only buying them to use as a pedestal (or in place of a tray, like I'm suggesting) head to a used book store or the sale section of any major bookshop.
I don't buy books with subjects that are completely unrelated to my clients, but I do buy coffee table books strictly because they are also the right colour. #designersecret
Sometimes I'll even take the cover off to see if there's a better colour underneath.
So if your living room includes pink, for example, then you would get some books that look like this stack (above).
You don't need a big stack of books unless you have a large table or a shelf underneath the coffee table. A pink and white one will work great, because these two books will act as a pedestal for what's coming next.
A stack of magazines will also work in a pinch. Since I still subscribe to a few magazines, I always have boatloads of them in my house. Whenever it's time to style a clients home, I will pick up a few stacks from my house, because in my experience, no one ever has enough large books.
See the rest of this interior here
Notice that on this square table, I installed 4 books. The white one with Modern Luxury on it, picks up the purple accents in this living room and the green one on top coordinates perfectly with the green drapes.
Also, I have positioned the items on this tablescape into a square on the middle of the square table. Here are 23 decorating secrets only an interior designer will tell you.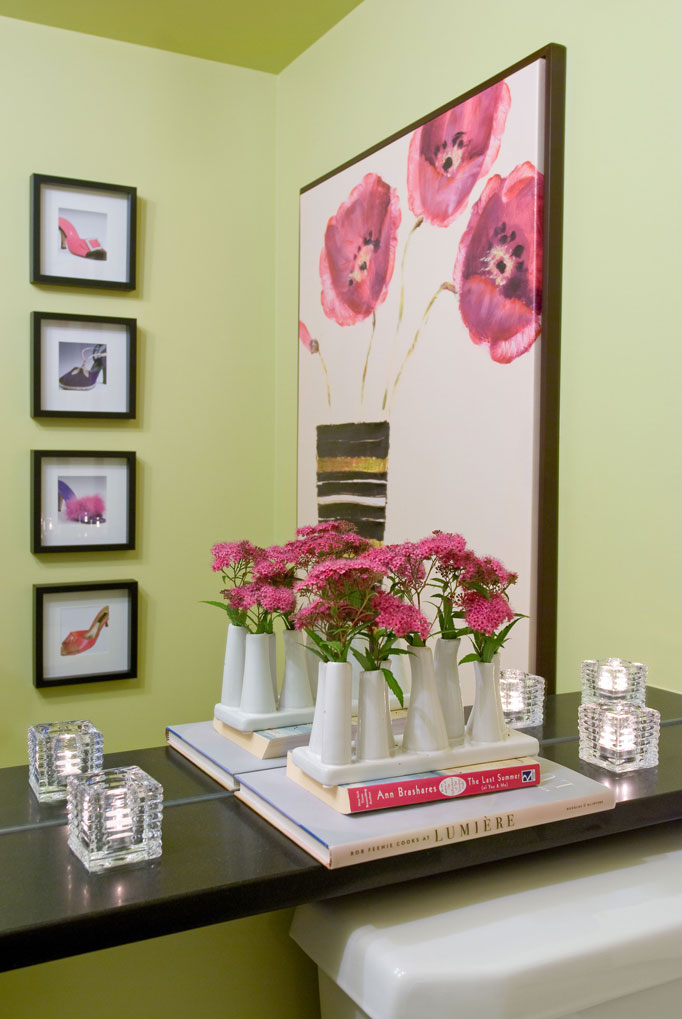 See the rest of this interior here
When I styled this bathroom for a photoshoot, you can see I didn't have a hot pink book in the right size (slightly smaller than the white one) which would have been better than the small pink novel, but it was better than nothing. I liked that the spine of the pink book repeated the pink in the room.
See the rest of the interior here
In this entry (above) I chose a white and blue book, which created contrast with the brown entry table and provided an instant pedestal (or the look of a tray) for the crystal vase of yellow roses.
If you don't buy fresh flowers on a regular basis, get some faux flowers, they have come a long way.
Notice that the two white birds underneath the console table look way better with the graphic blue and white decorative box than they would have sitting on their own.
Step 4: Add Natural Elements (vase of flowers, bowl of green apples or moss balls)
A tablescape without flowers or something that feels alive like green apples, limes or lemons (even if they are faux) or green moss balls doesn't seem quite as natural or put together.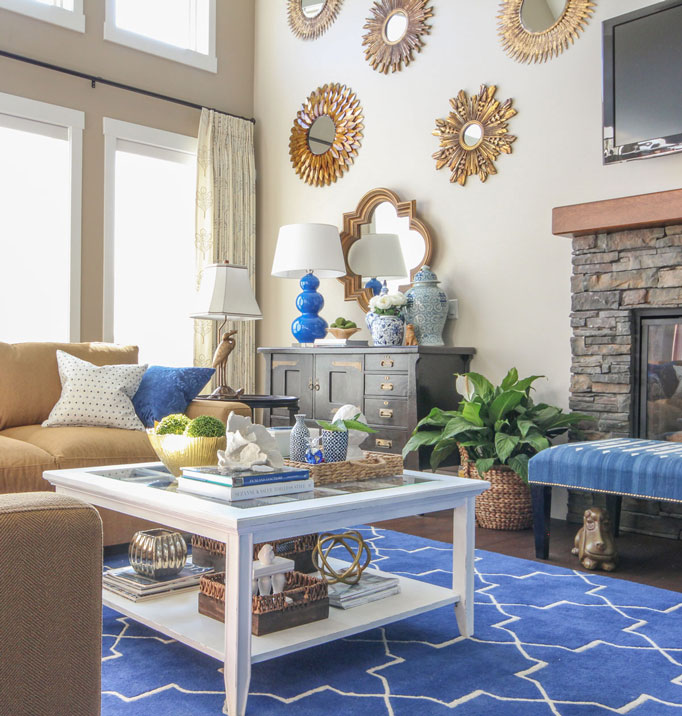 See the rest of the interior here.
This coffee table I styled (above) still feels fresh even when it doesn't have any fresh flowers on it because of the faux green balls in the bowl.
So, you have a woven tray (like in the above shot) and a couple of books, find a shallow decorative bowl (even more shallow than the one in the above photos will work). Here's an example:
If you want to introduce some coral in your vignette, than I would choose a more simple shallow bowl, but this one (above) would look great with 3 moss balls or 5 faux green apples in it. Notice the ODD numbers!
If you'd like to add some warmth and texture this shallow wood bowl is a good one that would look pretty in a tablescape.
A basket works just as well as a decorative bowl and is the perfect vessel for moss balls or fruit. Or, look for a shallow bowl in the accent colours of your living room, that works too!
Coral: Similar | Similar | Similar
I have coral all over my house. In a bathroom, coral looks good just sitting on a towel. Of course, the ottoman in my main bathroom becomes purely decorative too. You can't stick your clothes on it when you're having a bath, but hey, it looks good. UPDATE: See how this renovated bathroom looks now.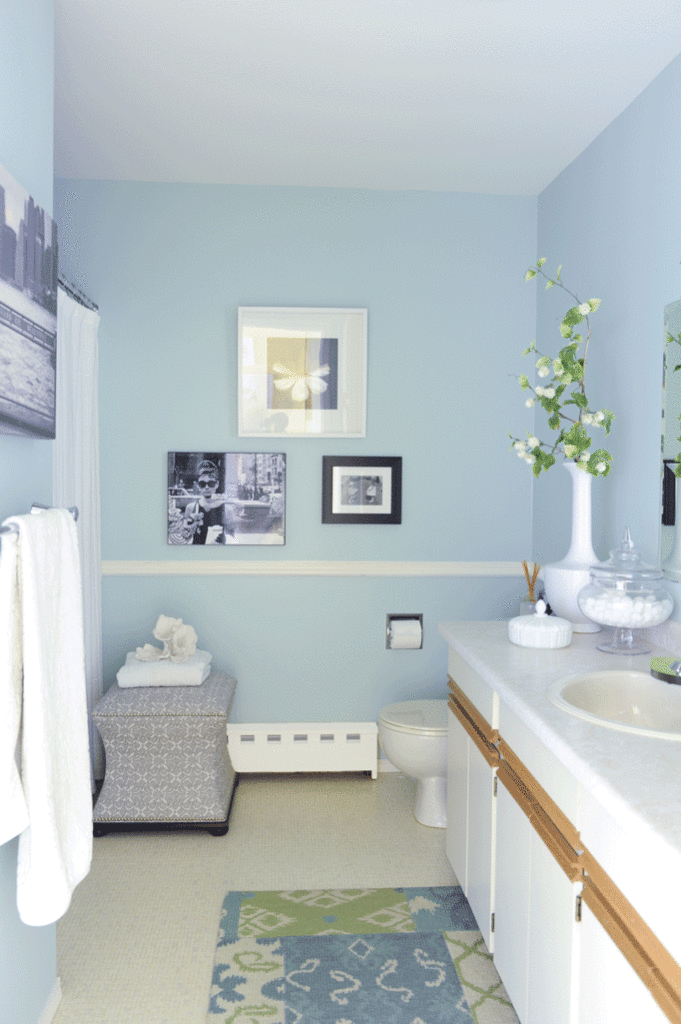 See the tour of my house here.
Here's another image of the living room where I placed a coral on top of two books. I mean, you should just get two of them right now. They look good anywhere!
Here are some green moss balls that I like to use to style my vignettes:
There are many shapes and sizes so you could get one medium size (5″) and two smaller ones 3″ depending on the size of your vessel. I think 3 medium size or 5 smaller ones would work too.
If you prefer fruit to moss balls, you can get green or red apples here. Make sure you buy five or seven of them. It works the same for styling objects as it does for flower arranging. Odd numbers look better than even.
I always have fresh flowers on my kitchen island, but not EVERYWHERE throughout my entire house. So, I have my fair share of faux flowers. If I had fresh flowers everywhere there are fake ones in my home, I would need a full-time florist in here, just like a hotel.
Anyway, faux flowers have come a long way. And the good ones are expensive so don't get cranky when you see the price, just think of what real ones would cost weekly and you'll snap them up ASAP.
See the full range of faux flowers at Pottery Barn here or at Wayfair here.
Step 5: Candles or Votives
Okay so to keep it easy, let's stick to votives shall we? Two or three votives with tea lights from IKEA (the best place to buy them) and you'll have atmosphere for four hours. Or, here are some flameless wax votives that would work great too.
These are pretty decorative mercury glass votives that would look nice anywhere.
I love this collection of colourful votives and hurricane lanterns. Two or three of these would be perfect on so many tablescapes.
If your house is more contemporary, these hex crystal tea lights would look great on a coffee table!
Style a Vignette with these Essential Decor Objects
Here's my easy formula creating the perfect vignette. Just click on the item to shop.

So there you have it! The beginners guide to styling a vignette or tablescape in 5 easy steps. I hope this inspires you to clear the magazines off your coffee table and get decorating!
xo, Maria
Related posts:
The Real Reason Your Lighting Sucks
How to Create Instant Atmosphere In Your New House