Years ago when colour still mystified me and I was constantly talking to other colour experts at colour conferences and at other colour courses looking for mastery, I'll never forget one conversation I had with a colour designer who specialized in exterior colour.
He said, "The problem with using neutrals on exterior (especially the CURRENT trendy neutral) is if you introduce that colour–and right now that's charcoal–at the end of the trend cycle, which is normally approximately 10 years, that building will instantly date 10 years right after the painting has been completed."
"That's why I never choose grey for any exterior I work on." he said.
I was struck by this because I was asking him about 'the colour of stone' (which if you own my exterior webinar you'll know exactly which colour I'm talking about) in that conversation and he just looked at me blankly like he had no idea what I was talking about.
Here's a good example, no one and I mean no one, is asking me for brown exteriors right now because that trendy neutral went out of favour around 2009. And the farther you live away from the core of a metropolitan city, the longer it took for brown to go out.
Therefore, if you were to paint your exterior chocolate brown TODAY. Your house would instantly look like it was painted about 10 – 15 years ago.
Stay tuned, I have a great example of this at the end of the post.
Just to be clear. There's nothing wrong with some brown or a little charcoal, it's in the same category as the statement "Every room needs a hit of black".  It's just when EVERYTHING is chosen, almost by default, in the current trendy neutral, that your interior or exterior will scream TRENDY.
In my Mississauga Specify Colour with Confidence workshop just two weeks ago, I had a participant ask me about a house her son was building. It was primarily orange/red brick and I suggested a charcoal roof and charcoal windows.
She hesitated, then protested "But isn't that trendy?"
"Yes, if the entire house was charcoal from top to bottom? But charcoal looks great with orange/red brick." I said.
"That makes sense", she replied.
Last week, I drove by this new apartment complex and I noticed them immediately because of the colours.
What made them so pretty was that browns and charcoals were not the majority colours.
And here they are:
I matched them up to Sherwin Williams colours.
I like that the colour of stone (the cement foundation) is repeated around the window casings. If they were white that would not have worked against the areas of the building that were painted white.
There were three buildings in slightly different colour combinations. This is the second building, the first is on the right with the burgundy on the bottom.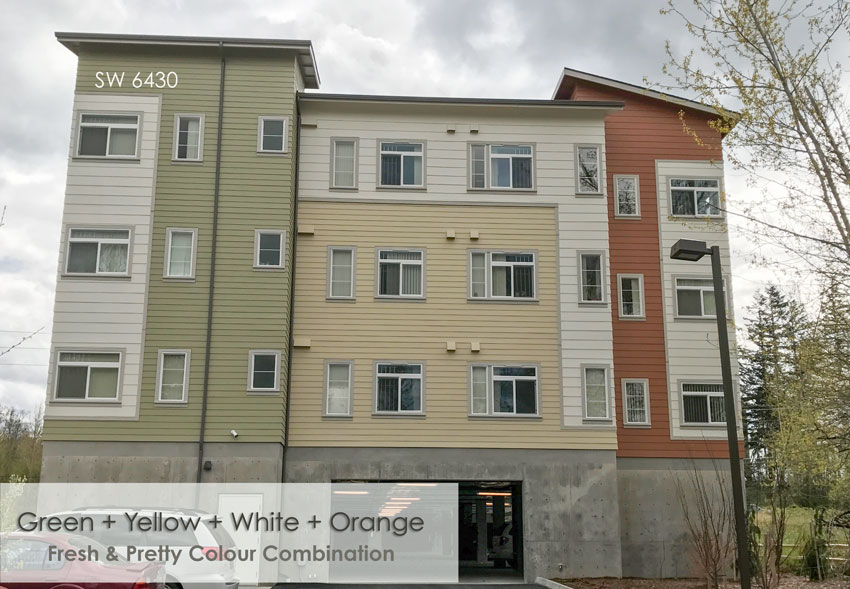 This was the third one (above).
The curb appeal side, driving down the street, pretty with Spring cherry blossoms.
Here's the first building, above, on the right.
Photos by Maria Killam
You can see here that the burgundy could have been forgiven (even though it was too muddy for these colours) but the dark pink beige colour really looks dirty with the cleaner colours around it.
In my training, you'll learn that creating flow on any exterior or interior is about keeping clean colours together and dirty colours  together. You'll also learn that clean and dirty are relative just like warm and cool. You can always find a cleaner colour and you can always find a dirtier colour, therefore, our in-class exercises, where you'll discover how to compare colour to get the correct combination are very important.
Overall, I think this complex is very pretty. It's rare that I'm compelled to take photos driving by any building.
I didn't have to drive far down the same street to see a perfect example of 'what not to do'. Here the combination of rust, yellow, sage green and brown look like a combination of the 90's and the 2000's all together.
The rust and yellow makes the brown look dirty because it's not dark enough. The sage green just dies between the orange and yellow because it reads more like a neutral here than a colour strong enough to stand up to the others. And the black railings do relate to the roof but it's not enough.
Casings would have made this building more attractive, but I would NOT have painted them black. I don't understand what the colour blocks of black are doing beside the windows here. They read like half a shutter.
Overall this palette falls flat.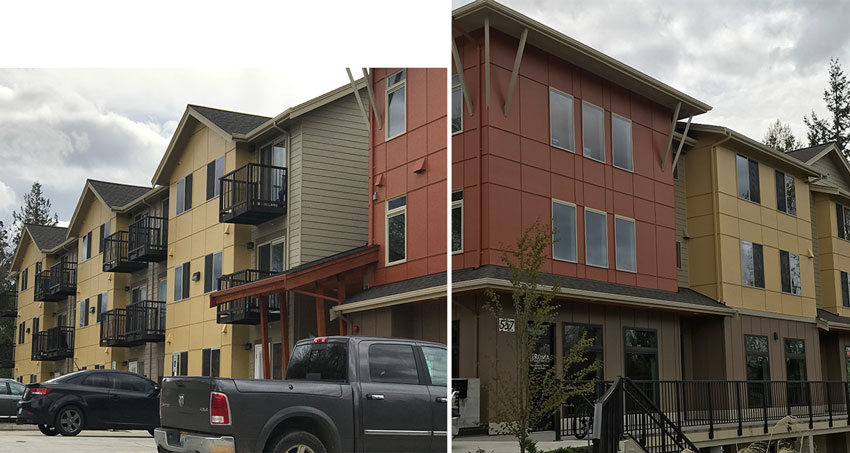 Colour is happy. Colour is Classic.
And just like the colour designer I mentioned at the beginning of this post, NEVER specified neutrals for the colours he designed for commercial exteriors, apartment buildings, hotels and shopping centres, the same holds true when you see such a great set of examples.
There are WAY too many charcoal and brown exteriors that we drive right by without a second look, don't add yours to the collection.
Which colour combination is your favourite?
If you need help with your exterior colours this season see our eDesign packages here.
If you would like to be trained on choosing the perfect exterior colours, download my online training here.
Related posts:
10 Tips to Transform Your Exterior
What Colour Should Your Concrete Driveway Be?
Should I Paint my House Charcoal?