I'm a big fan of lamps and I often find that most people don't have enough lamps. This is an easy fix and I promise, will make a big impact in any room. Here are 5 lamps everyone should have in their home.
I know on this subject, I am like a broken record, but lately, since we're in the middle of winter, watching the rain (in the Westcoast) day after day, even with all the lamps in my house, I still feel the darkness.
So I thought this might be a helpful post if you're feeling the dark, dreary, winter days too!
A lot of people want paint to do the heavy lifting, but here's the thing, if I had to choose between filling my house with lamps (NOT recessed lighting) or putting up a fresh new coat of paint, I would choose lamps EVERY TIME.
Lamps WITH a shade is key. I'm not talking about recessed lighting or torch lights, or light fixtures where you're looking at a naked bulb. These lights do little to create atmosphere.
And lamp shopping is difficult. How I know this, is because I've never met anyone who didn't need more lamps in their home (unless she/he was a designer).
5 Lamps Everyone Should Have in their Home
So here's the first one you should own.
1. Gourd lamp x 2
Here's the hot tip about this table lamp style. It comes in many different colours, so all you have to do is look around your living room or bedroom and choose a colour you already have in your decorating.
Remember, throwing orange cushions into your all-grey living room is not enough. An accent colour should be repeated in small, medium and large gradations for the room to look truly pulled together.
And, if you buy two of them you'll be able to flank your sofa or bed with them, or place them on a sofa table or sideboard like I did in my dining room below: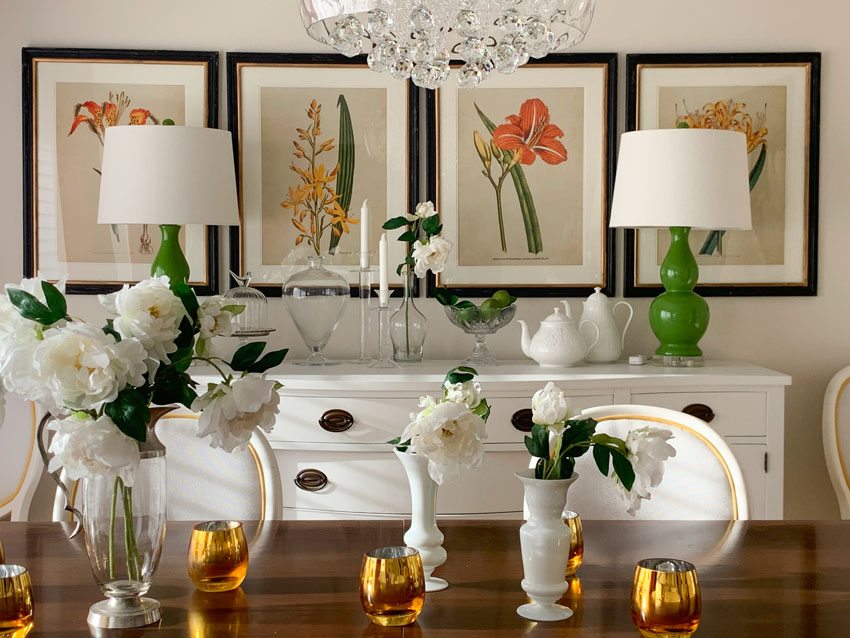 Here's white ones but they come in many colours. Just remember to insert 'gourd lamp' into the search bar!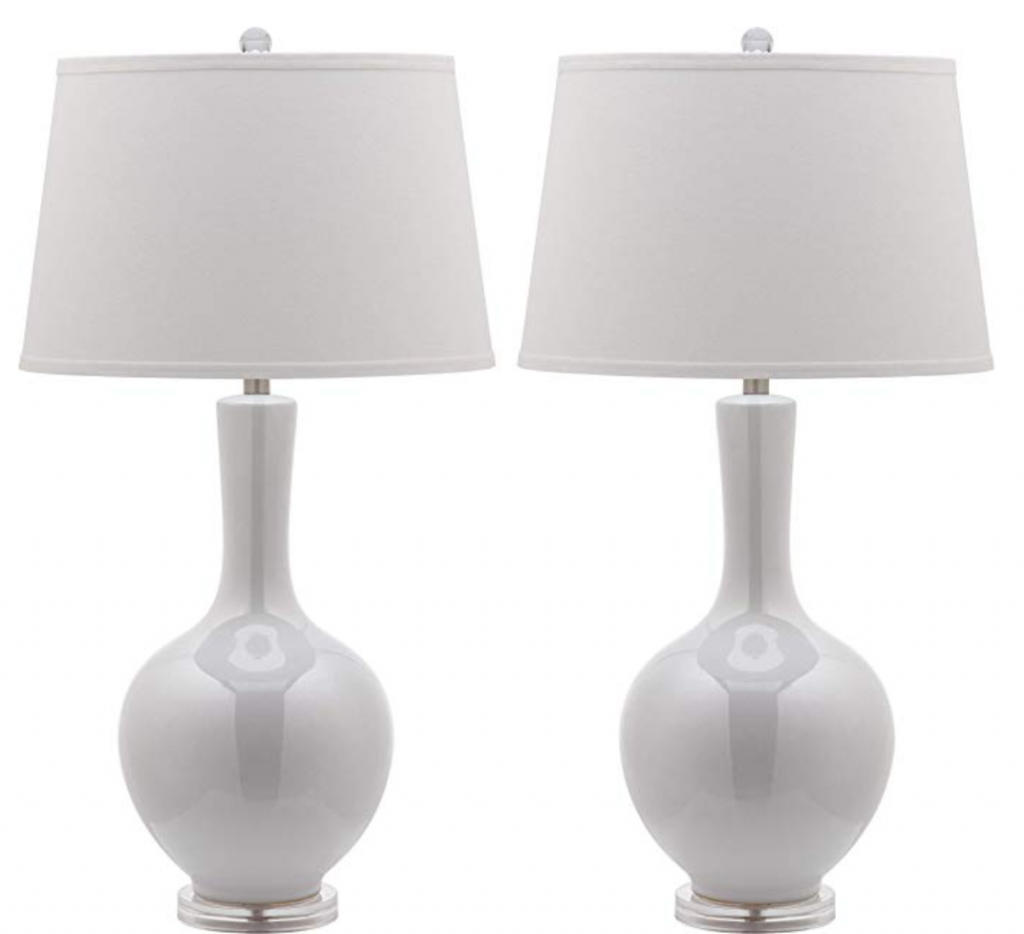 Or if you don't want to commit to an accent colour, it could be as simple as, you have a navy sofa and you repeat the navy in lamps!
Bennett Recycled Glass Table Lamp
Here are a few of my favorite gourd lamps. All of these come in a variety of colours and shapes – there are single gourd, double gourd and triple gourd table lamps. And remember, I think these are best as a set – so get two!
Shop My Favourite Gourd Lamps
one | two | three | four | five | six | seven | eight | nine
2. Two Uplights (placed on the floor behind your sofa)
The next light everyone needs is some uplights behind their sofa. I only turned on one lamp, the morning that I took the photos below.
Obviously, the room would have been brighter overall, if I had more lamps on, but I just wanted to show you what this side of the room looks like with only one light on in the corner and then the room with two uplights behind the sofa:
Uplights are really inexpensive and I love the warm glow they add to the room. I think it would look even better if the sofa were up against a wall instead of the window as shown here.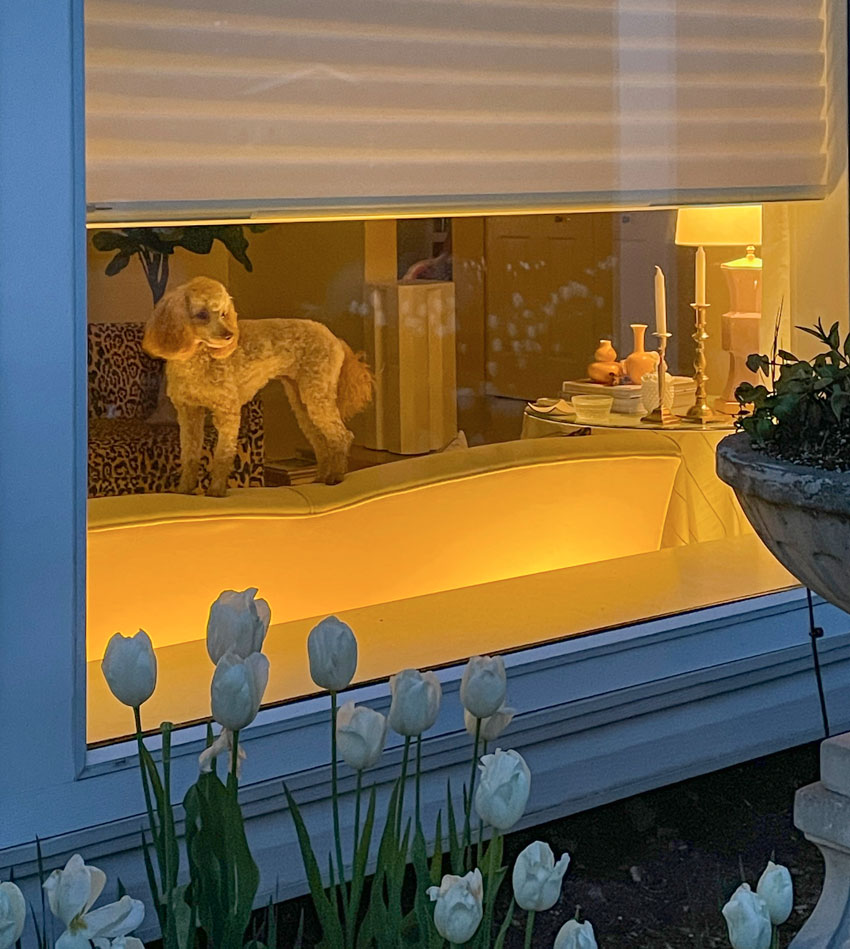 This is the lovely glow you see from the street along with our mini golden doodle Lucy of course.
3. A Mini Accent Lamp
The next lamp everyone needs is a short one that you can place underneath your cabinets or upper shelving in your kitchen.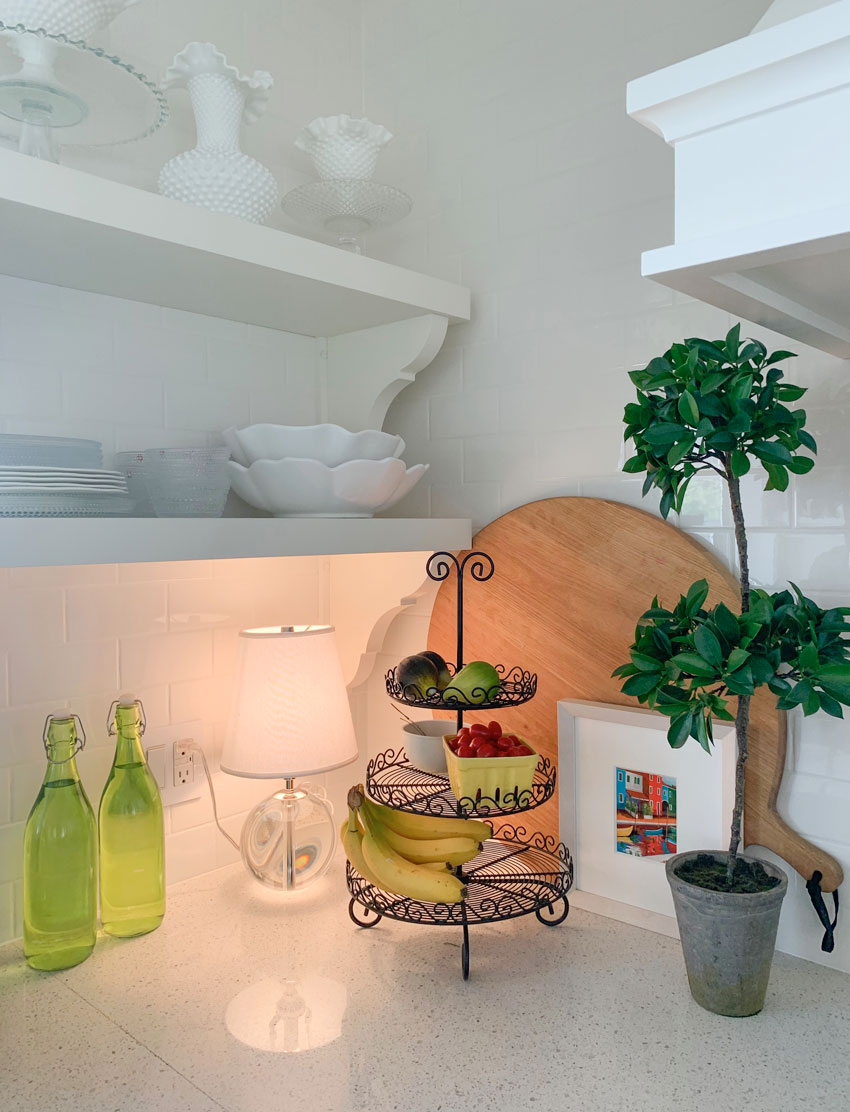 I bought this lamp in a local home decor store but Thomas O'Brien by Visual Comfort has a very similar one.
Basically you want one that is less than 18″ which is the standard height between your countertop and cabinets.
Or, you can set a mini accent lamp on a stack of books in your decor. The small size of this lamp makes it easy to add more lighting to even the tiniest of places.
4. Candlestick Lamp (skinny floor lamp)
Here's what is so great about this style of lamp. It's simple and clean, and doesn't have so much personality that you have to spend a lot of time wondering if it will work with your decor.
Buy two of them and trust me, you will find a dark corner to place them in!
My family room corner after I completely restyled the bookshelves this winter.
If you buy it from Restoration Hardware (like I did) order the white shade. NOTE: the sand linen colour looks pink beige to me. This white shade is also far from a stark white shade (which always looks cheap).
Here's a much better-priced lamp that has the same look: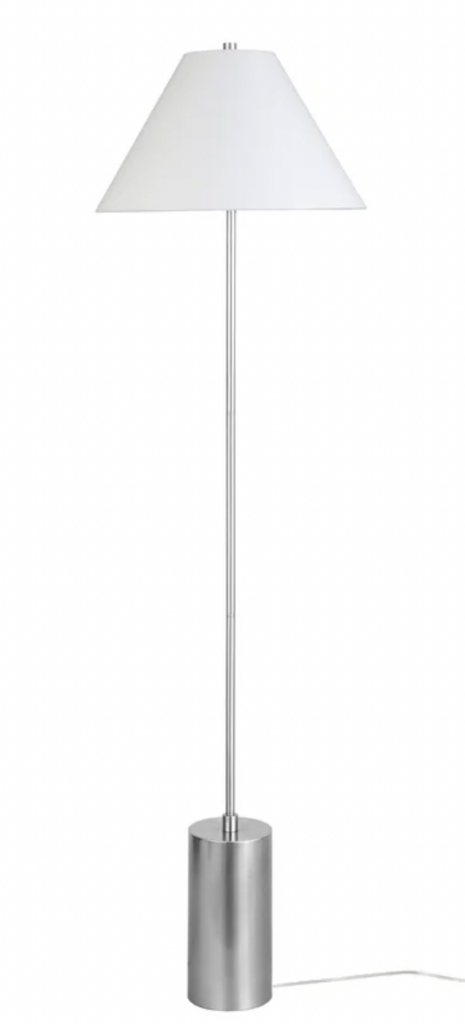 Here is another option for a tall, skinny floor lamp.
If anyone has any sources for other floor lamps this skinny, post them in the comments below. The above two are the only ones I could find.
5. Swing Arm Lamp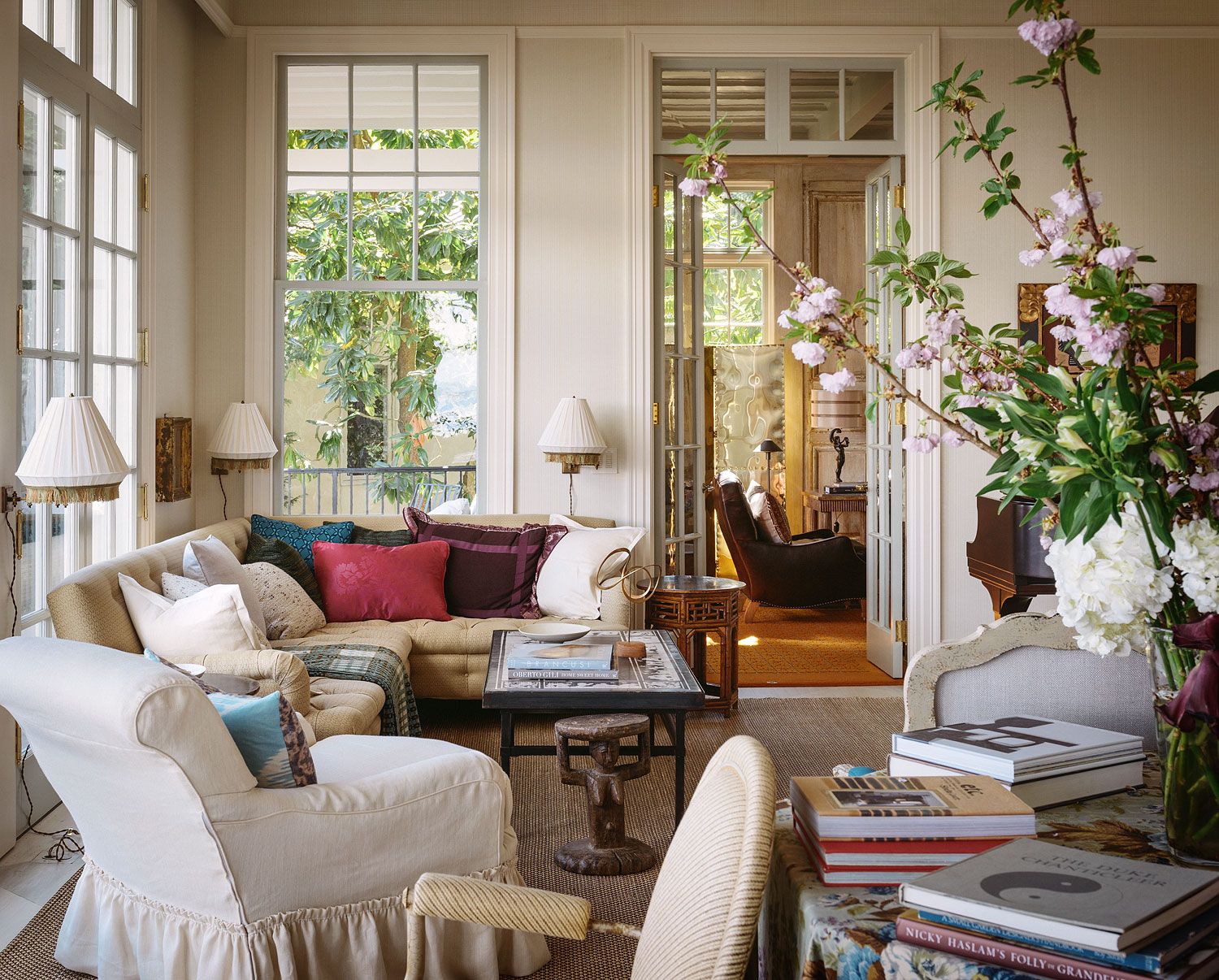 Interior Design Jeffrey Bilhuber | Photography by Aaron Leitz
I don't have these lights installed in my house (both my sofas are positioned in front of windows). These lamps are perfect for behind sectionals sitting up against a wall, because then you end up with a dark corner making it hard to install a standing lamp.
Also, if you have small children and worry they might knock your lamps over, this is a great way to manage that.
Well you have to visualize what I'm talking about with the above photo, most of us don't live in houses with this many beautiful windows, and two sitting behind a sectional. However, note where the lamps are positioned. Same principles apply in your room without the windows.
Basically if you have a lamp positioned every 4 feet around the room, that's when you know you have enough (not kidding).
They are also fabulous on either side of headboards in bedrooms! And you can hardwire them but also buy plug-ins with a cord cover like this one (above).
Hope this gives you some inspiration! Since I wrote those two posts (here and here) this past summer from Finland about lamps, I have heard from many of you who reported that you went out and bought some more lamps and it made such a difference! Hooray!
If you'd like help with your living room, check out my Get me Started Package here.
Check out my brand new landing page for my Specify Colour with Confidence workshop. ALL NEW The White Workshop on Day 2, AND on Day 3 you'll receive your own eDesign template after the training you can immediately start using with your clients. Register here.
Related posts:
How to Get Light to Play in a Room
A Townhouse in Finland Makes Tuscan Look Fresh; Before & After