I've already told you that you shouldn't choose more than one pattern when selecting your finishes like flooring, countertops and/or backsplash. But, many of you still want to know if hardwood floors are considered a pattern. Here's when wood is a pattern that you can't ignore and when it is classic and timeless.
Recently, I posted a video on Tik Tok about the two biggest mistakes even experts make when choosing tile.
Those easy mistakes when choosing tile are:
Choosing a tile with a trendy colour or pattern that will soon be dated
Choosing more than one pattern in hard finishes for a single room.
If you have a pattern in your granite or quartz, your backsplash needs to be solid. And your floor should ideally be wood.
I received countless questions about hardwood floors and whether I considered them to be a pattern.
Are hardwood floors considered a pattern?
Well it depends. If you have the right hardwood, that is natural-looking wood without too much busy or contrasting tones and grain, then your hardwood is both TIMELESS and NOT considered a pattern.
In fact, the reason why it would be best if you had hardwood floors in every room in your home (except maybe the bathrooms) is because in general, they ARE just like a pair of denim jeans. They pretty much go with anything.
Hardwood floors are like jeans in the right colour AND stay away from anything blotchy, busy or trendy
The flooring you choose is a BIG DEAL.
*Still searching for timeless wood flooring colours? Get my guide right here.
The problem of too many flooring transitions
Too often it's the case that when you buy a house, you have to replace ALL the floors BEFORE you moved in because you simply couldn't stand any of it for 10 minutes.
Or, you didn't replace them but dearly wished you had, AFTER you move all your furniture into the house and now it's so much harder because you literally MUST move every stitch of furniture out of each room you're replacing. We've all been there.
It's also common to have too many unsightly flooring transitions. I've seen more than half a dozen different flooring styles in one house on one story!
While some combination of carpet, hardwood and tile was standard for many builder homes between the 80s and the early aughts, now, most builders are aware that one versatile wood flooring pretty much throughout the main floor (with the exception of bathrooms and laundry) is expected.
But the dated look of too many flooring transitions is what many of us are still dealing with. And then it becomes tempting to replace one or two areas of particularly dated tile with a trendier grey or taupe tile or wood look floor, unfortunately this only adds to the disjointed look.
When we moved into this house it was like that.
The living room and guest bedrooms had original carpets from the 80s (yuck). The master bedroom had brown laminate, the hallways had light maple laminate and the family room had a cherry laminate. To top it all off, the kitchen and adjoining laundry and bathroom had original 80s checkered linoleum with the occasional image of a basket with flowers poking out of them.
Likely the entire house originally had carpet and then, room by room, the carpet was replaced with different laminate flooring. Whatever happened to be on sale. Or, I know, let's be 'different' because that will be more 'interesting'. Nooooooooo.
And thank goodness my designer friend Jan Romanuk talked me into replacing them BEFORE we moved in. I was entertaining unrealistic thoughts like, "Maybe a year after we've lived there we'll replace them," without thinking that through, 'cause wait a minute. . . that will be like we're moving all over again.
I have a friend who lives in a rented townhouse. The carpet was brand new when she moved in but immediately started to buckle. Turns out it's defective and cannot be fixed. The landlord would replace it no charge, BUT she would literally have to pack up the entire house and move out in order for that to happen. And they won't pay for that. So her buckling carpet remains intact 🙁
Anyway, if you are suffering with floors that need replacing, here are some tips you need to know:
These are the two most timeless hardwood colours:
Pale or Blonde Oak (on the left) and Medium Brown (on the right)
House Beautiful | Blonde (Pale oak or something close) / Veranda Homes | Medium brown (in this realm)
Not every house can have a pale oak look. Some styles of homes require a darker medium toned floor.
Again, before I go any further, notice that currently what's trending (natural light oak floors) ALSO happens to be timeless. Very different from the last 20 years with grey and espresso wood floors.
To quote a shelter magazine I just opened up while writing this post:
You know hardwood floors are huge because you see miles of pale oak floors in almost every home we show these days. The trend is definitely pale woods with very little graining. You can find pale oak plank floors in a wide range of prices, widths and lengths from local suppliers. The longer the boards, the more expensive. If you want very little grain, ask for "select" and "rift"or "edge cut." This will eliminate the knots and cross-graining. But if you're going for more rugged, country style, then you want "rift and quarter sawn."
Less is more when it comes to pattern in hardwood floors
The key is "very little graining". Why? Because then you don't have a strong pattern to balance out. When you get seduced by the 7 by 48 inch sample in the store that has lots of "interest" in the shape of contrasting tones, swirly or rustic pattern and wood grain, it's important to consider just how much pattern it will translate into in the full square footage of your home.
When it comes to pattern in wood floors, less is more. And less is more timeless and versatile.
Why we love home decor trends
When I started writing this blog 12 years ago, the Tuscan brown trend was going out and the grey trend arrived on the scene. Now that we've done 10 years of the grey trend, we're in the black and white trend.
As you know, I'm not the person who will EVER simply tell you to "Ignore my opinion and just go with what you LOVE."
What most people are IN LOVE with is the trends when they are IN. Everyone loves the trends (myself included) and it's hard NOT to think they will last forever when they are everywhere.
When a trend first hits, what was old suddenly seems soooo old, and what's new seems so fresh and so fabulous that you get tricked into thinking 'this will be timeless forever' or 'I will love this forever.'
In fact the trend starts looking so normal, and so comfortable, you start to believe it just isn't possible that it could EVER BE OUT.
This means the average consumer cannot be trusted to 'choose what they love' because 'what they love' is almost guaranteed to change when the trends change AGAIN.
I have talked to so many clients over the years who have said, "I've always loved grey." Now everyone is saying, "I've always loved white" or "I've always loved black."
And there is nothing wrong with any of that. It's making every choice grey, or every choice black, that will make your house SCREAM "I was renovated/built in the black and white trend."
If you've been reading this blog for a while, and you're old enough to have lived through a trend or two. YOU know better.
These are the two wood tones that are now considered OUT (below). I'm also including the dates when they started (in the west coast) and when they peaked here.
Espresso Staircase | Grey Staircase
Read more: What if I Don't Like the Grey Flooring that is Everywhere?
When is wood tile a pattern?
Even if the windows and treatments in this bathroom didn't clash so badly (below) this blotchy and stripey floor is anything but timeless and ends up looking like a mish-mash of colours that were totally ignored by all the subsequent marble tile and shiplap that was installed here.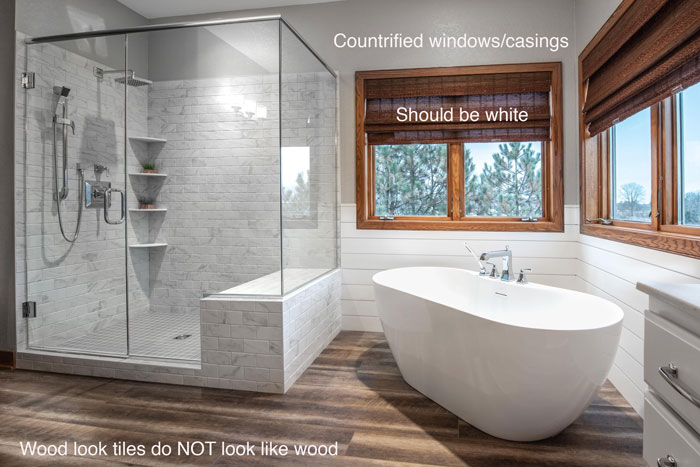 When is wood tile classic and timeless?
Here is a white bathroom (below) with timeless, medium brown wood-look tile installed correctly AND we end up with a floor that is neutral because this is what a hardwood floor should look like:

Bathroom design via Claire Jefford, Designer & True Colour Expert
Remind me what a timeless bathroom looks like?
Since you would not install hardwood flooring on a wall, it doesn't work in a wood look tile either.
A timeless bathroom (tile and countertops) should BE primarily white or cream or certainly the walls should be white tile. This is JUST my opinion, doesn't mean it's right. However, 10 years from now, we will all be able to say exactly which era this bathroom was installed (below). However, you cannot say the same for the above white bathroom.
This blue wood look floor, while pretty in this setting because the blue has been repeated in the decorating and in what appears to be a beach house, still bosses you around forever. Because it's a fixed colour and strong pattern you will need to decorate around these blue floors forever.
Because this wood look tile (below) is installed randomly, and in a timeless colour, it simply looks like a wood floor and is no longer a 'pattern'. You can choose almost any countertop without worrying about this floor. It does not boss you around.
When I started searching for images for this post, I was actually quite horrified at the amount of wildly patterned, blotchy, terrible colours that are available for purchase.
The only place I can imagine installing wood-look tile or hardwood in something this stripey (below) is perhaps in a restaurant where the colour scheme is basic and not as filled with different decor items as a living room would be. Commercial spaces tend to be trendier and are renovated more frequently.
In my last post about not mixing patterns in your hard finishes, someone posted this comment, which I thought was worth repeating here:
"I sell flooring and fortunately my showroom has dozens of flooring styles installed on the floor. Some of them have a lot of shade variation. One of my customers showed me her granite countertops as she was looking at a floor with loads of variation.

She asked me what I thought of the two together. I told her, "let me see if I can tell you what I'm thinking, if the granite was your shirt, would that floor be your pants?" She immediately got it and looked for a more even-toned floor."
A faulty hard finish selection process I see all the time
Here's a real life example of this very conversation. I received this question from a reader and thought I would post it here:
"Hi Maria! I love your blog and just finished reading one of your books. I have a question regarding wood-look tile. We have to put wood-look tile in our kitchen because hardwood just isn't a practical solution for us (kids, older dogs, etc.)

We are about to start a kitchen renovation and chose granite as our countertop. It's called Persa Avorio and it has a mix of white/cream/gray and I'm putting in a solid backsplash.

I found a wood-look tile that is a really light warm gray color, like whitewashed wood, with a subtle wood grain pattern on it. My husband prefers another tile that has a distressed pattern to it but picks up colors of the granite and is a bit darker.

We did our homework and put the tiles up to the granite etc. and both tiles go color-wise. Does a distressed pattern on wood-look tile count as a pattern? I'm thinking you will say yes, but I'd like to hear your thoughts.
Which wood-look floor tile goes with my granite?
In this real-life example, the wood-look tile definitely counts as a pattern and definitely does not work.
Why?
Because neither option looks like real wood.
I have seen this happen many times. We make a choice and then the choices that build on top of the first choice don't really work, so we start focusing on the wrong questions.
And the question she's asking here is, which floor works with the granite?
When the question really should be, is this (random, busy granite choice) the best direction in the first place?
But first, let's add a floor that is way closer to the world of timeless but still relates to the cabinets:
Notice all I had to do was grab the classic tile I just posted two images ago
Much better. Now the focus goes back to the granite and the fact that it has so many colours in it and not one of them relates to the cabinet? Nor does it provide any nice crisp contrast. Well, maybe it's time to go back to the drawing board here as well.
When I recently posted this reader's dilemma with her granite and tile choice, I received a comment from a reader who said, "But you still didn't answer her question?"
And I replied, "What question is that?"
She said, "You didn't tell her which paint colour would make the floor work with the countertop (below)?"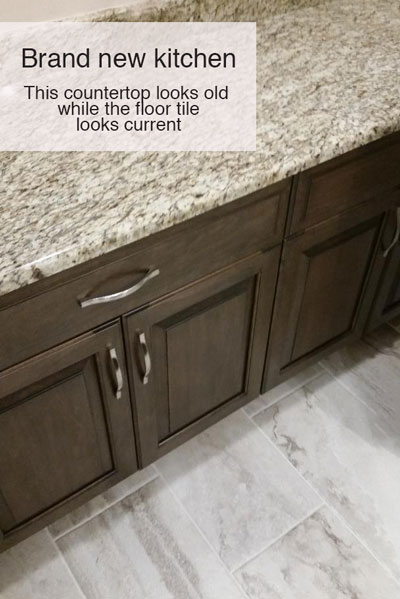 Ah, but that would be magic wouldn't it? In this case and with this granite, there is no magic. This granite should never have been installed with this flooring. The end.
Are there times when I can pull out my fan deck and pick a magic paint colour that makes two elements that look terrible, look (if not right as rain) at least much better?
Yes, and I have done it thousands and thousands of times in my 20 year career. And I dearly wish I could do that here to help my lovely reader's new build kitchen. But sadly, in this case, a single paint colour will not pull all of this together.
Notice, however, that somehow my reader immediately assumed there must be a magical paint colour that would fix it.
As my True Colour Experts learn in my Colour training courses, sometimes there simply is no magic. As much as we would love to pull a trick out of our hat to make everything better!
Back to my readers question above.
"Which wood-look tile works with the granite I've chosen?"
The answer is neither would be a classic and timeless choice. And I'm also saying if nothing is installed yet, I would rethink everything.
Just this week, we chose colours for a kitchen that had a very similar look. My client had inherited the busy combination and she couldn't replace it yet so she bought a cabinet colour package** to paint her cabinets.
**PS. Please note we DO NOT offer a stand alone single hard finish (tile, countertop or hardwood flooring) service. In my experience it's impossible to properly specify a countertop or tile or hardwood floor without weighing in on all the other items being installed. When a client purchases a complete package that covers everything and I can provide a more full-service approach, they are much happier with the end result and advice.
Therefore if you purchase a cabinet colour and DO NOT have an installed countertop, you will need to upgrade to the classic bathroom or kitchen, renovation or new build package in order to receive advice on a hard finish selection.
Always start your design project with the end in mind
Why create the kind of kitchen that needs to be rescued by a paint colour in the first place?
Not when you could have a kitchen that looked like this:
**Note: It's rare that a matching patterned countertop looks this good on the backsplash as well. For most people, subway tile, or a white/cream tile in a different pattern is still the best plan. This kitchen is on the blog post because its pretty and timeless. Not to be confused that you need to run out and install your slab on the backsplash as well.
Or this.
Thank you to both my readers who gave me permission to post these images. It helps everyone.
And I hope this long post helps clear up confusion about wood and wood-look patterns and colours. Because if there is one finish that really should be as timeless as possible, it's the one with the most square footage, and the hardest one to change.
If you'd like help with your new build or renovation, purchase an eDesign package here.
PS. My live workshops are going virtual. We will have all the details and prices up on the site soon, sign up here to be notified, spaces will be limited.
Related posts: