The black and white trend is the most overwhelmingly repetitive trend I have ever seen in my career.
And I guess it's because white spaces are so photogenic.
Especially when they are enhanced by filters that make it look like all we have to do is replace all our previously grey or gold walls with stark white out-of-the-can paint and our homes will look like all the fabulously blown out fresh rooms we're seeing all over Pinterest and Instagram.
And many of us fall for it. Then we try to replicate it at home, we often end up thinking, where did it go wrong?
A curious trend
Anyway, a micro trend that has emerged quite suddenly among my eDesign clients is a turning up of noses at the tried and true work horse of the kitchen, the stainless steel sink.
And I'm curious to know what you think about it.
My thinking is that while I agree that the standard entry level drop in stainless sink lacks refinement (but is very functional for a loooong time if that's what your budget allows), an under-mount stainless sink is always a timeless choice.
There is nothing at all wrong with porcelain sinks, the sudden objects of desire, either. They are pretty when they integrate colour-wise with the countertop. But they are certainly an upgrade in terms of cost and installation.
Are porcelain sinks worth the additional cost?
And since I advise all my clients ALL the time that it's important to reserve room in your budget for the details that really MATTER and have impact on the overall look and feel of the space, in a kitchen, think focal point items like the hood fan and decorative lighting, and in any room, DECORATING and STYLING, the humble sink is NOT, in my opinion, the detail to break the bank on.
So while a porcelain sink might be on your wish list, consider first whether that extra few hundred bucks might better be spent having a custom hood fan installed, or purchasing that beautiful runner rug to cozy up your kitchen, or the gorgeous enamelware you can display and use for years to come.
When are they the right choice?
If you don't have a stitch of stainless steel in your kitchen, say an enamelled stove and panel integrated appliances, ie. a highly custom look, that's when it would make more sense to choose a porcelain sink that perfectly matches your countertop.
And if you're going for a very traditional kitchen, one that looks historic and rustic like a true farmhouse kitchen, stainless steel will look too modern in that context, and you're probably going to choose an apron front sink anyway.
When a stainless sink works best
But if you do have versatile stainless appliances, there is nothing wrong with continuing with a classic stainless sink to relate. Especially if there isn't a sink that matches the gradation of white you're using in your kitchen.
Like my kitchen which is off-white. Therefore, the stainless sink is perfect (below).
Black sinks belong with black countertops
If I can save you from the worst mistake you can make choosing a sink for your kitchen. DON'T choose a black sink if you have white or light countertops. For the same reason it's not a good idea to choose black appliances for a white kitchen (without a black countertop). The black will create jarring black holes that look like knocked out teeth in your otherwise pretty and airy kitchen. Stick to stainless or white.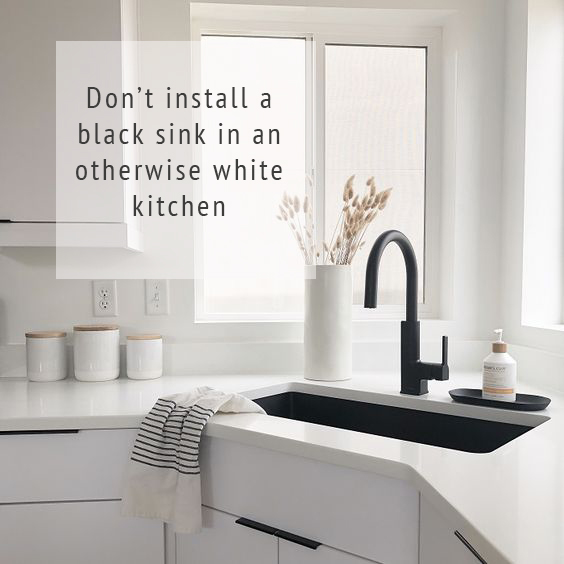 A black sink belongs in a black countertop, the end. This one below is actually soapstone, so beautiful! But a black porcelain sink works well in a black or charcoal countertop too.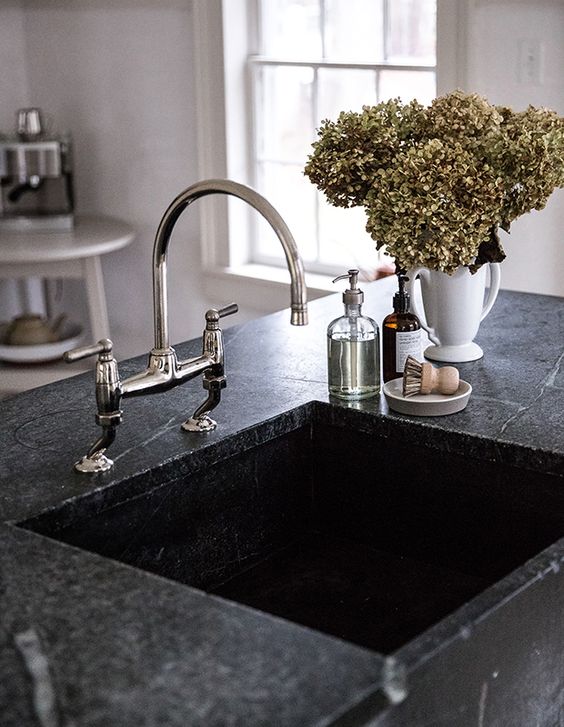 So a stainless sink in my mind is like subway tile, it might not be the newest thing on the horizon with the appeal of the NEW, but it will never be the wrong choice in an incredibly broad range of situations.
That's what I think, but over to you my lovelies, I'm more curious to know, are YOU currently in love with porcelain sinks and feeling like a stainless sink is a bit been there, done that? Do you think it would be a worthwhile upgrade to your kitchen?
I'd love to hear from you!
PS. We're almost at the end of this fundraiser and I'd love your help!
Get WithIt to Win It!
I am honoured to be on the board of an amazing organization that exists to encourage and develop leadership, mentoring, education and networking opportunities for professional women in the home and furnishings industries.
WITHIT – The Women's Leadership Development Networking Non-Profit
As a non-profit organization, WITHIT needs your help to continue growing our objective to recognize, connect, and support women in the industry. To mentor, teach, and encourage those who aspire to grow their leadership, while providing the opportunity for networking and the support needed in our careers.
Please help me support this important cause that I am passionate about and purchase tickets for our annual fundraiser!
Related posts:
Do Kitchen Appliances Realy Need to Match
Could a Scandinavian Eat-In Kitchen Be for You?