Today I'm sharing some of my design assistant's best home improvement projects… and saying goodbye. That means we are hiring! Keep reading to find out more.
Friday, we received the news that my rock star, design assistant Kelly (below), who you've seen mentioned many times on this blog in the last four years is NOT coming back from maternity leave. She's been with her sweet, baby boy for a year and wants to stay home with him.
While we obviously completely understand and support that decision, Terreeia and I were really sad to receive this news. Kelly arrived as my personal assistant and after 4 years. She was our office manager -AND- all things organized and amazing! When Kelly learned our CRM system, we no longer went through harrowing launch campaigns. Things were smooth as silk.
Terreeia and I went straight into grieving mode last weekend and we're not over it.
So that, along with that it's been almost a year of no travel, no friends, along with mask wearing isolation… I have to say that I hit a wall this week that I've had a hard time shaking off.
It's sad to go out and watch people take a wide berth, apologize if they get too close, and overall this new mask-wearing-world is not fun to be in. So even though I'm dying to go SOMEWHERE (OMG ANYWHERE) that part makes me NOT DO IT.
I'm clear in my generation, I will never again go out and NOT see SOMEONE wearing a mask. And what's even sadder, is that I suspect the younger generation will grow up to be germaphobes.
Anyway back to Kelly as I reminisce.
A trip down memory lane – home improvement style
Shortly after she first started working for us, Kelly and her husband bought this house:
See all the before & after's here
Kelly renovated the powder room, and simply painted and decorated the other two bathrooms, here and here.
They never got to painting the outside before they sold it. But in the meantime, armed with what Kelly learned from me about classic and timeless design, they replaced the flooring, the 80s kitchen and fireplace. And, approximately two years later, sold it for a good price and went on to buy their next home which look a lot more vision!
A Timeless Ranch Renovation
Then, they found the real challenge. The garden was so overgrown, you could barely see the house from the road.
From Grey Gardens Disaster to a Timeless Blue Exterior
But the floor plan was magical. It's a U-shaped rancher which means that you get windows on two sides in the family room/kitchen, living room & master bedroom. I talk about the importance of this design element plus two more, in my Exterior Masterclass here.
Kelly's new home is so fabulous, when I'm there, I wish I could plunk her house on top of my bungalow. We love our rancher too but if the kitchen and family room were bigger it would be a better candidate to be a 'forever house'.
Here's the after of the exterior
Here's Kelly in her classic and timeless white kitchen (above). See all the before & after's here.
See the before & after's of Kelly's Powder room here
Kelly's Main Bathroom; Before & After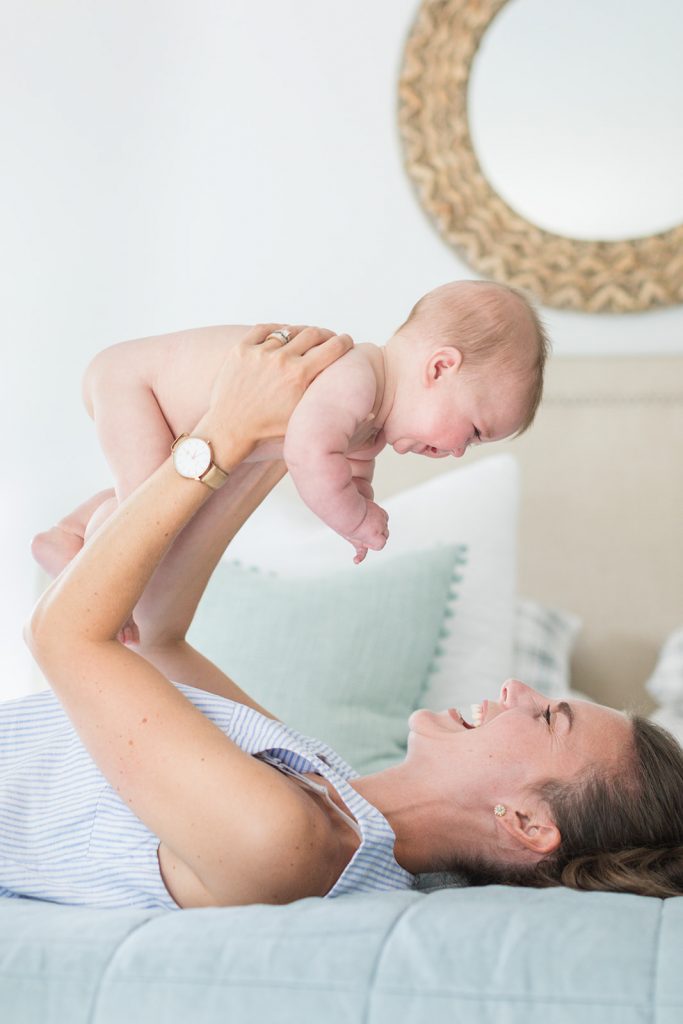 Kelly's master bedroom (above) & ensuite (below)
And last but not least, the reason I'm writing this post is because of this little cherub in his sweet little nursery:
See Kelly's Woodland Nursery Here.
Luke just celebrated his first birthday!
Kelly sent me this note last night because we're all sad:
"You and T have been my mentor and given me so much opportunity. I have blossomed into someone I'm so very proud of. For that I'm forever grateful. I can't thank you guys enough. I hope we can continue our relationship."
We love you Kelly and wish you the very best of everything!
So back to the point of this post. We are hiring a new personal/administrative assistant who lives within driving distance from Yarrow (Chilliwack). This position will be approximately half virtual and half in-person.
Personal / Administrative Assistant Position:
The primary role of the Personal Administrative Assistant is to maximize the productivity and efficiency of the Founder. Your responsibilities will include:
Providing efficient experienced administrative support
Manage calendars
CRM management,
Social media postings
Manage emails
Personal errands
Project Manage and coordinate live and online events.
Travel arrangements
Scheduling
Answer telephones
Organize office and all work space and storage areas
Maintain inventory
Assist in photo and video shoots
Attend off-site design consultations
Go here to see the skills you need to have and find out how to apply.
Related posts:
Is your Flooring Bossing you Around?
The Enchanting World of Atmosphere