Here's another lovely renovation by my design assistant. Today I'm taking you inside her happy yellow powder room. She aptly turned the retro bathroom she inherited into a timeless classic. Take a look!
So true, there is no end to what a smile can fix. And the new happy yellow powder room Kelly Parkinson (my Design Assistant currently on Maternity Leave) created in her home puts a smile on my face.
Have I mentioned I love yellow?
Before: A retro powder room
There is definitely charm to a retro turquoise bathroom. Can we bring back a time when people were fine with a sweet floral on their countertops?
Here's a look at Kelly's bathroom before:
Apparently it's a thing… refurbishing or even recreating retro salmon pink, lavender and green bathrooms from the 60s. But that's a commitment that takes hunting down restored versions of the fixtures, tile and countertops that are authentic to that time. And honestly, it can end up feeling a bit campy.
Kelly has done such a beautiful job updating their mid century rancher. She's created a fresh and timeless look throughout (more photos coming soon!). Her powder room renovation fits right in.
Happy Yellow Powder Room Design
Tada! Here is the happy after:
A versatile white vanity
With a crisp new white vanity, she can pull any colour from her decor and change up the look of this room with paint, accessories and art whenever she wants. That's one of the reasons I believe all bathroom countertops should be white. I love the combination of gold accents and the soft yellow wall colour. It manages to be both warm and airy, casual and refined all at once.
Shop this happy yellow bathroom:

Don't forget to add art to a powder room to give a small space personality. Pretty vintage botanicals are easy to find and add a delicate element to any pretty gallery wall.
Greenery and flowers are a must for any bathroom (kitchens too!).
Getting yellow wall colour right
Soft yellow – the colour of flowers, lemons and sunshine – how can you go wrong?
Well actually, you easily can go sideways with yellow. It's a common mistake to choose too saturated a yellow that is alarmingly neon when it goes up on the walls. The best yellows tend to look quiet and unassuming in the colour deck. They lean towards yellow beige.
Kelly got it just right with Benjamin Moore Weston Flax, a soft yellow that can be found in my VIP Collection of large painted colour boards.
Here's the floor (added later) taken by me so the room is not styled the same. It's 12″ x 24″ charcoal flooring that continues into the laundry room outside of this powder room.
Here's how to mix metals
Repeat them once. Here you can see that the mirror and the sconces are gold and the faucet and hardware is chrome!

How to Get the Look
Here are some essentials to creating a happy yellow powder room in your home.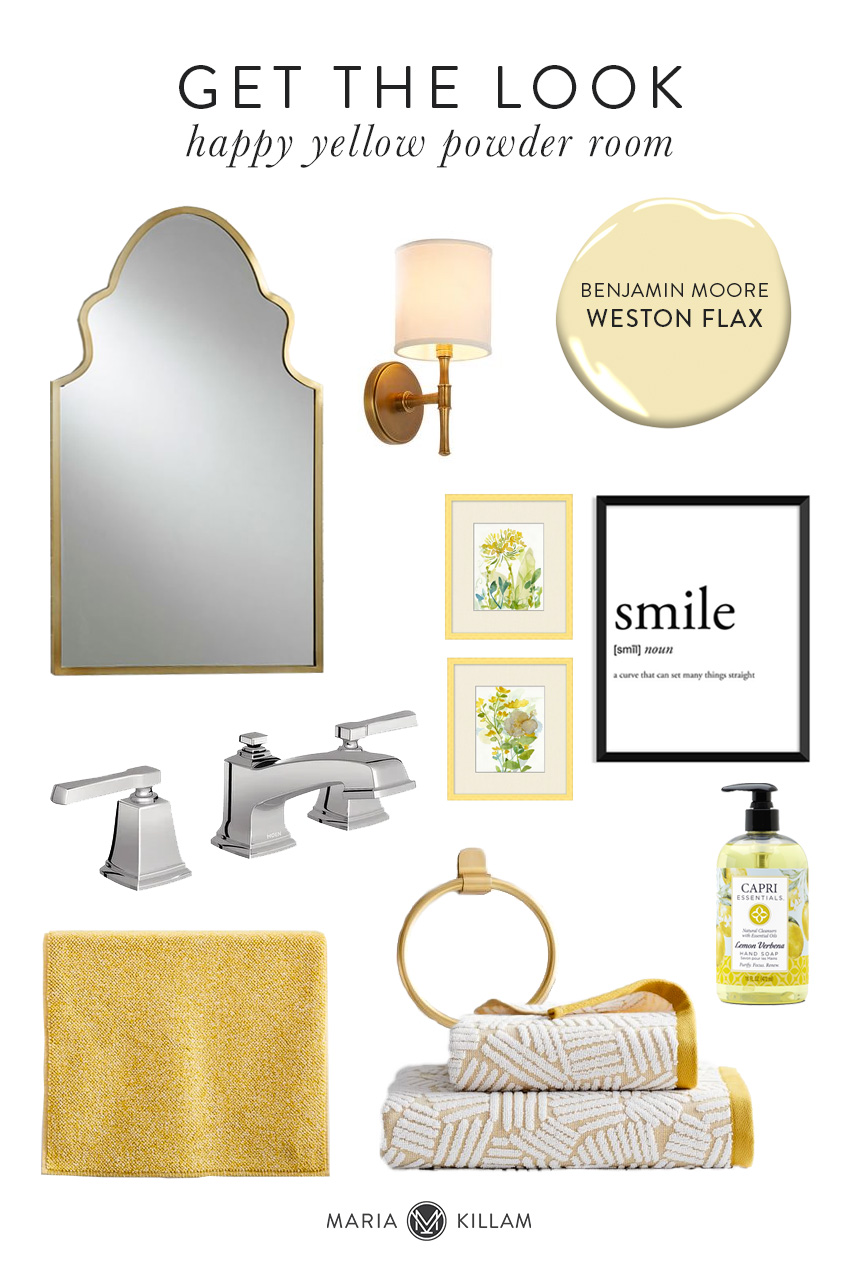 Mirror | Wall Sconce | Faucet | Botanical Prints | Smile Art Print
Bath Mat | Towel Ring | Lemon Hand Soap | Towels
If you're working on a bathroom renovation, get all your colours and finishes right with our Create a Classic Bathroom package here.
I know so many of you are asking when we are opening up the rest of my smaller packages and I'm hoping we'll be able to in less than a month.
Hope you are enjoying the last days of summer, this is what's happening in my backyard. I'm renovating my office and turning it into more of a recording studio so I can properly do lots more video (because no matter how much practice you might want to do to get good at video, there's no other way to get better except just doing it) as well as start creating some online courses.
If you look closely you can see there's a grid being installed on my focal point wall. My dear friend Jan Romanuk (Kitchen designer and project manager in North Vancouver) has designed the new look and here is one of her fabulous contractors Kylen who is making it all happen!
And in other news, Terreeia has recently re-activated her Instagram account so you can follow her health journey there. And she's also sharing some good tips on eating colourful food on my stories today here where you can see her dancing because I informed her that her shorts were way too big for her 🙂 To date she has lost 38 pounds since June 21 and her chronic pain is down to 20%. So inspiring. And by the way it's true that a happy wife is a happy life!!
Terreeia Rauffman, CEO of Maria Killam Inc.
Related posts:
The Best Countertops for your Laundry Room; Before & After
Can Grey be Dirty? Yellow Exterior, Before & After