Trying to combine old finishes with new flooring? I'm sharing two magic questions that will make every decorating or design decision better.
House Beautiful | Read more: Encaustic Tile Trend Post
I received so many questions about flooring from my last post; Are Hardwood Floors a Pattern, it's clear that this topic needs a follow up post.
Instead of answering individual questions, I'm going to introduce you to two questions that everyone should ask whenever they are installing something new with old.
Every question I received about flooring was about what to do in an existing house.
What's the best way to combine old with new?
When you build a new house, it's pretty straightforward. Choose a classic and timeless hardwood (or wood look floor) and install it throughout (except bathrooms or maybe the mudroom). The end.
But renovations and mixing old with new? That's when it gets complicated.
Two magic phrases every decorator should know
The two most important questions to ask yourself BEFORE you make any decisions about what to do with existing flooring in your house are these:
Important Question #1:
Will my new finishes look like they were all installed at the SAME time?
You don't even have to have a creative eye to be able to answer this question.
Whenever you are about to make a decision about mixing something NEW in an old and dated room, for example you are ONLY replacing the flooring in your bathroom, or ONLY the backsplash in your dated kitchen, ask yourself this question.
If the answer is NO, then whatever new and trendy tile or countertop you are considering will NOT WORK.
It doesn't matter if you love it. It doesn't matter if it matches colour wise. If it looks like a different trend era, it's going to make your existing finishes look OLD. (Unless of course you happen to have perfectly timeless finishes in the room. However, if you ARE making changes, that's probably NOT the case).
Installing that new tile you (or your spouse) decided you were in love with will only open a big can of worms. You know, people talk about that a lot. You change one thing, it suddenly makes everything else look old, you can't bear the look of it, so now you're forced to continue renovating.
It's a domino effect.
The scene on repeat everywhere is this: you really want the entire room renovated but it's only in the budget to change one element. So you change that ONE most offensive finish. Most of the time, now you will have to live with something that looks worse than the old floor or backsplash did. Because now you have that uncomfortable mix of old and new.
I have been in and seen virtually, thousands and thousands of homes, that's how I know this happens all the time.
This comment, posted on one of my latest Instagram posts, is reacting to just how common and out of control this problem is. Honestly, it's really bad and unbearable: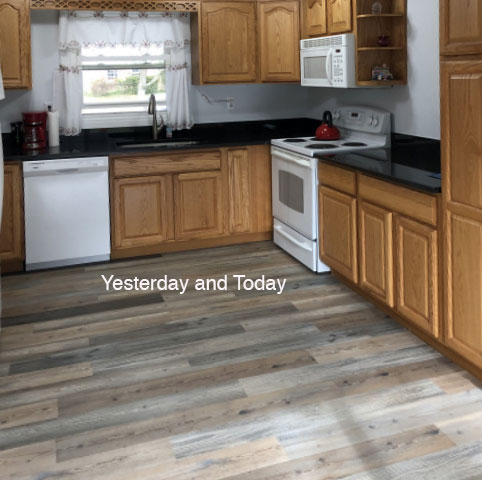 "Say it louder for the people in the back!!! I'm seeing this in so many real estate listings these days! Yes, let's keep our honey oak cabinets, doors and trim and replace all the floors with striped grey LVP. That's sure to sell the house!

NOOOOOOOOOOOO!!!!!! It makes me want to gauge out my eyes!!!!"
Please don't do this!
Well what if, on the other hand, you are renovating your great room for example, and you KNOW the rest of your house will eventually have the same, more modern look, then you will be IGNORING the old for a while, then your perspective will look more like this:
Important Question #2:
Are We Moving Forward?
First of all, step away from the weathered grey wood look floor. This will always look like it was installed in 2016. It is NOT timeless.
S0, do we move forward in the part of the house we're currently renovating and ignore the rest of the house because we KNOW it will eventually be updated?
For example, you're renovating the kitchen/great room. The rest of the house has dated old honey oak, or espresso flooring and you'd like to install more timeless pale oak or medium brown LVP or hardwood.
If you KNOW your future plan is to eventually install new flooring all throughout the main floor, buy enough to do everything, plus a little extra, and store it until you can renovate the remaining areas. This way, you are moving forward in the newer renovation and simply ignoring the dated part of the house until you get to it.
However, if you have no plans to ever replace the flooring in the rest of your house, then you'll need to literally go to every store in town to source something close to your existing flooring so you can keep going with the same look. A mission that is frankly next to impossible, especially if you have existing narrow plank, warm toned hardwood.
If you need to add new flooring to an area of your house that will transition directly with your existing hardwood, in most cases, you'll simply have to switch to tile or non wood look luxury vinyl tile, cork, or anything that is not trying to look like wood.
In the above image, we have not 3, but 4 different flooring materials if a pretty small area. Painted stairs, a sisal runner, classic black and white basket weave flooring AND an older oak hardwood. THIS is the exception. Why? Because each of these elements is perfectly timeless. And considered. The black painted stairs pick up the black dot of the tile, while the warm sisal repeats the warm tones of the hardwood.
Don't try this with your home without the help of a savvy designer. Notice that it DOES NOT include a greyed, rustic wood look floor in the same eye full as the older hardwood?
Above is advice I include in my eDesign presentations for any client that is installing new flooring with old. Transitioning from one wood look floor to another RARELY works out well. Texture, colour, sheen, pattern, any and all of these aspects are likely to be wrong together. It's much better to create a distinct switch to a timeless porcelain, stone or marble tile, or a pretty carpet.
A successful flooring transition from Cle Tile
Is your house the exception?
Yes there are always homes and inspiration images you can find that work even when all the above rules are broken but they are usually created by designers or design enthusiasts who have an eye for making all things beautiful. Enough experience to know they are breaking the rules and why.
If that's not YOU, then your house will definitely look more beautiful if you follow the two basic guidelines I've outlined above.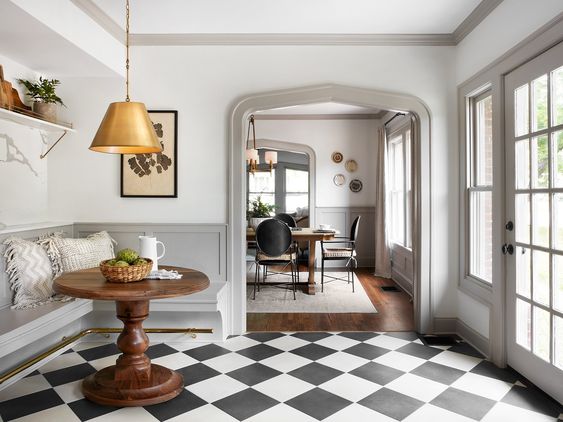 Flooring is a big deal. It should never be approached as if wood is wood and "I'll just pick up a wood look floor that I like for my renovated area".
It is the ultimate fixed finish in that it is a huge ordeal to change. You'll notice that the pros will mostly create a distinct flooring transition and not a wood to wood look combination as seen in this image above.
Your house is no exception. If you don't ask yourself these questions, that's when you end up with the house no one wants when you list it for sale.
If you'd like help with your renovation, see my eDesign packages here.
Related posts:
Ask Maria: My Husband Got One Choice and it's Wrong; Help!!
Why Colour is Not Always a Personal Choice
How to Stop Going Round in Circles When Choosing Finishes for your Home