Maria Killam in 2008 (at a paint store where my system began)
Eleven years ago on Halloween 2008 I started writing this blog. I'm always a little annoyed that my anniversary is on a date that is far from my favourite. I have no stomach for horror movies or anything related to scary monsters in any way. My favourite part about Halloween is watching the little kids get dressed up!
Anyway, back then I had no idea where it would take me. At the time, I was a self employed designer (I had to be self-employed, I couldn't hold down a job given I had been fired seven times at last count, but let's just round it off to eight shall we?).
I was in debt and living in a rental. And I was tired. Tired of the world of self employment which for me usually went like "When it rains it pours, and when business is dead, wow it's just dead".
I had just been through a dry period a year before that where I had to live on my credit line for 6 months when things were slow and it crept back up to minus $25,000.
I was tired of this kind of business model and knew something had to be done.
Fast forward, I started writing this blog and the rest is history.
When I meet people I don't know, and they find out my entire business is driven by my blog, I am often met with shock.
"What? How do you make money writing a blog?" they ask, with a surprised look in my direction.
And yet, that is my business model.
There's a lot of 'buzz' these days around 'passive income', and selling products online via affiliate links but I have a newsflash for you.
Have you written a song and you don't have to lift a finger but money still gets deposited in your account? Do you own real estate that earns money? Do you have a business that you spend 2-3 hours per month managing, because you're a business owner and not a business operator?
That is the purest definition of passive income.
There's nothing truly 'passive' about my business.
Yes, people register for my high ticket colour workshops in the middle of the night when I'm sleeping, but that's probably because the day before I wrote a blog post that resonated with that person. Enough to have them pull out their credit card at 7:00 am Eastcoast time which is 4:00 am Westcoast time (when I was sleeping) and register.
Many people have 'passive income' and 'making money while you're sleeping' collapsed.
Yes, I was technically in bed when the sale happened, but I still work every day and frankly, most weekends, to ensure that the sales keep coming in.
There are two ways to drive traffic to your website. Where you're SELLING something.
You pay for ads to send traffic to your site.
Or
Create good content and then focus on optimizing your content that then, organically sends traffic to your site through Google searches, Pinterest, etc.
My business model is in the latter category.
Writing this blog is truly a creative outlet for me. If it didn't feel that way, there's no way I'd still be writing it 11 years later.
And ideas on what to write come to me constantly. It's very rare that I'm just staring at my laptop, wondering what I'm going to say.
In fact, I'm usually excited to discover what I do have to say about any given topic, because often I honestly don't know until I get to the end of the post.
Creativity is definitely a muscle that gets bigger when it's well used.
So first, here are all the ways I make money on this site:
My FREE Understanding Undertones colour wheel
It's free (except for shipping and handling).
There are no strings attached to this sale (I'm calling it a sale because you do have to pay for shipping)
This is the entry point to my 'funnel' which is internet speak for the journey a customer takes in navigating an ecommerce website and finally converting to a sale.
A customer buys the wheel, uses it to identify the undertones in their home and then chooses a paint colour based on my handy dandy short list which is found on the landing page here.
This part of my funnel does not make me any money. In fact I would call it a loss leader. I have spent over $50,000 developing this wheel. And did I mention it's free?
Also, I would love to write some posts to answer questions on using the wheel, so if anyone has taken photos and have questions, please send them here.
If the entire process of choosing a paint colour still seems too hard to figure out and they are staring at a bunch of samples, still waiting for their paint colour to propose, then they might move to the next part of the funnel which would be to purchase either of my ebooks.
Neither of these ebooks overlap. One is all about choosing white and the other is all about choosing paint colour.
These books will teach you THE System for Specifying Colour.
Two eBooks; $27.00/each
How to Choose Paint Colours, It's all in the Undertones
White is Complicated; A Decorators Guide to Choosing the Right White
Three Sets of Large Paint Colour Samples
Then, if you read the books and learn that ideally, you just need the Core or the Foundation collection with you to choose the right neutral, and you're a design professional or a colour enthusiast who just loves colour and wants to get it right in their home, you buy my large curated paint samples:
And what I mean by curated is that 95% of the time you need a neutral, or one of the most popular colours in greens, blues, pinks, forest greens, darks, you'll find them in these collections.
When I get up to the bedroom wing of the house, I usually spread them out onto the bed while I'm choosing colours for bedrooms (above).
Downstairs in the main areas of the house, I'll spread them out on the coffee table or island in the kitchen.
Exterior and Interior eDesign services
But what if you don't want to figure it out yourself, or you need help?
That's where my eDesign services come in.
Maria's Timeless Master Bathroom Reveal
I can help with just a single paint colour for the main areas of your house (for example), if you have lost your mind and the painters are hounding you for the paint colour.
All the way to a Create a Classic Bathroom or Kitchen Package or a New Build or Renovation package if you are someone who is sensitive to colours and especially neutral undertones, maybe you've already lived with bad colours and bad finishes in the past and this time, you just want to get it ALL right.
The first time.
Much cheaper than trying to figure it all out yourself (with no colour or design training) and then, halfway through, when everything starts going in and you realize it's not turning out as you'd hoped and THEN calling for help.
That is way more expensive, because now we're in 'fix' mode or 'We have to live with it now because we've gone too far in the wrong direction' mode.
Affiliate Links
Yes I use affiliate links where I can, but how I make money in eDesign is by specifying the right colour. And that is what I teach you how to do on Day three of my Specify Colour with Confidence workshops.
The edesign sites where you can get an entire room designed for under $100 means that you might get to work from home but it's not hard to do the math on how much money you'll make if the site is only charging $69 for an entire room design.
They are obviously trying to make money from affiliate links too, but no one can force the customer to actually buy the products they are recommending exactly as specified.
The way to do it if you want to make money on YOUR blog is how Laurel Bern does it. Every week she posts which home decor sites are having sales and also includes her recommendations. Very smart. And she has a great blog which gets a lot of traffic. We're back to that. If you want to make money with your blog you still need traffic.
It's the fashion bloggers who make real money selling fashion on their Instagram or blog because you're way more inclined to make a spontaneous sweater or shoe purchase rather than a coffee table that you might end up having in your living room for years. And of course they also need to have a following to make money.
To give you an idea of how much money I made in the first 5 years that I added affiliate links to posts that I was writing, it was under $6000 on commissions.
However, I'm not focused on writing posts that sell furniture or home decor.
And that is also not the main driver of my eDesign business either. I charge for choosing the right paint colour and finishes, that is mostly the service my clients are looking for from my site. Gross sales currently from this department range from between $20,000 – $30,000 per month with Spring and Fall being the busiest time.
And it's the most labour intensive part of my business. I currently have 3 designers who work in this department and I'm involved with every consultation that we send out. What takes the most time, is gathering questionnaires, making sure the photos have been taken correctly, communicating with the client and assembling the presentation.
In case you are still doubtful that I touch all the consults, read this post.
Specify Colour with Confidence Workshops
Then at the very end of my 'funnel' are my live colour workshops.
This course attracts a wide range of people from the homeowner/colour enthusiast who loves colour and decorating and wants to have the skills to make their own decisions, to the person transitioning into a new career, to the new decorators and designers (and all the design professionals in-between) including designers who have been in the business for 30 years.
There's simply no other place to get this kind of specific training on choosing colour and of course, the right neutrals as efficiently as this. The better you get at being able to explain WHY your colour specifications are the right ones, the faster and more confident you will become and the faster your client will immediately trust you.
Many of my eDesign clients end up attending one of my workshops. First they dip their toe into getting their colours right and then when it works and the colours that were bothering them for so long are suddenly right, they decide to get further training so that they can do more themselves.
I love teaching this workshop, it's so rewarding to watch so many designers who have attended my courses over the years, soar in their business! I like to think my workshop contributed to their success and joy in doing what they love!
In Home Decorating and Colour Consulting
Last but not least is decorating and colour consulting. There's nothing I love more than helping a client create a look and a feel for their home through choosing the right colours for their painted surfaces, hard finishes, soft furnishings and accessories.
I'm posting this photo from my nephews condo which is the most recent project I posted about last month.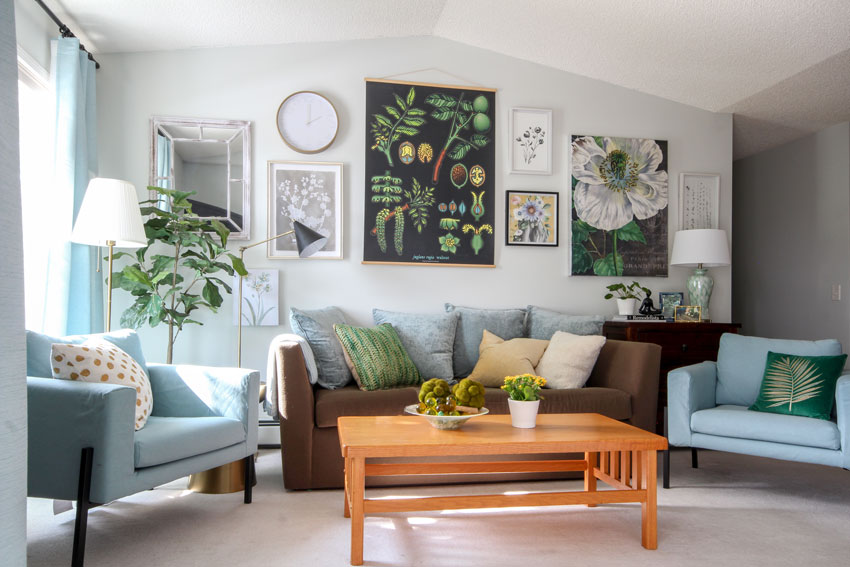 And that takes me to my earlier point. All of these different sources of income are driven by writing blog posts.
One thing I know for sure, is that the quality and frequency of posting is EVERYTHING. That is the one thing that MUST be consistent because my blog posts drive ALL my sales.
When I wrote this post in July 2017, I had nine registrations into my Fall workshops that week.
This post about white walls sold a lot of White is Complicated eBooks that day.
This post literally turned the month of January 2018 into our biggest eDesign month ever up until that point. It also validates what I teach on Day 3.
Everyone is so worried about giving away their best advice
When you just need to accept the fact that some people will simply NEVER buy anything from you.
I get emails all the time from readers who have never bought anything and are not even subscribed to my blog.
Yet they have used my blog as a free guide for every single colour/design or sourcing decision they've  had to make with regards to their new build or renovation. AND they are emailing to ask if I would write a post to answer a burning question they could not find the answer to, no matter how hard they searched my 1500 posts.
And they compose the email like they are doing me a favour. Giving me the heads up on a post that needs to be written, haha.
Anyway, I digress. My point is, do not let these non-paying people get to you. There are a lot more people out there who are happy to pay for your professional advice.
Blogging is actually NOT dead. Far from it.
And my business is living, breathing, proof.
Since starting my blog, I truly live the life I dreamed about in my 20s and 30s.
I was 41 when I started writing this blog and by then I had almost given up the idea that I would ever make enough money to have the life that I dreamed about.
Money that could make me a homeowner instead of a renter, be able to take extended dream vacations to Europe, buy my Mom first class plane tickets, assemble a collection of designer shoes and bags and one of the best parts of this, be able to hire a professional to do everything I don't want to do myself.
Given I am where I am now with nothing but a high school diploma looks like a miracle, but really is based on many years of hard work using my talent for colour and design and being able to write like I talk. And of course, my wife Terreeia deserves lots of credit for having the ability to handle many aspects of our business that I'm not good at.
To be clear, you can write a blog without being a professional writer.
In the beginning (when I had a lot more time than money) I set up and designed my blog on my own, but there are so many more resources and help available now if you'd like to do the same thing. And my talented web developer Terrence Murtagh is launching a course to teach you how to set up your own website/blog, sign up here if you'd like to be notified when he does! 
Over to you my lovelies! What's the best tip you've learned that helped you, from reading this blog?
Thank you so much to all of my amazing readers and clients who have followed and supported me all these years!
Related posts:
5 Insider Secrets no one Tells You About Social Media Marketing
The Best Advice for Anyone Wanting to Start an Online Business