IKEA may know a thing or two about the black and white kitchen trend. And, if you are planning a black kitchen design around this trend (say, black kitchen cabinets or black countertops), you don't want to miss these key details. Here's what IKEA knows about black kitchens, that you don't.
Western Living  | Maybe black countertops, one row of black uppers and black paint is enough?
What IKEA Knows About Black and White Kitchens (That You Don't)
Last week I met with a client who was buying an IKEA kitchen for their new home and we were looking at the whites in their brochure.
I haven't been into IKEA to look at their kitchens in a while, so on the weekend, when I happened to be nearby, I popped in with my fan deck.
This way, when I'm specifying white for trim for a client (in person or in my eDesign department) installing a white IKEA kitchen, I know which white is right.
Anyway, I was struck by how much black IKEA had everywhere.
Every display throughout the store led with black. Whether it was black vases in the flower department or black lamps in the lamp department.
Why? Because black is the new grey of course.
Black is the new grey
I have mentioned black kitchens in a few posts here and here. But this trend is so big, I don't think one post will drive this point home.
I snapped some photos as I walked through the showrooms because I want you to notice something here about IKEA's display kitchens that you might not have seen on your own.
Let's be clear, this is a company whose revenues are in the billions and they are in the business of selling kitchens (and everything else of course) so the way the kitchens are displayed are not by accident.
I'm trying to remember if there were ANY grey kitchens on display at all. White, but primarily black, was huge.
Let's walk through the three kitchens that I snapped:
Black Kitchen Design with a huge window and no uppers or shelves
Notice, the focal point of this kitchen is the huge window that is almost as low as the countertop.
Also, there are no uppers or even any shelves on either side of this window.
This makes the kitchen feel spacious, light and bright.
The countertops are also white with a white (some would say boring) subway tile backsplash.
Lots of lighting everywhere, which is always critical to achieving a look and a feel.
Black Kitchens Combine Light Wood + Black
In this modern kitchen, the light and bright feeling has been achieved by the pale wood floors, pale wood lowers, high ceilings with matching pale wood beams and the display (and of course lit) shelves in the uppers.
There's 'space' between the modern hood fan and the cabinets which also coordinates perfectly with the modern, slab cabinets.
The black uppers have been repeated by the black countertops and the backsplash is white to keep it feeling fresh and above-all-things bright.
All windows above the uppers
This kitchen seemed to be the most busy, I could not get a photo without someone standing in it.
Why?
Well my guess is because the entire focal point wall of this kitchen, with black lowers, was ALL WINDOWS.
And that brings me back to my point.
The average consumer does not notice these details.
What your kitchen might look like if you don't consider the same details
But what they DO NOTICE is how great IKEA's kitchen feels inside the store.
And they make the decision to go with a black kitchen.
And, my lovelies, that's how the average house, without windows like these, without all the extra lighting, without the well-planned and executed details, will end up with a black kitchen and it will feel as bleak and dark in most homes, as the average espresso brown kitchen did back in the Tuscan brown trend.
And after all is said and done, they will wonder why it didn't feel like the kitchen in the showroom.
This (below) is the kitchen I talked about in this post: Ask Maria; What Mood Does Black or White Convey, Warm or Cool?
Notice again, the lack of uppers, the low windows, the butcher block countertops that add warmth and of course the expanse of white subway tile that lightens and brightens.
And this takes me to the reason I wrote this post.
What everyone wants way more than the perfect paint colour, is a look and a feel.
That's what we spend three days in my Specify Colour with Confidence workshops talking about.
Every image on the screen is an opportunity to learn 'Why does this room work? What would make it even better?'
Because I'm training your eye, so that you'll be able to see things that others don't see, just like the kitchens in this post.
We'll talk about WHY. Why do the colours in this room work and another room they won't work at all.
We'll talk about decorating and styling, because choosing the perfect paint colour, or the perfect countertop colour, or the perfect cabinet colour, all contributes to the final result but does NOT give you the final result.
Decorating does that.
And we'll compare colour for three days, because THAT is the secret to explaining the WHY.
I spend very little time talking about paint colours with my clients.
That's definitely all THEY want to talk about because it's the thing that's keeping THEM up at night, but that's the easiest part for me.
What I want to know, is which rug is going into the great room, what colour should your sofa be? How many lamps can you fit in this room?
You want a colour for your island? Maybe we should choose the blue buffet that you want in your dining room first so we can then coordinate it with the blue island you want in your kitchen, for example.
Because that is how flow is created.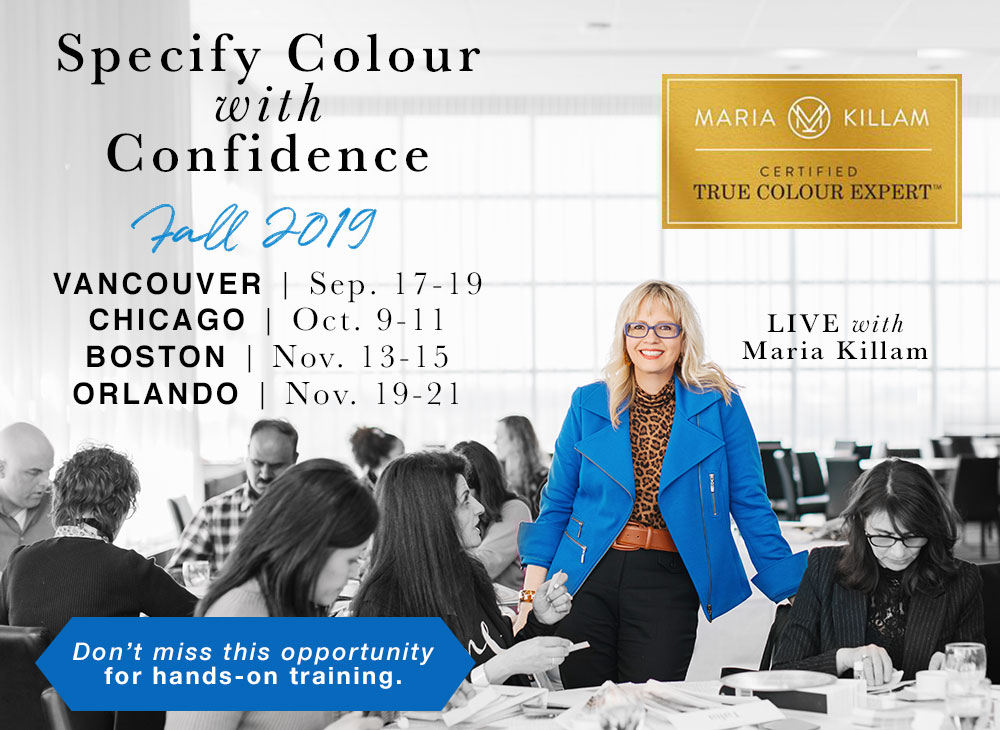 Here's what Mikki Brizendine said about my Live Workshop:
Interior Design is my second career.
I was a public school teacher for 15 years before returning to school to get my certification and launching my own business in 2015. The spring of my first year, I got a client who wanted a white. Easy enough, i thought!  After specifying two different colors and personally paying for the re-do (Yikes!) I realized I needed help. I did some googling and needless to say I found you! I immediately bought White is Complicated. I have gone on to purchase and read all your ebooks (some more than once), I look forward to every new blog post, have gone back to "catch up" on old blog posts, and have gotten all your color board sets and use them faithfully with each and every client.
Last Christmas, my husband gifted me with your live training so I was able to attend your class in Atlanta, GA, this past Spring. I believe we were your first class to receive the new color wheel at the training and have been using it ever since.
Training your eye whether you're a homeowner embarking on a big renovation, or a new build or a stager, decorator, stylist, interior designer, colour consultant, architect, is so important, and best of all learning how to choose the right neutral for ANYTHING, in addition to the perfect blue.
There's so much more to learn, it's the reason we get so many people willing to fly across the country to VOLUNTEER for free at the back of the room after they've completed the course the first time.
And if this isn't the best colour/decorating course you've ever done, we'll give you a full refund with our happiness guarantee.
You'll pay half now and the other half 3 weeks before the course starts.