No matter how big or small your budget it, it's easy to brighten a dark room with few styling magic tricks.
Today I'm sharing another one-day transformation with you. Y'all know how much I love the instant gratification that styling brings to a room!
Laura and Craig on their wedding day
My personal trainer Laura works at Innovative Fitness (owned by my sister Elizabeth and her husband Bill). Laura's husband Craig, is currently in California studying to be a Chiropractor. Laura and Craig were married for less than a year before Craig moved there to go to school.
Money is tight, but when her husband completes his education in the Fall, they will live in Laura's one bedroom suite for a while longer and she wanted it to feel a little more like home.
Since I can create the look of a magazine in just a few short hours, I offered to help.
Laura sent me a few before pictures and Saturday morning we went out to our favourite store. 90 minutes later, we were done and by 1:30 pm we had installed everything, and I left her house to get my camera .
How to Brighten a Dark Living Room
This is a small one-bedroom basement suite. Since the kitchen, dining and living area is all in one room, a normal rectangular carpet would not work here because it would define the living area from the dining table in the middle of the room and make it look even smaller.
That is where an unstructured faux hide came to the rescue.
I loved their colourful art (above)! This is an original piece the couple had purchased together. But as you can see it was a little lonely on the wall above the sofa. Also, if you introduce art with this much colour into your decor, it doesn't truly come to life in a room this neutral.
Also, the biggest decor item missing from this space was table lamps. There were four little 3-spot track lights in the ceiling and the lighting from them was terrible. If you have a dark space, recessed lighting or spotlights in the ceiling is the VERY LAST light you should install.
READ MORE: 5 Reasons Your Paint Colour Looks Wrong (And it's NOT the Lighting)
So here's the plan:
Before
After
Hang a grouping rather than just one lonely piece of art.
We found some coordinating pieces of art and also added two more that Laura already owned. It's amazing how a wall of artwork can brighten up a room, it can even be your kids drawings in inexpensive frames. A wall without art is a dead and lonely space.
If you have a sofa with a chaise, place the throw at the end of the chaise (above), it makes it look less lumpy and since you're putting your feet up, it protects it too.
I have an oversize leopard print blanket on mine that is folded in half and then again, so when I sit down at night, I slip my legs into the folded blanket and it's sooo cozy. And it looks good too, animal prints go with everything.
Install table lamps (not overhead lights) and keep one on at all times.
See the new white lamp in the corner? If you have a dark space like Laura does, keep this light on 24/7. It's much more inviting to walk into a dark room, even if you are not there when there's a lamp on in the corner.
We did not add anything new to her bookshelf (above). I just re-arranged her treasured antique books and accessories.
I kept moving around a book called 'How Soccer changed the World' as I stood there arranging her shelves, and finally I asked her about it. She said "Well that's my husbands book", "Oh right", I laughed, "I forgot his stuff is here too!"
How did soccer change the world? Inquiring minds need to know, haha.
After (Coffee table, West Elm, similar here)
Add a contrasting rug to your hardwood floor.
The faux hide truly makes this space if I do say so myself! And it was only $99. It's a fake, so make sure you install a rug pad so it doesn't slide around on your hardwood floors. I wouldn't use a faux hide anywhere but a small space like this with low traffic. It wouldn't be great under a dining room table, for example. Here's some at Amazon
If you have dark hardwood floors, make sure you choose a lighter area rug.
HOT TIP: A cream rug works even if you're decorating with white everywhere else.
Her front door is located to the left of the sofa, so now she has a mirror nearby in the new picture wall. And the reclaimed wood frame repeats the wood stain of the coffee table and picks up the browns in Laura's original art.
After
Bring your coffee table to life with a new tablescape.
I loved the copper accents we included in this room.
Copper seems to look the best with pink or orange.
Laura was surprised when I whipped out three green balls (above) from a bag that I happened to have floating around in my car. I told her I buy green balls whenever I see them for a good price, they are expensive.
Related post: Tablescapes for Dummies, A Beginners Guide
Before
Laura had already created some great vignettes on her kitchen countertops. She said she rarely used her microwave (above) so I suggested she move it into her large pantry which had an outlet. It was not pretty enough to be the focal point of the kitchen.
We bought a lamp for the corner of the kitchen (below). This creates way better atmosphere and soft lighting than the existing overhead track lights which I told her to never use again unless she lost a contact and needed to look for it, haha.
After
Laura had originally found this oak kitchen dining set at a garage sale and painted it black (above).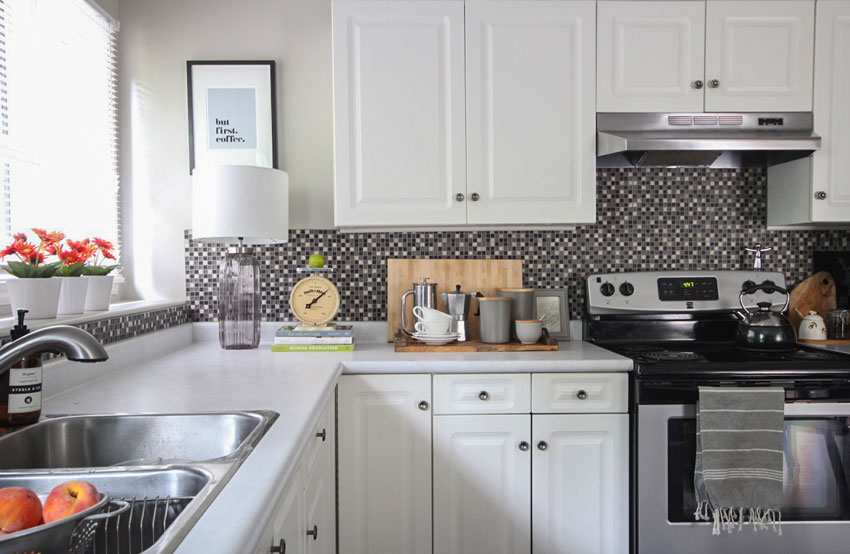 I really like the way wood cutting boards warm up a white kitchen. I also like the hardware in this kitchen and that the knob was used on ALL the cabinets doors and drawers. I usually prefer a combination of knobs and handles but if you have to choose ONLY ONE, and you're on a budget, knobs look better than standard looking 'big box store' generic handles.
Also, notice the placement of the knobs. They are positioned approximately 3/4 or one inch from the 'rail' of the door.
Related post: Ask Maria, Will my White Kitchen be Cold?
Laura found the grey canisters to coordinate with the existing backsplash at Target. If you have a backsplash you don't love, it's still always better to decorate around it if you can.
I loved her existing wood tray, and when we added the cups and saucers, it turned it into a little coffee station.
Here's the before picture again:
Before
And the after (photos by Maria Killam)
And here's another picture of Laura and Craig on their wedding day (below).

Wedding photos by Sharalee Prang
Laura sent me this note yesterday:
Good morning miss Maria ? so I was literally gone from my house yesterday from 6:30am until 10:pm and didn't even have a chance to sit and really take in everything.

I'm sitting at my kitchen table and I am just in complete amazement. Everything is so beautiful and I feel so lucky to have had your hands touch my life in such a special way!

I have been going through some really hard things the last few months and this has brightened my life and lifted me up. Thank you so much for your kindness! I will never forget it! It was so much fun watching you do what you are so amazing at!
Whether you have a small budget or a big budget, beauty can be created anywhere with the magic of styling.
If you would like your living room to fill you with happiness when you walk in the door, you can purchase our 'Get me Started' eDesign package here.
If you are local and would like to hire me for the same kind of 'instant gratification' kind of day, email us here.
Related posts:
How to Bring a Charcoal Sofa to Life: Before & After
How Styling Saved this Kitchen; Before & After
Style your Home Like the Pros by Using the Triangle Principle
The Barbara Barry Guide to Instagram (Through my Living Room)