Today we took possession of our new (to us) rancher in Yarrow. It will still be about 6 weeks before we move in. The name of our street is Elizabeth Avenue (my sister in Yarrow is Elizabeth). I love it! Don't you agree that the name of the street you live on is important?
Now I just need to get over that my official address will be Chilliwack, BC. Don't worry, I will still be in Vancouver at least two days a week. It's just that I don't need to commute there daily!
Check out the 'trailer parking' in the front yard – yuk! There are railway tiles everywhere, every single plant in the garden is surrounded with them! They are free to a good home!
When we were at the house the second time for the inspection I casually mentioned that I was taking out the uppers so the owners happily took them to their new place and good riddance, looks better already! I'm about to decide exactly what to do with the whole thing next, I'll keep you updated!
William and Markus came by with their parents and they loved running around in circles through the living room and kitchen! My friend Tami lent me this dancing rabbit from Easter that sang "I'm walking on Sunshine" and we played it many times to clear the energy!
What do you do to clear the energy and make a house yours beside paint and other renovations?
I had to pick colours for the whole house as Pure Painters is arriving Wednesday already to start painting the ceilings. The first coat will go up in most of the rooms and then the baseboards and flooring will all come out except in the main bath and master. Those I'll renovate later, not before we move in.
What do you think of our stained glass windows? In the right house I can get it but here it's just wrong.
Cloverdale Paint has a new Artisan line of paint colours. 288 beautiful, rich, complex shades that they spent 3 years developing. Colours that their paint stores spent most of their time matching are now available in this best-of-the-best colour palette. So when they agreed to sponsor the paint for my new house, I was thrilled! Can't wait to try their new colours!
Every other room was easy but the 1991 tile had to be coordinated with the best colour. If you can't choose a colour that flows with the rest of the house, dated bathrooms are the place to ignore flow. I would much rather choose a colour that makes dated tile and cabinets look as best as they possibly can than paint it white so that you don't have an odd colour in the house. It's only paint anyway,
William was helping me out, it was a colour party! He kept running around shrieking, 'We have to pick the paint colours fast, the painters are coming tomorrow!!'.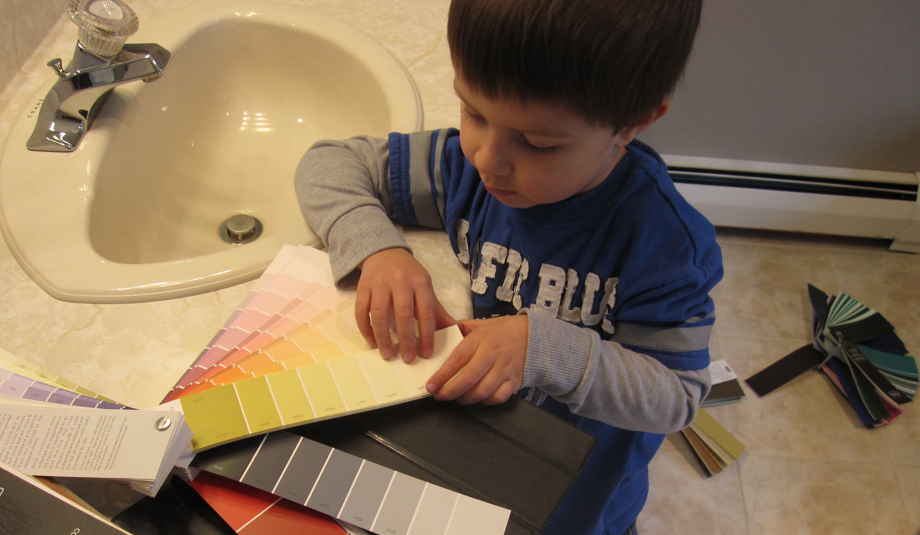 My nephew is my favourite colour assistant ever!
He was taking his job pretty seriously!
In the end we chose CA184 Glacier. A pretty turquoise that actually does happen to flow with the loveseat and chair that will be in the master bedroom. You can see that it picks up the turquoise in the floor tile.
And for now, until they come out, this colour (on the right) also works with the stained glass windows.
Photos by Maria Killam
Our contractor arrives Wednesday to start the demolition of the shed in the back that will be turned into my design studio, can't wait!
Related posts:
Do you Understand Neutrals? Take the Bathroom Test
The Best way to Create Flow Using Colour
Would you like to look at an image and know which category of undertones it belongs? Download my eBook, How to Choose Paint Colours: It's All in the Undertones.
If you would like your home to fill you with happiness every time you walk in, contact me.
To make sure the undertones in your home are right, get some large samples!
If you would like to learn to how choose the right colours for your home or for your clients, become a True Colour Expert.
SaveSave