Oh wow, this morning, I went to make some coffee and the spout of my bridge kitchen faucet came right off.
I am OVER IT.
Over putting PRETTY over FUNCTION.
Okay, well I'm not really over having a pretty faucet, but I wish I'd done more research (well even any research) into which faucet was really the best one BEFORE I installed the one I have in my kitchen.
I was never in a position to consider which faucet I should buy until we bought this house. Living in an expensive city like Vancouver, I rented and always dealt with cheap, bad faucets. Anything was an improvement over what I was used to using.
Anyway, back to my current faucet crisis, we have already had this faucet replaced almost one year ago after first having it installed with our new kitchen five years ago and now this happens? Argh! I want to scream!
When we had the plumber out to our house to install the replacement last year, he was here for three hours and then finally said "We don't install faucets like this out here in the country".
I talked my my kitchen guru designer Jan Romanuk  (follow her here on Instagram) and she says that over the years with all the kitchen installations she has supervised and products she has specified, she has found that people have all kinds of problems with bridge faucets, she says a single spout kitchen faucet is the way to go.
The problem with this is that I now have two holes in my quartz countertop and I'd rather not cover them with a deck plate. In addition, I have another hole where the spray spout was.  I also have a water purifier in the same brand which won't match the new faucet so that has to be replaced as well.
Terreeia wants a professional kitchen faucet like this one (below).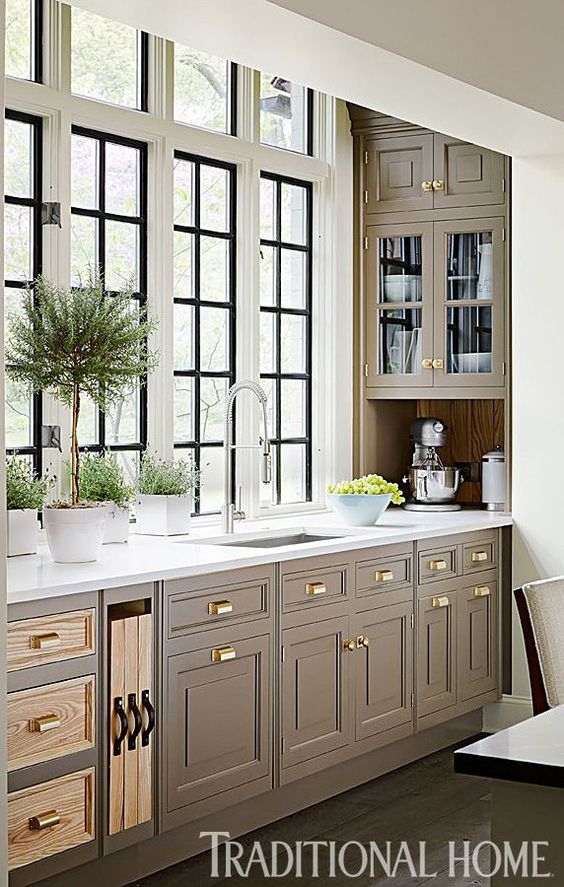 Then I talked to Jan, who said she installed one in her daughters apartment because she loved the commercial look and feel of it. However, her daughter said she'd never do it again because you need a toothbrush to keep it clean.
Jan said she installed this touchless Brizo faucet in the last 3 homes she has renovated and everyone loves it (below).
It takes a little getting used to because every time you touch it, it turns on, but once you do, it's fabulous apparently.
She says the one with the white base is currently trending. I prefer the chrome one if I were to choose a colour for my kitchen. I think the less pieces you have on such a high use item, the better. Fancy platings never seem to last long in my experience. I've used too many bad faucets in rentals over the years living in Vancouver.
Both Elizabeth and my Mom have this faucet (below). We chose this one for my Mom 6 years ago when my she moved into her brand new carriage house and then approximately a year later when Elizabeth's faucet broke she bought this one as well to replace hers.
Elizabeth's kitchen (follow her on Instagram here as @juicygreengirl)
And it's a Moen. The bathroom faucets in my 80's house are Moen, maybe I should consider this brand. Dated as my faucets are, they still WORK WITHOUT ANY PROBLEMS.
Jan said something else to consider is that some people don't like to see the faucet from the street so they don't want it to be higher than the window (below).
I wonder how this person is enjoying their bridge faucet (above). It sure does look pretty in a more countrified kitchen like this one.
I found a post on 'best kitchen faucets' online and this is the one that made the cut (above).
I called Jan's go-to plumbing fixture expert, Joan (the owner) of  Just Add Water in North Vancouver  to get her two cents on the world of kitchen faucets.
This is what she said:
She does not recommend a faucet where you have to pull the spray towards you (below) because there's more of a chance of it getting on you and on the floor! She much prefers the pull down sprays on the other faucets we've talked about here.
She also prefers a nylon hose for the spray because it pulls back in smoothly and quietly, the metal hoses ratchets back and is not nearly as smooth.
When I asked Joan about the commercial faucet I mentioned at the beginning of this post she said that yes, cleaning them is a problem, but also if you let go of the hose before you put it back into it's holder, it will fly around and spray everywhere.
In a commercial kitchen, the dishwasher is wearing a wet apron so it's a totally different function.
This is Joan's favourite faucet right now (below). Interesting that it's a Moen (just like my 80s faucets which are still going strong), she said it's a motion sensor faucet, you don't even need to touch it with your greasy hands and it will turn on.
She said you turn off the front part of the motion sensor so that it doesn't go on while walking by the faucet.
She also loves the fact that the pull is inside the handle and there's no seam for the spray.
Unfortunately it's too modern for my taste.
Jan says the faucet she inherited in her condo is a skinny, contemporary faucet.  She hates the look of it but even worse, the spray that's attached to the faucet is not insulated so she can't use it with hot water without burning her fingers.
When I asked Joan about this, she said that is why you want the spray piece to be plastic and not metal, because plastic doesn't transfer heat.
Over to you my lovelies? Everyone has a faucet so this post leaves out no one! And we need to know, which is the best faucet, because mine has to be replaced ASAP.
I'm also looking at bathroom faucets right now because my bathroom renovations are happening this summer! I want a low arc, traditional faucet and they are EXPENSIVE. Stay tuned!
Terreeia and I just came back late Friday night from our three week trip where I led 3 awesome  SOLD OUT Specify Colour with Confidence workshops!
We will post the rest of the Fall dates very soon. Currently we only have Vancouver dates posted, you can register here.
Related posts:
My White Kitchen Inside Style at Home (Including the before's)
5 Steps to a Kitchen You Will Love