This reader used a quick fix to update the existing wood stained cabinets for a look that's current and fresh – and it didn't involve painting her cabinets. Sometimes, white hard finishes can do most of the heavy lifting when you want to freshen up your kitchen. Here's how.
Want to know what I love MOST about what I do?
The happiest surprises regularly land in my inbox to brighten my day. Like this email full of before and after photos from a long time reader Dawn.
Using my
large painted colour boards
and all the advice she has gleaned from my blog over the years, she took the plunge and boldly updated her kitchen in an unexpected way!
I read your post about greens and I thought I'd send you some before and after pics of our kitchen. We decided to change out countertops and keep our existing cabinets (which were installed in 2004 by previous owners) while the greens and woods were trending. (it's what fit in our budget). The Manchester tan you suggested for the walls several years ago worked great with the Baltic brown granite but I couldn't ever convince myself to like the granite so we switched to quartz and I painted the walls on off-white, Simply White (thanks to your color boards!)

We wanted to extend the cabinets on the right so it would balance on both sides of the windows but after tracking down the manufacturer they said there was no way to match those cabinets after 20 years. So we just make do with artwork for now. The wood color on the cabinets is not my favorite first choice but I think I like it a lot more now than I did before.
Going Green in the Kitchen
In the post she's referring to, Greens that are HOT and Greens that are NOT, I'm talking about how greens that are cooler and mintier have been big for a while now, and the trending greens are getting earthier and more muted.
Grounded greens, everything from Hunter to Olive and Sage are a huge trend for kitchen cabinets. And anything that can be painted is a great opportunity to indulge in a trend!
Have you noticed how everything 90s is suddenly looking new and hot again? Deep greens, sage, even maroon and burgundy. And yes, warmer, more natural wood tones are coming back too.
When Trends Circle Around Again
Just because trends circle back, doesn't mean that a kitchen – especially one that has been plainly transplanted directly from the 90s or 2004, because trends bleed into each other – is suddenly hot again.
That is to say, NOT without some additional design tweaks and updates. And, really that's just the thing with trends circling back around. They always come back with some new innovation and connection to intervening trends blended in.
Dawn's kitchen, for example (above), had a rustic country feel popular in the 90s with its muted green beadboard island and warm wood cabinets. She saw a way to work with her kitchen and use some fresh tweaks to make it new again!
A Quick Fix for Updating Wood Stained Cabinets
The key to creating a more current look is to find ways to introduce contrast. In many of my blog posts, you can find advice for how to pair wood stained cabinets with fresh white countertops and backsplash. And, that is just what she did here.
Without touching the cabinets at all, white hard finishes dramatically refreshed this kitchen and brought a dated look into a current trend (below). Did you get that… she didn't need to paint her wood cabinets!
Tada!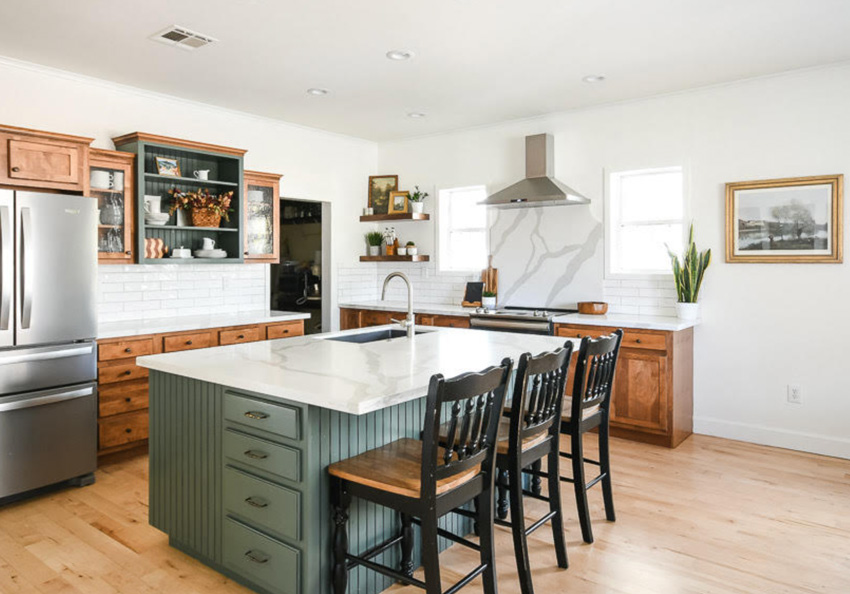 The earthy granite had dictated green beige walls, which was a good solution then, but now, to tie in the off white granite and backsplash, she used my large painted colour boards to arrive at an off white for the walls to relate (below).
She did a wonderful job with styling. The vintage framed art perfectly picks up the warm wood tones and makes the rustic vibe of the kitchen feel really intentional.
After
And let's circle back to the green on her island. It looks very similar to the trending green cabinets clients are asking for all the time in our eDesign department. My recently updated VIP collection of large painted colour boards has some wonderful on-trend greens for cabinetry similar to this.
PS. If you bought the VIP collection before March 2021, we have a few supplement sets of 20 available for sale, contact our customer service department go here for a link to purchase.
This is how Dawn replied when I asked her which green she used:
"Funny that the original owners picked that green in 2004 to go with the Baltic brown countertops but now it's a lovely on-trend green! I'm glad we could design around it without having to change it. Thank you wood floors!"
BM Manchester Tan coordinated well with her earthy granite. When you have an involved pattern like this with several tones, you are pretty much stuck with the colours in the pattern, you can't simply slap a bright off white backsplash above granite like this.
Read more: Are Hardwood Floors Considered a Pattern?
Very charming Dawn! Beautiful job and thank you for sharing!
If you would like help refreshing your kitchen, there is limited stock available for my Create a Classic Kitchen eDesign package here.
If you'd like to add some new colours to your large colour board samples, get them here.
And if you bought the VIP Collection before March, email my team here if you want to purchase the updated supplement collection of 20 samples. They are now in stock and are being shipped out this week but we only have a limited supply left.
Related posts:
How to Update 90s Granite & Make it Disappear
WWMD: Will a White Kitchen Work with my Existing Granite Countertops?