During my  2 1/2 week visit to Finland with my Mom, we visited a lot of friends and relatives and saw a lot of kitchens during that time.
Not a single kitchen had an island.
Every single one had a friendly dining room right in the middle of the kitchen.
It was so welcoming and social, I loved it.
Since then, I have been in two clients homes who were renovating their kitchen. In both homes, I suggested eliminated the island.
One literally didn't have room for a dining area anywhere else but the middle of the kitchen.
The other had a huge, fabulous window in the kitchen that I thought would be perfect for a dining area. But that would mean eliminating the island.
Neither client embraced that idea at all.  Didn't even consider it for a single minute. Both immediately declared they needed more space for prep and storage, even though there was a pantry wall nearby that could have accommodated more cabinets.
And I get it. NO ONE and I mean NO ONE does that here in North America. The purpose of this post is to put the idea out there in case you hadn't considered it.
But not a single house had an island in Finland.
This was the warm and cozy classic white kitchen of my aunt  (my late Dad's sister) whom I mentioned here.
Note the fridge in this kitchen (below). One side was a fridge and the other, a freezer.
Here is a photo of my aunt whom I loved immediately upon meeting her. I love that she dressed for lunch!
Another home we visited while in the town my Mom grew up in:
No surprise I had to buy a bigger pair of jeans when I was there. My hot tip if you are on a long European vacation, don't bring jeans that fit your current size if they don't stretch, haha. Since then I've been intermittent fasting (nothing until lunchtime each day) and I easily dropped the weight. I think I'm onto something!
And you all saw this kitchen of my Mother's cousin when I talked about how most homes in Finland were seriously missing lamps with shades:
Above photos by Maria Killam
I loved this article I found by a Wall Street Journal reporter called: Why Kitchen Islands are Ruining America's Kitchens. It's a must read if you are considering this style of kitchen.
Let's see some other kitchen without islands shall we?
Okay this is hard. I can't find any. The above two are obviously not from America.
And the bottom two are OLD. They might be the only ones that exist in our country, haha.
Update: A few readers have sent me some more beautiful kitchens so I'm adding them below: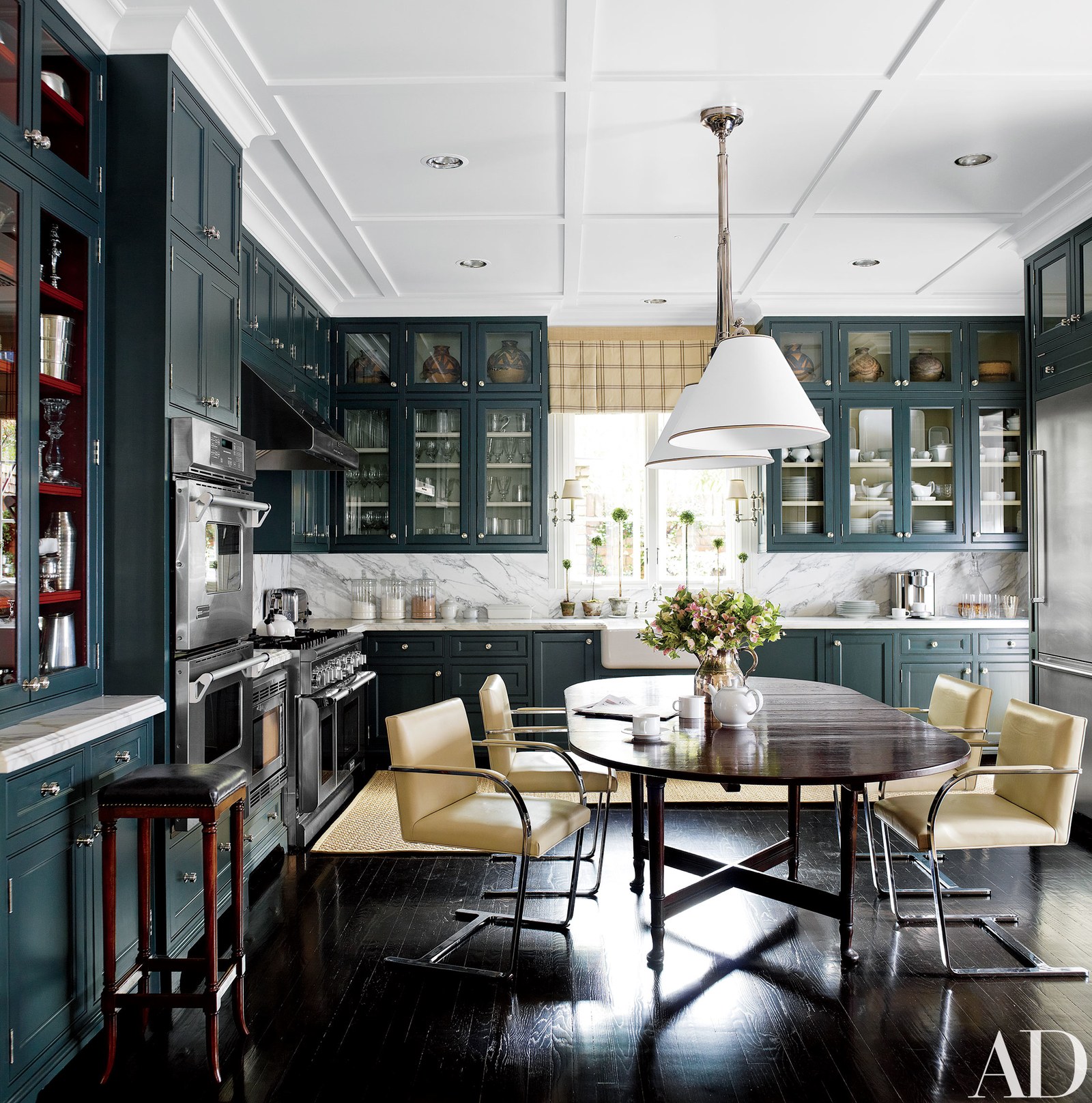 Centsational Girl (she wrote a post about eat-in kitchens back in 2013)
I'm posting this photo (below) because I just love the feeling of this kitchen.  Is the subway tile mint green or is this just the evening light?
I think it's white. It would be odd if the cabinets were a violet grey and the subway tile was a barely there mint green.
This table-attached-to-the-island look has been around for a while. I like this look but I'm not sure if it should be built-in.
Easy enough to just place a table this close to the island and this way it can move.
I do think this kitchen has been beautifully styled and photographed and I'm betting that those two stools were brought in just for this photo.
Who would want a hard stool like that to sit in every day? Not me. And look, they don't even have four of them because they were brought in just for this picture!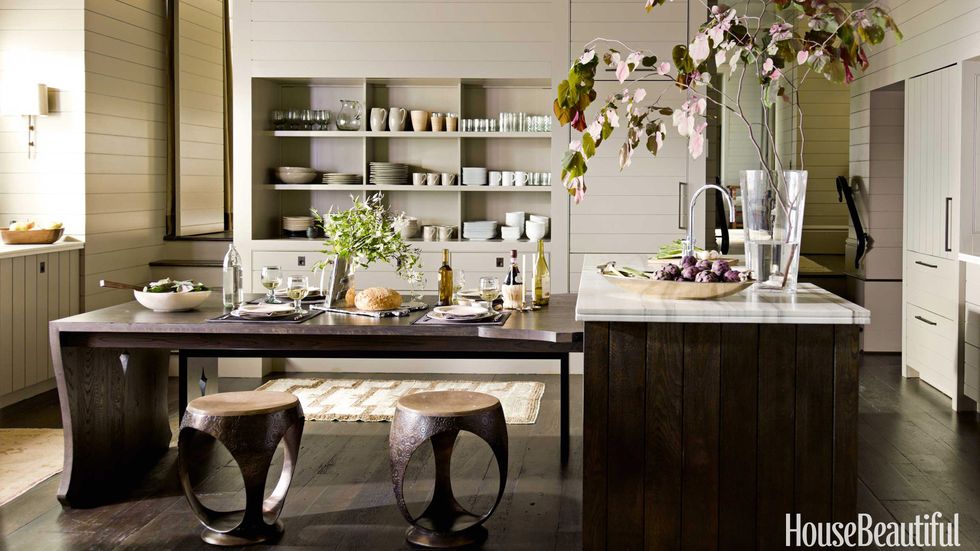 Over to you my lovelies. What do you think of this idea? Should we just go back to the Scandinavian style table that just encourages a social atmosphere?
I'm loving it myself. There are times when my guests end up eating dinner around our island and frankly it would be more comfortable if we were just sitting at a table in the middle of  our kitchen!
Related posts:
A Townhouse in Finland makes Tuscan Look Fresh (Before & After)
Ask Maria: Help! My White Kitchen Cabinets Seem to Change Colour