I have worked with many couples over the years as they plan their renovation or new build. And here's what I've noticed.
They get overly worried about the exterior being boring so they go with a combination of stucco, siding AND shingles. Oh, but we're not done yet, don't forget the stone AND brick.
When I'm consulting on new build colours, I often ask if they have their landscape design done and the answer is usually NOT YET.
We forget while making decisions about the minutia of every element of the exterior of a new house, that a huge piece of the look and feel of a home is created by the landscaping.
MaryAnne White, my landscape architect from New York designed my landscaping (by eDesign) three years ago completely from scratch. It was very bad when we moved in.
If you are building a house and need a landscape plan? Hire MaryAnne for drawings and a plant list. Then you can have a local contractor execute the plan.
From MaryAnne, you'll get a design that could include the correct and properly proportioned stone urn outside the living room window, for example (below).
A boxwood hedge, which stays green all winter, designed so perfectly in my front yard, you're clear a designer was here.
A curved, flagstone pathway leading to the front door.
A decorative gate and a lattice fence, entering the backyard.
The same happens inside.
It's easy to forget that decorating is where all the creativity and interest comes in.
And that's where all the all-too-interesting and creative trendy accent tiles including trendy stone fireplaces happen.
I met James Wiens in November when I commissioned him to paint a piece of flower art for my living room (that post is coming soon).
James and his wife Janet are building a house on Crimson Ridge in Chilliwack and when they showed me the plans for the living room fireplace, James said what bothered him the most about the plan was the angled fireplace created by the trusses in the great room.
He had spoken to the builder who advised him that changing this design would add another $30,000 to the cost of building the house.
So I pulled up these inspiration photos from Velvet & Linen's Oxnard home.
Interior design by Brooke & Steve Gianetti
Brooke and Steve plastered the old lava rock fireplace (below) and surrounded it with Steve's art.
Here's the before with the lava rock.
The point is that the interest in this room is created by the decorating. NOT by the INTERESTING and TRENDY stone. This lava rock was trendy in the 70's but we don't love it anymore right?
Same thing applies to all the trendy stacked stone you might be considering as we speak. There are lots of fireplaces in stacked stone right now with these identical colours (above) just in a different shape.
My advice, unless you are building a cottage in the woods or a ski chalet, keep your mantle classic with a simple white (off-white or cream) surround.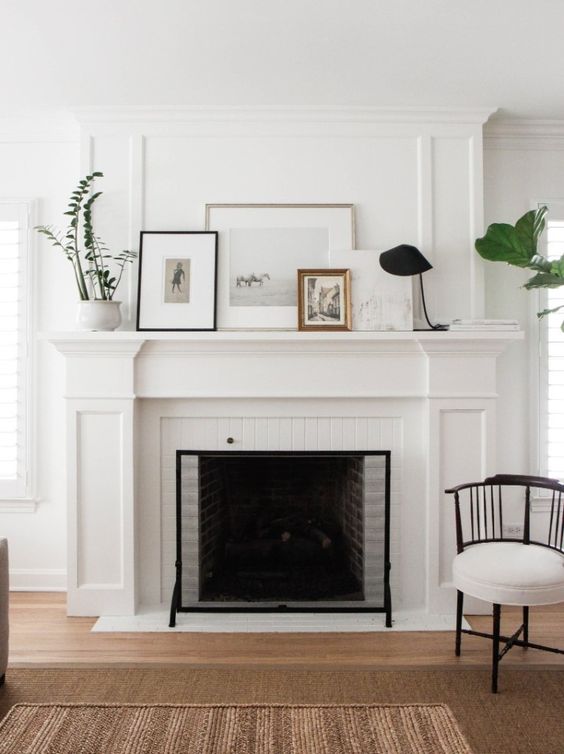 via Pinterest
I was so happy when we moved into our house that the fireplaces were totally classic.
Remember, this advice is for someone who is planning a renovation or a new build. If you've already made the mistakes I'm talking about, just get decorating. You need to distract the eye from what you don't like and styling is the easiest way to do it.
If you need help getting your exterior or interior right, check out our eDesign services.
Related posts:
What it Takes to Have a Classic House
Which Stone Colour is Best for your Fireplace Surround