Looking for Tudor style home ideas? Creating an exterior look that is as timeless as possible, inevitably means keeping it simple. See how we gave this Historic Tudor an elegant makeover.
If you have a Tudor style home, you should also check out this post: Tudor Style Home Ideas: Exterior Colour Before and After
I think I've received more exterior after pics this year than ever! I'm so thrilled because I don't usually get to see them unless I'm around to take the photo myself and that's hard to do with long distance design.
Creating an exterior look that is as timeless as possible, inevitably means keeping it simple. But, that doesn't mean you can't also have a lovely transformation that's both elegant and historically accurate with a fresh neutral colour palette.
How we gave this historic Tudor an elegant exterior makeover.
My client Anna Bradshaw (a psychotherapist for women in Madison, NJ at feelbettergroup.com) loved her century-old Tudor home but she wanted an update to the existing colour.
She bought my All Inclusive Exterior Colour consultation for advice on updating the body colour of her home as well as the roof, door, gutters and trim.
I love Anna's curvy cedar growing in front of her chimney! Landscaping is so important for the curb appeal of your home.
Instead of opting for a trendy gray (and unintentionally turning her house into something it wasn't) Anna knew she wanted a fresher colour palette that also stayed loyal to the period of her home and highlighted its classic and traditional beauty.
I wholeheartedly agreed.
Notice the peachy-taupe tones in the pavers above? I recommended that we introduce some neutrals in the taupe range to relate and a soft white for the brick skirting and trim.
Tudors are rarely painted anything but neutrals, so if you're looking for a classic look, keep it neutral. A lighter neutral color like SW Anew Gray for the siding would be a more current choice and in keeping with the historical Tudor architecture. And, a higher contrast charcoal roof would highlight the angular and pretty roof lines.
Isn't the transformation beautiful?
After
Anna was undecided about how to update her front door. Her eDesign solution included considerations for painting it a rich forest green for a more stately look or a deep violet colour to relate to her burgundy leaf shrub near her entrance.
I also advised that a medium brown wood-stained front door would be a pretty look for all of the colour palettes options in her eDesign solution.
In the end, I love that she decided not to paint it. And because everything surrounding it is now so light, her wood-stained front door looks fabulous as a focal point on this vintage Tudor and the orange colour relates to the stone on her steps and walkway.
There was no need to change her existing light fixture. The exaggerated shape works well with the steep pitch of her roof.
Don't forget that well designed landscaping goes a long way to creating curb appeal and should not be overlooked when you are updating your exterior. Anna is an avid gardener who's cultivated a beautiful yard from scratch over the last decade.
Not sure where to begin your landscaping plans? Check out this post.
Here are a few photos she's shared with me. Now that the exterior of the house is more balanced, her landscaping has a bigger impact overall.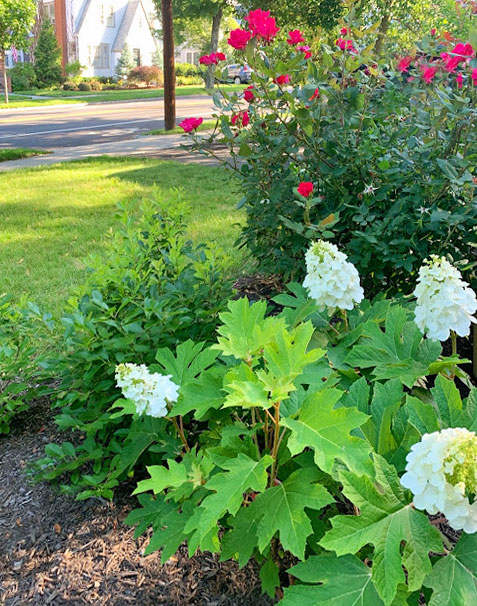 Here's the before and after again:
And the after:
After
Thank you so much Anna for sharing your beautiful transformation with us!
If you'd like to transform your exterior, check out our exterior packages here.
If you'd like to learn how to see and specify colour online and add eDesign to your list of services, become a True Colour Expert this Fall in Vancouver, Chicago, Boston and Orlando.
PS. Yesterday I was on the list of Ballards 100th Podcast Anniversary Awards where they called me the Queen of Colour, hooray!  I was episode 38 approximately two years ago, you can listen to that podcast here.
Related posts:
The Shortcut for Testing Exterior Colour; Before & After
White Farmhouse Exterior Transformation; Before & After