Lately, the questions I'm getting are so good, and cover content I've never published before, so we're getting a stream of reader dilemmas handled! Here's another one: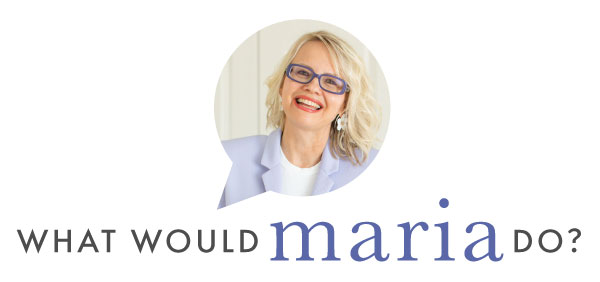 We just renovated our bathroom and added a navy blue vanity. We went with a creamy quartz countertop, soft grey tile on the bottom half of the room, blue/grey glass tile in the shower, marble hexagon floor, bright white toilet and tub, brass fixtures.

We painted the walls and trim the same color, Sherwin Williams 7009 Pearly White, where the walls are matte and the trim is semigloss. However, now I'm not sure if the bathroom's walls and trim look too creamy against the bright white tub and toilet, grey tile and blue vanity.

Should I paint either the bathroom walls or bathroom trim a shade brighter/lighter of white, such as Sherwin Williams 7005 Pure White? If so, should it be the walls or trim that become the brighter/lighter Pure White? Will the subtle contrast help, or will a brighter white make the creamy white look even creamier and create a "clean white/dirty white" scenario? Please help!
First of all, it's really much too easy to wind up with too many different elements going on, in the hard finishes of a bathroom.
The trouble is there are really only a handful of elements to play with in a bathroom, so they all need to perfectly coordinate and balance each other. Because when the balance is a bit off, it will bother you.
Here's a hot tip that I really wish everyone doing a renovation or new build knew, the vast majority of marble look quartz is off white to cream and greige. I talk about this in my white ebook here. Which means that they will be much creamier than real Carrara marble and bright white bathroom fixtures.
In this case, white subway tile would have repeated the white of the fixtures and marble and been more versatile in the long run. But the quartz would still look a bit too creamy.
Read more: How to Make Earthy Tile Look Expensive
HOWEVER, all is not lost!
When all the elements are sitting together somewhat uncomfortably because they are close but not close enough, the best strategy is to DISTRACT THE EYE.
While choosing a wall colour in the white range, you will always need to "pick a lane" between the off white quartz and the true white of the floor and toilet, if you blow all of those away with a really striking BOLD and fun wallpaper, your eye will simply never waste time splitting hairs over the slight mismatches of the hard finishes.
What this bathroom needs to distract the eye from the different whites and pale greys is navy and white wallpaper.
There's also the distinction 'alternating contrast' that is important to remember when you are choosing finishes. You can see that in both these bathrooms (above and below) the floors are grey or in the grey world and the wainscotting is a crisp white that relates to the bathroom fixtures and (below) white shower tile.
That's why, I'm trying to remember if I've ever specified grey wall tile in my life? Um, actually no. There's way more places where white tile is simply a better choice.
You can find some fun, navy wallpaper here.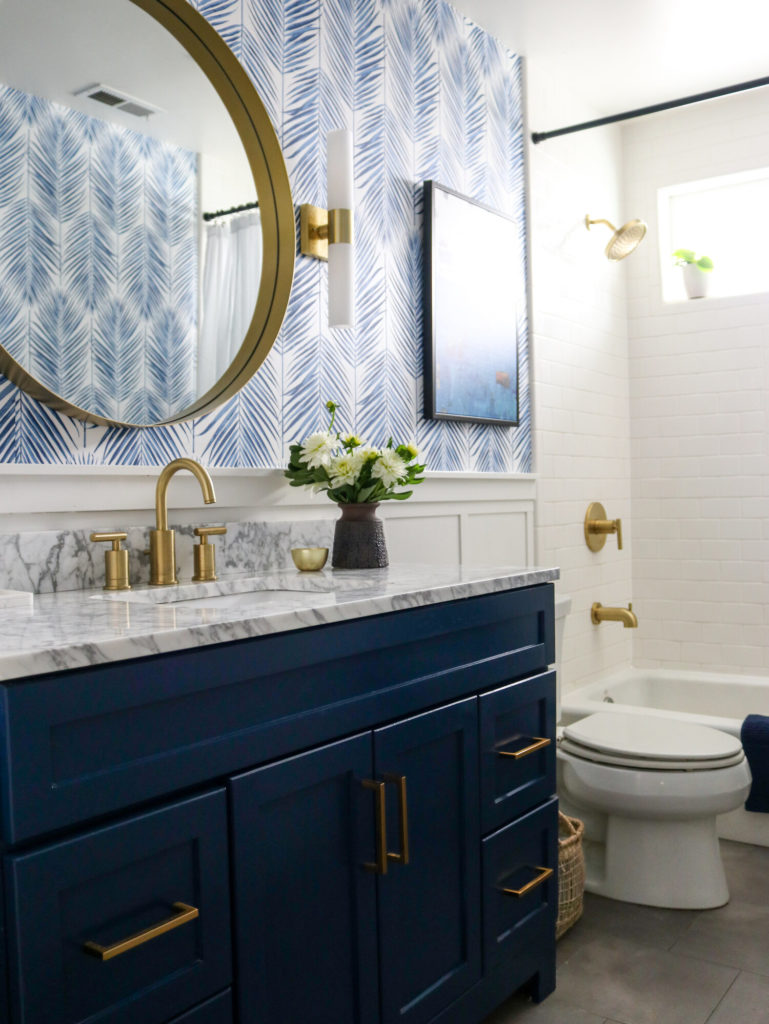 And while mirrors with built in lighting are high on the "neato" factor, in this more traditional looking bathroom, it looks much too cold, linear and contemporary. Instead, a decorative brass mirror flanked by pretty brass sconces will bring in some much needed interest and detail.
It's almost always true that the best thing to do if you've made a colour mistake in your hard finishes is to decorate and style the room to give your eye something more interesting to look at.
If the room has a lovely look and a feel, no one is going to notice the slight mismatch between the quartz and the tile. In a bathroom, wallpaper, mirrors and sconces are the elements that will give you the most decorating milage since you generally don't have room to add a lot of textiles and furniture.
I've said this many times and I'll say it again. If all else fails and you made a mistake, start decorating to distract the eye!
If you have a question for my What Would Maria Do posts, take some good photos, without flash and in good natural light and email me here. Please note, questions without photos will not be considered.
PS. For those of you who already have the VIP Collection (purchased before February), you are still eligible to purchase my recent update of 20 NEW colours. Email my team here to receive a link to purchase. They are available only for a limited time, first come first serve.
Related posts:
Tread Softly when Choosing a (Plain) True White
The Best Grout Colour for White Tile