My Live Virtual Specify Colour with Confidence Event for May is happening Monday & Tuesday! We should have a page up very soon afterwards with future dates to register into! Thanks for your patience. If you want to be the first to be notified, you can leave your email address here.
I wrote a post many years ago about the ONLY colours a Mediterranean house should be painted. During the 90s, they were painted varying shades of green beige and sage green, during the brown trend, we saw them go brown (and gold which did work) and then grey, in the last 10 years (below).
Green Exterior | Brown Exterior | Grey Exterior
Since most people choose trending paint colours when they paint their exterior, now that the black and white trend is here, they are back to varying shades of white, cream or pale yellow – which happens to work very well on this style of home.
We received these wonderful after photos last October with a note from our eDesign client:
"Thank you so much for your help selecting my exterior color. Out of the options you sent, we decided on the SW Taupe Greige you specified. This color was a surprise as I had never considered this shade of white and have never read about it in blogs. It has updated our home beautifully. I love it so much, I smile every time I pull into my driveway. It's less of a color and more of a feeling and it's just perfection."
Here's the before: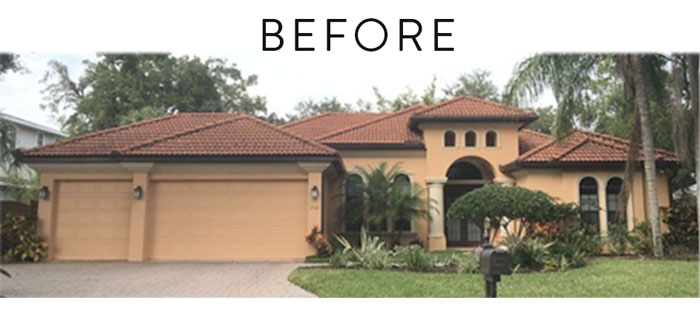 It's a gorgeous fresh update and not too stark white. You need to be in the world of greige or pale beige in order to achieve the perfect white. My Masterclass for Exterior Colour Selection will help you with this, along with other classic and timeless colours for your exterior. I will also post the actual colour she chose on the Facebook page attached to that group. These are the perks of being a member.
And here's the beautiful after photos:
Learn how to choose colours for your exterior in my Masterclass here. It's available on-demand, comes with updates during the trend and a Facebook page where you can share post and learn.
My eDesign packages are still SOLD OUT but should be up again for a short time in approximately a week. sign up for the waitlist here if you need colour help with your exterior.
What colour are the homes in your neighbourhood?
PS. Happy Mothers day to all the incredible Mom's out there! Here's my amazing Mom:
Love you Mama!
Related posts:
All White Makeover from an Exterior Masterclass Student; Before & After
How eDesign saved this Exterior from Black Windows: Before & After