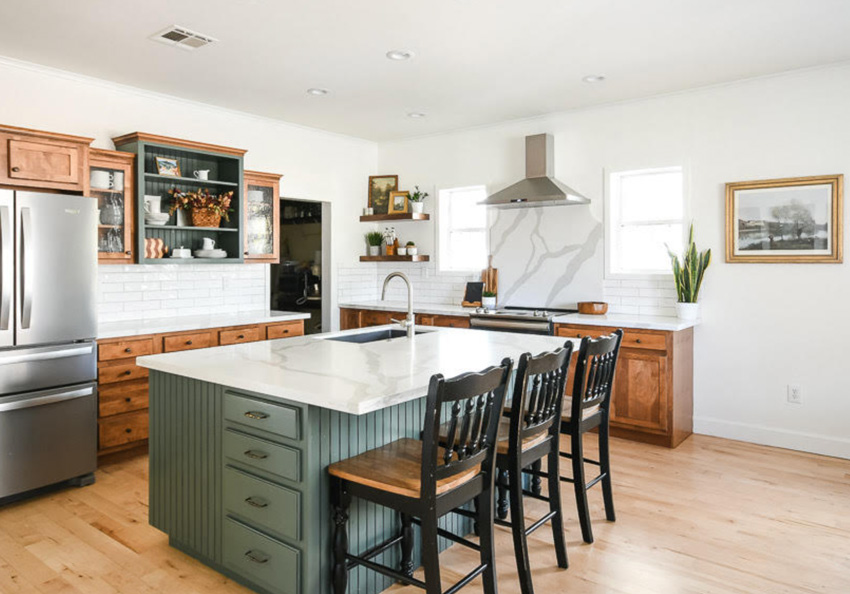 Before & After (Updating a 90s Kitchen)
This week's Colour Rescue is about updating kitchens without doing a costly full renovation.
Because it doesn't always make sense to fully tear out a functional kitchen for the sake of aesthetics. You can often dramatically change the look of your kitchen with a few savvy tweaks, some paint and of course, the magic of styling
How to update your kitchen without renovating (the whole thing).
Because, you don't need to wait till someday.
Despite the jaw-droppingly gorgeous images we are all used to seeing on Insta and Pinterest, the world is full of less-than-beautiful but functional kitchens.
Don't make the mistake of believing you need to ignore your for now kitchen until you save up for your dream kitchen.
There is so much that can be done!
A kitchen I updated with drapes, new lighting and styling
3 Simple Fixes for Kitchens (when you can't renovate)
In this Colour Rescue episode, you'll see what suggestions I have for these three kitchens, submitted by readers just like you.
In the kitchen below, the homeowner doesn't know what to do about her brick floor. This is an excellent example of how we sometimes focus on the wrong thing.
By the way, focusing on the wrong detail can send you into a domino effect of spending money where you don't have to. I'm here to save you from that.
This kitchen below was recently updated with new white quartz, but it's not perfect yet. Find out how I'd fix this.
This homeowner is unhappy with her cabinet colour. Find out the real reason this homeowner is reacting to these cabinets.
Colour Rescue: 3 Simple Kitchen Fixes
New! Kitchen Refresh eDesign package
Since I know so many of you would love to make your kitchen look its best without a full renovation, I've created a new eDesign package to help you with that.
It's called a Kitchen Refresh.
With this new package, I will analyze your kitchen to tell you what the best interim fixes are to bring your kitchen out of whatever trend era it was installed and into 2024 (and beyond)!
All I've done for over 20 years is help my clients take a dated room, bathroom or kitchen and make it look so much better. Sometimes I've done it with a one day makeover (my favourite thing), sometimes with paint and a new countertop or a new backsplash.
The bottom line, if you are looking at your dated kitchen and wondering if it can be saved, more often than not, it can and for much less than what a full reno would be.
Because often updating the paint and some details, or knowing if the countertops really are worth replacing NOW instead of later to shift the look of your room is all you need.
Please note, this package is for refreshing an older, existing kitchen only. This means just a few minor tweaks.
NOTE: If you are doing a more extensive renovation, you will still need my Create a Timeless Kitchen package here.
Need a colour solution for YOUR room?
Submit well-lit, good quality photos of your room that needs a rescue. Be sure to tidy up your room and take photos in natural daylight with no flash and submit them here with your question.
As always, don't forget to subscribe so you don't miss a single new Colour Rescue episode.
PS. We just spent the most delightful two days in my home with a fabulous group of True Colour Experts with my first Fall workshop of this season!
The only regret anyone has from doing my course is they wish they had done it sooner! It's a game changer because you'll instantly gain certainty. This is what your clients and YOU need in order to make colour decisions for everything in you or your clients home MUCH faster!
My upcoming virtual workshop is sold out but you can still register for Dallas here.
Related Posts:
The BEST Kitchen Cabinet Colours with Grey Floors
This Trending English Countryside Kitchen is Bringing Beige Back