Recently, I decorated my lovely client Barbara's main floor area including the living room, master bedroom and dining room. You saw a sneak peek of her living room here and I'll show you the rest of it shortly.
Barbara built this house with her husband 5 years ago ago. He wanted a wood stained kitchen and although she'd love to have a white kitchen now, she wasn't prepared to paint it in this phase of the decorating project.
Her biggest complaint was with the pendant lights, they created a lot of visual glare and she wanted them replaced.
Also, she needed drapery to block out the sun in the wintertime when it slanted through the windows.
Since we were introducing gold accents in her living room, I suggested repeating it here in the pendants and the drapery hardware.
To effectively combine metals, they should be repeated at least twice
It would not have looked right to simply install brass rods or just the brass pendant lights alone.
The hardware could also have been switched out to brass but Barbara choose to spend her decorating budget on other items.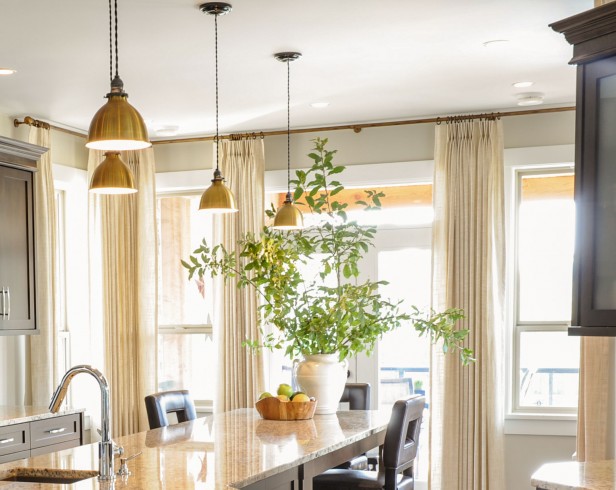 The shade (below) also comes in a cone shape but we chose this one because it repeated the shape of the rounded stainless hood fan.
The shade comes in several different colours as pictured in photo (source)
After
Barbara loved the way the curtains softened the look and feel of the kitchen and also muffled the sound.
She was annoyed that the builder had not installed moulding that was all the same height (above the french doors) but when the drapery was installed, it took the attention away from the different heights so you barely notice it now.
When I styled the kitchen, I brought in some warm wood tones with cutting boards that could double as cheese trays and two wooden bowls.
Photography by Tracey Ayton
Tracey snapped these photos of my buckets with roses and hydrangeas I brought from my garden on photo shoot day!
Here are two more kitchens that have successfully mixed metals:
Here the lighting and hardware is brass and the appliances and faucet are stainless.
Here the pendants and faucet are brass. source
I love how brass warms up a white kitchen and makes a brown one feel updated! Definitely easier to keep it to hardware and light fixtures rather than faucets.
Have you added brass to your interiors yet?
Register now for the next Specify Colour with Confidence workshop and you too will be transformed by the way you see colour!
"Maria's Specify Colour with Confidence™ workshop changed my business completely.
Before Maria's class I would help my decorating clients choose color more by default than anything else.
After Maria's class I had the self-confidence and knowledge to refocus my business to making color my [primary] focus.
I had taken two previous color courses and ended both of them more confused than when I began. Maria's True Colour Expert™ [course] was the first training that explained undertones and showed me the exact steps needed to pick the perfect color." Linda Holt, TCE™ Principal, Linda Holt Interiors