All-white walls are dominating design. And with countless white paint colour choices, you may be wondering how to choose the right white for your walls? That's where my system can help.
In 2020, the colour pendulum swung all the way over to WHITE.
Since my eDesign department averages $30,000 – $40,000 per month in sales during the new build and renovation season (which starts immediately in January each year) this means it's easy to stay on the pulse of where colour is going because all around the country the requests are the same.
Black windows.
White walls.
The end.
All this is fine for a new build. It's also possible for a renovation where everything is being replaced.
Choosing White for a New Build is Different than Finding the Perfect White for an Existing Space
If you are choosing colour for ANY space that is NOT NEW. That's when you need to understand white on a much deeper level if you want to get it right.
If you have existing beige, gold or brown finishes from the earthy trend, or even grey or taupe finishes from the early years of the fresh trend, your process for finding the right white will be a bit more complicated than if you were starting from scratch. You have existing bossy elements that need to be considered.
Updating a kitchen with existing finishes is a different process in terms of choosing the right white.
Understanding Trend Cycles
My career has spanned 3 major trend cycles now, and with each new cycle, my understanding of the colours most associated with each trend deepens. Early in the Tuscan trend, in the 90s, we were using butterscotch, yellows, warm beiges, browns and orange maple. Later, when the trend cooled to espresso, pink beige and travertine were everywhere. In this very long earthy trend, I made my first important distinctions that were the beginning of my system. I distinguished the undertones of beiges.
As trends cooled off into taupes and greys and cleaner accent colours at the start of the fresh trend, I further distinguished the important undertones of greys and how to use them.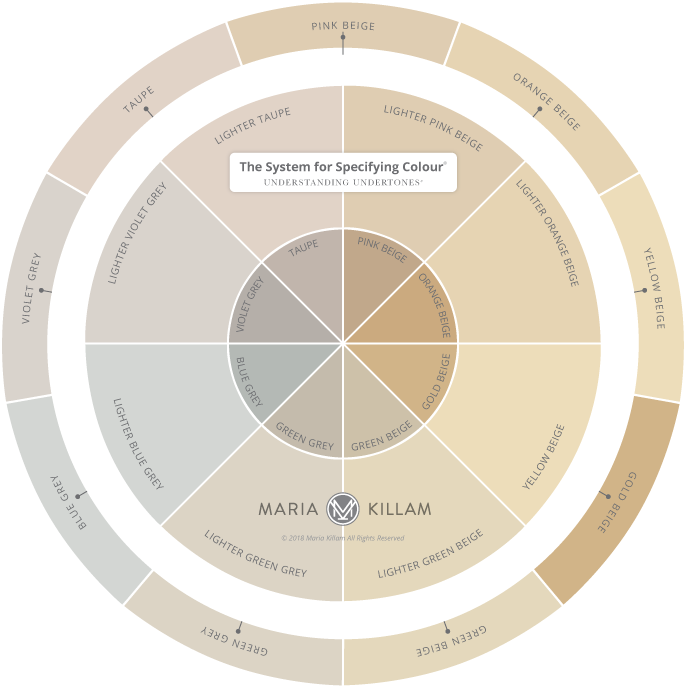 Use my Understanding Undertones Colour Wheel to help identify the neutral undertones in any space
White has always been a conversation throughout. But my distinctions on how and where to use white have never been so important as they are now when everyone wants white on white with some black absolutely everywhere.
I'm Grateful for all the Insights I Gain Working with You, My Readers and Clients
I feel so blessed to have the opportunity to help so many wonderful clients and readers with their colour dilemmas. Which gives me the added blessing of being able to share my insights with you! As you know, this is my passion, and I can't wait to share everything I've learned.
I've never seen such a pervasive trend as the current obsession with white. Social media has made it possible for this trend to take hold more widely and quickly than any trend we've seen before.
And this is why I am excited to share with you my most profound insights on whites. My new Specify Colour with Confidence course will show you how to choose the perfect white every single time. Whether you have the luxury of starting with a blank slate, or you are trying to make the smartest possible updates to an existing home.
Why it's Still Critical to Understand the Undertones of Neutrals in the White Trend
Many of you are wondering: Is it still important to know your undertones of beiges and greys and how to use them? Doesn't white have ALL our attention now? You bet it is!
Take a look at rooms with white walls on Pinterest. They usually have a collection of light "neutral" furnishings in them, often with completely competing undertones!
Styling and blown-out photography distract us from this fact, but there it is.
Even if you are not painting any walls beige or grey, you will need to know how to spot a rogue beige, taupe or grey undertone when you are shopping for sofas and carpets, not to mention countertops and tiles.
And if you are updating an interior that has existing finishes, it's important to know how to identify the undertones in any hard finishes that are staying like carpet, countertops and tile to help you find the perfect pale neutral or white. Below is an example of how my large painted boards of mid-tone neutrals can be used to compare and identify the undertone of the carpet so we can then work towards a fresher colour to relate.
Establishing that this carpet is green grey by comparing it to known mid tone to light green greys means you can now work backward to a very pale green grey greige or creamy white (or a colour as long as you repeat green grey in your decorating) to update the walls of this room.
You can purchase my large samples here.
We learn the most from our eDesign clients. And since for a few years now, most of my clients want some version of "white" for their homes, in my new Specify Colour with Confidence course, I'm including all the insights and tips I've learned for how to choose the perfect white every time.
Here's what you will learn about whites:
How to choose the perfect white when starting from scratch (hint, it has nothing to do with looking at all the whites in your fan deck, or doing research online).
What is a foundation palette? And how does it determine flow throughout the home?
How to predict when white will look ethereal and heavenly, like the blown-out images on Pinterest we are all in love with. And when the reality will be quite different from expectations. What to do then?
To simplify the hundreds of possible whites by viewing them through the lens of my essential 4 gradations of useful whites. Reduce the list of whites you need to consider to less than 20 that will work best every time. Stop driving yourself crazy splitting hairs over whites.
What makes white make dingy in some contexts and stark and cold in others.
How to treat white as a colour when you decorate so your room looks polished and not unfinished.
The trick for getting the freshest possible look in a room that will not support white walls at all because of earthy finishes and furnishings. Hint: those earthy finishes will make a very pale neutral look very fresh and "white" by comparison. I will give you the magical palette of the best super pale neutrals, greiges and complex creams, that will do the trick of creating a fresh "white" look in almost any room that needs updating.
The Four Gradations of Useful Whites in my System
Pale greige and blue greys create an airy "white" look in this room by Studio McGee
You will never lose sleep again trying to choose the right white. And your clients will no longer see you flip and flop on selecting the perfect white. In my new Specify Colour with Confidence course, you will learn how to identify the correct white quickly and pull it out with confidence.
Interior Design by Maria Killam
I'll also be teaching 10 ways to expertly choose COLOUR for your projects! Colour is ALWAYS more timeless than the current, trendy, neutral and you'll also gain confidence on how to work with colour to make a room sing!
You'll also learn to create flow using colour and recognize the real difference between clean and dirty colours. PLUS, you'll learn the three best possible colour descriptors to keep in your back pocket.
And I'm dying to know, please tell me in the comments what your most pressing questions are about choosing whites OR colour.
Also, I'd love to hear whether you are still grappling with getting neutrals and whites right? Or do you have one or two "go-to" whites you use every time? Are you in love with the white trend?
Related Posts
Two Steps to Choosing the Right White Tile
Why are You Obsessed with White Walls?
Ask Maria: Is it a Mistake to Choose a White that's Not in Google?