I am heartbroken by what's happening to the people of Ukraine. I asked my followers on my stories today where was a reputable place to donate and this charity and this one was mentioned over and over again. I just sent $2000 to each one!
The fundamental insight of my entire colour system is that you can't see the nuances of colour without direct comparison.
This means that proper testing, which is essentially comparing effectively, is the piece that makes it all work.
However, there are endless ways that colour testing can go wrong when it's not done right.
Here is a real-life situation I want to share with you because it perfectly illustrates why improper colour testing is a BIG misleading problem.
My lovely reader sent me the following exasperated email:
I'm about to undertake painting our 3200SF home from top to bottom. The issues I'm having are:

1. Why does a color paint true to form on a white door but turn completely grey on textured yellow wall right next to it? It is not lighting given they are side-by-side. My painter told me primer is not needed. This color is Ben Moore Cappuccino Froth CSP 1055 (attached). I'm also considering Balboa Mist and Pale Oak but haven't sampled them yet.

2. Which greige is best given our decor? I'm leaning toward less brown but can't quite get there.
Why you shouldn't test your paint on the wall
Below is the image she sent in that I really want you to see.
No one can blame her for testing her colour this way, if Google has anything to say about it, this is just how it is done. (NOT TRUE!)
I want to show you once and for all, that a colour swatch floating on a wall randomly tells us nothing about how the colour will relate to the finishes, decor and furnishings. Ultimately we can't see if it is the right colour to pull the room together at all when testing this way.
What happens when you test your paint colour on the wall?
She's right, it's not about the light
Let's take a closer look.
Same paint colour swatched on the yellow wall and a white door – NOT THE WAY TO TEST
It's not about surface texture either. While the same colour can look slightly different on a smooth (door) versus textured (wall) surface, that's not what is happening in this example.
So what's really happening here?
How paint colour interacts on different surfaces
Colour always exists in relationships, because it's relative. What we're really looking at is a perfect example of how colour interacts in a relative way. That means that any given colour looks completely different surrounded by different colours.
Take a look at this example below. Paint an orange-red brown onto a warm (much cleaner) orange-red wall, it will look brown. Paint the same colour on a brown wall, it will look red-orange.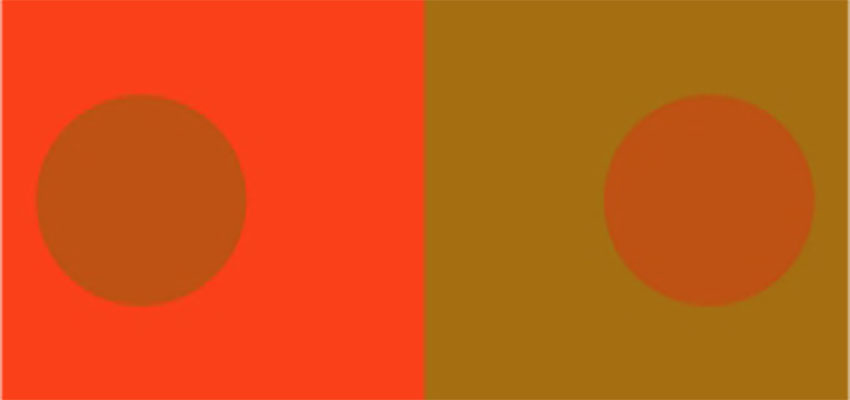 The dot on both sides is the same colour being influenced by the colour surrounding it this is known as simultaneous contrast.
See? Colour is influenced by the colours surrounding it. And not because they reflect on each other, but because their relative hue qualities are either emphasized or diminished by how they stack up to the colours directly beside them.
This can be a rather technical nugget to wrap your head around for sure.
But you can see in my reader's example above how the existing warm saturated yellow wall colour is making her creamy sample look greyed and sapped of warmth. That's because the yellow is so much warmer and more intense. On the white door, the colour looks "true" a warm orange beige complex cream.
The right way to test your paint colour
The other issue as I mentioned is that it's important to compare any paint colour you're testing DIRECTLY TO THE ELEMENTS IN THE ROOM IT NEEDS TO RELATE TO. In this case, if she's going for a pale neutral, that's the sofa and the floor.
The only way to properly test the colour and see if it relates to her leather sofa is to paint it up a large test board and prop it vertically on or behind the sofa –ALWAYS WITH WHITEBOARD BEHIND IT. Because otherwise you will have interference from the existing wall colour, and you won't be able to see the colour accurately.
Here's what I mean:
You can see in this image above that the green grey greige (above sample on the left) and green grey (above right) samples being tested do relate to the sofa. If the wall behind was beige or blue or yellow, it would skew the look of these green grey samples. This is why I can't stress enough why isolating the colour you are testing with white paper is essential.
To my eye, the reader's sofa looks too pink to work with an orange beige complex cream. Here's what an orange beige complex cream, very similar to the colour she's testing looks like. It's the wall colour in
my newly decorated living room.
I chose an orange beige complex cream to work with the orange undertone of my sunflower yellow sofa, leopard prints and natural fibre area rug.
The best way to choose the colours you want to test
If you have a copy of the wheel you can place it directly on the sofa and floor tile to compare and see which undertones look closest. Then, reference the categorized by undertone curated neutrals in my system,
listed in my ebooks
, to find the right colours to test.
Even with the digital colour wheel pasted onto her image, you can see that the world of orange beige, where the colour she's testing belongs, is much too warm and yellow for her sofa and floor.
It looks like she needs to shift two undertones over on my colour wheel into a fairly pink taupe greige (a bit pinker than Pale Oak, the taupe greige she mentioned she's considering, though it's worth testing too).
Now can you see how this pink taupe greige digital swatch looks closer to the sofa and the floor tile than the more yellow, orange beige complex cream the reader had tested? How cool is that?
It's important to compare large samples of your paint colour
Remember though, whether you are using digital images, or using your very own copy of
my colour wheel
to compare and narrow down your options, you must ALWAYS ALWAYS follow up with a real-life test with a large painted sample. Compare the large painted sample directly to the sofa and the floor tile, in this case, with white paper behind.
Stopping short of this, you're still only guessing.
And testing incorrectly is a mistake that is likely to cost you a repaint. It's important to make sure that you are comparing the colour directly to what's staying in the room, and NOT the colour you will be painting out.
Learn more about my neutral colour wheel
here.
Get your very own curated by undertone collection of large painted colour boards
here
so you never have to guess again!
PS. My first Virtual Specify Colour with Confidence event happened last Thursday and Friday!
April 23 & 24, 2022 (Weekend dates)
May 19 & 20, 2022
June 9 & 10, 2022
Related posts: