You may be surprised to learn that there are a few other kitchen backsplashes that I adore almost as much as subway tile. So, if you're tired of subway tile, but still want to choose a timeless backsplash, here are eight of my favourite subway tile alternatives!
Can we begin by busting one of the biggest myths about me?
It's absolutely not true that I ONLY approve of subway tile backsplashes.
Yes, I do believe you can almost never go wrong with subway tile for timeless versatility and longevity. However, in an extraordinary range of backsplash situations, it's not the only good option.
I'm always surprised when a reader or client says, "Maria, I know you won't approve, but I really want a blue backsplash."
Well, heck yes, I approve. If you're going to be decorating with blue and it suits your kitchen, absolutely, thumbs up! Go for it.
Here's where I might stop you. I don't want to see a busy backsplash with several colors in a very specific trendy pattern, because:
1. that is going to dramatically limit your decorating choices
2. it's going to look tired and dated much sooner than something more simple
And I want you to love your home (or your kitchen) for a long time – not just the average two-year lifespan of a trendy tile pattern.
My favourite backsplashes that aren't subway tile
So, to finally dispel the myth that I only like subway tile, here's a roundup of my favourite pretty backsplashes that are NOT (gasp) subway tile.
1. White, off white or cream tile backsplash in almost any shape that suits your kitchen
Well, of course, my first choice is still a white backsplash. 😉
Whether the kitchen is white, stained wood, or painted a colour, a white backsplash creates a crisp look that introduces or maintains a fresh look overall – especially when it visually connects to a pale or white countertop. Wood and dark kitchens need the "fresh air" and balance of a white backsplash. And white kitchens look seamless and unified with a matching white backsplash.
I wrote about why I don't recommend a contrasting grey backsplash here. Essentially, the minute you install a backsplash in a neutral colour, your walls want to be that colour to look their best forever. Pretty limiting.
And white is NOT a boring choice. Why? Because it's more boring to have to decorate around a specific taupe backsplash for its lifespan. Instead, think of all the endless decorating and styling options a white backsplash offers.
Remember, it's most useful to think of the backsplash as the backdrop and not the star of the show.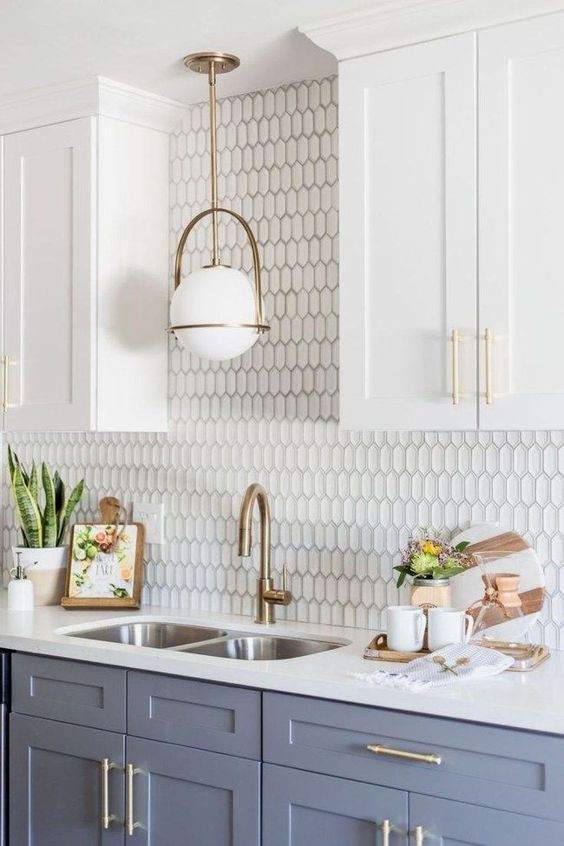 International Decorating Surfaces
White tile gives you that. And choosing a pretty shape you love is a definite bonus.
Hex, penny, basketweave, herringbone, honeycomb, or picket are just a few to consider. Matching white grout makes it a more subtle pattern that you will never tire of. Just know that geometric shapes with lots of sharp angles tend to look more modern overall and can look out of place in a more traditional-looking kitchen.
2. White or cream zellige tile backsplash
As I wrote about here, I'm a fan of the zellige tile trend. You can still opt for mostly white or cream. The imperfect handmade character of these tiles offers the artisanal warmth we are looking for as colour trends also warm up.
They work equally well in more rustic and modern kitchens. The square cut is timeless and they offer subtle tonal shifts and some shimmer. Zellige tile is very versatile if the budget allows it. If not, there are lots of decent porcelain tiles made to have the handmade zellige look.
COLOUR TIP: Always make sure any white or cream tile relates to the other white finishes you're installing.
Jaime Baird via Pure Wow
3. Marble or quartz kick backsplash
The marble or quartz kick is another trend that can look old world and traditional or quite modern, depending on the setting.
Not every kitchen needs backsplash tile installed the full height between the underside of the cabinets and the counter. Depending on the placement of windows, the height of the wall, and other layout elements, sometimes installing a full tile backsplash can look a bit arbitrary or forced. That's where a clean 2.5 inch kick in the same material as your countertop can look clean and unfussy. You can then run a higher slab up behind the range or if you want to accommodate some open shelving in some cases.
A simple kick creates a very elegant pared-back look. Read more about the no backsplash alternative to subway tile here.
Bria Hammel Interiors via Decor Pad
4. Quartz or marble slab backsplash
Another popular and pretty way to keep it simple is to install a slab of the same stone as your countertops onto the wall as a backsplash.
This look is gaining popularity. And if you have a pretty marble you want to show off, it's much more of a feature running up the wall than laying flat on the cabinets only. However, if you're considering this look, pay close attention to pattern placement and how any veining will be placed once installed. Make sure it looks balanced and proportional.
Also, be aware that it's probably an over renovation unless you have a higher-end kitchen with a pretty custom hood fan and cabinetry.
5. Beadboard backsplash painted to match the cabinets
A more accessible and budget-friendly choice for a simple backsplash is beadboard. Painted to match the cabinets, it gives a traditional kitchen a beautifully integrated look. Painted beadboard backsplashes offer practicality as well as a polished simplicity when it looks like its part of the millwork.
6. A solid colour tile backsplash
If you really want colour on your backsplash, choose a tile that offers a solid block of colour rather than a busy pattern. Often a busy pattern dates much more quickly than a solid finish. So, if you're clear you're decorating with blue, green, or yellow, AND you already have a decorating plan in place to pull the colour in, go for it! Install a happy colour on your backsplash especially if you are trying to inject some life into a slightly boring kitchen.
Adding tile in your favourite (solid) colour is always a classic backsplash choice.
7. Wallpaper backsplash
I love this solution if you really want pattern and colour in your kitchen, but you don't want to commit to a trendy tile.
Sometimes kitchens are functional but less than interesting spaces. A good wipeable wallpaper in a charming pattern can really wake up a space without too much commitment. There are gobs of lovely peel and stick papers out there in every imaginable colour and motif. And, that might be just the thing to inject some charm into a rental kitchen, or a kitchen waiting for a bigger makeover. Or, even as the star of a really pretty kitchen design.
8. Pale natural stone or brick backsplash
If you want a more rustic look in your kitchen, there is certainly a place for the warm texture of brick or natural stone.
My preference for a natural stone backsplash is a solid painted brick again, for versatility. Or, if you want stone, choose a very pale green grey or almost white limestone in a smoother cut.
Did you know that travertine is trending again? But I'm not ready to give it my blessings for a travertine backsplash yet. We are all STILL too busy removing the miles of travertine backsplash tile all over the continent to be ready for that yet. And besides, my guideline about grey backsplashes applies equally to pink beige travertine. I don't recommend that you corner yourself unnecessarily into pink beige walls to coordinate with a travertine backsplash.
If you need help with your kitchen finishes, you can purchase my Create a Timeless Kitchen package here. Please note, we cannot help you choose backsplash tile without the full kitchen package, read this post to find out why.
To learn how to choose the right white, you can download my White is Complicated: A Decorators Guide to Choosing the Right White ebook here.
Related posts:
If you are drowning in decisions for your new kitchen read this post
Ask Maria: What's Next After Subway Tile?
My Sisters New Kitchen; Surprise! it's not Subway Tile