Colour and design trends create real emotional connections. They influence our purchases and colour choices before we even realize it. So, if you're feeling a bit "neutral" about neutrals, maybe it's time for some colour.
When I started my colour career in 2002, the world was beige. And the default neutral back in the day was pink beige.
Then 10 years later, when the trends moved to grey, the default neutral moved to taupe.
Now fast forward, in this black and white trend we're in, almost everything is by default, painted stark white. And, if someone decides that white is too much and perhaps another colour should be introduced, 99.9% of the time, that alternate shade is BLACK.
I received a DM on Instagram the other day and this question was so telling:
Maria, should we paint our garage doors white or black?
If someone had asked me that same question in ANY OTHER TREND, my immediate response would have been, "How can I possibly give advice on your garage door without knowing what colour your house is?"
In 2023, I know without asking.
The house is stark white and she's wondering if some other colour (read:black) should be introduced SOMEWHERE on her exterior.
When I posted my '5 ways to ruin your black and white exterior' videos on Instagram and TikTok this past summer, I received countless messages like this one:
"But if not black or white, what colour do you suggest?"
My lovely reader. I am here to let you in on a secret: The world is full of colour.
There is a reason we photograph the streets and cities in Europe over and over and over again. Because they are filled with colour.
Photo by Maria Killam
Are you driving around neighborhoods when you're on vacation taking photos of all the black and white exteriors. The answer is NO –that is, unless you're building a house and head over heels in LOVE with the black and white trend.
We're feeling neutral about neutrals
In all fairness when we choose a neutral and it goes up – whether on the interior or exterior of our home – even it's not exactly how we had envisioned it in our minds. . . it's still a neutral after all. And in the end, we shrug our shoulders and say, "Meh, I'm good. It's not perfect, but it's good enough."
However our reaction to COLOUR is very different.
If we choose an actual colour over a neutral and it's bad once it goes up? Or maybe it's obviously a clash? Or, maybe it could have been more perfect? We're not neutral about it are we?
That's when we run to the paint store to buy more paint.
Here's what I mean. During the renovation of my house this past winter, the ONLY paint colours I tweaked, are the colours I had selected. I never adjusted the neutrals.
I painted the ceiling in my living room blue. I love blue ceilings because they feel like the sky. The living room in my last house was blue but I feel I wimped out on it a little.
After call, it's barely blue (below):
So I went ahead and chose a stronger blue for my new living room.
But then later I decided having the tray portion painted blue was too much. So I had it re-painted the same off-white as my trim.
Now it's perfect.
Then I painted the ceiling in our primary bedroom lavender. But it was a tray ceiling and after I stared up at the ceiling for a couple weeks I figured out why it was bothering me.
It needed to be two shades of lavender instead of one. I kept the tray part the same lavender but went one shade lighter on the flat portion of the ceiling.
Now, it's perfect. Once again.
Why yes this night stand is being held up by a stack of magazines while I wait for new ones to arrive, haha. The movers picked it up and it fell apart.
A new king size bed is also on order.
Then, I chose a fabulous gold colour for my dressing room ceiling. And because I love yellow, I selected a lighter shade for the walls. After the closets were installed and I saw the pieces of wall that were left in yellow I told my painter to repaint it the same off white as my cabinets.
I decided I only wanted yellow on the ceiling and the drapery fabric I've selected. Fabric is on order, not installed yet.
Now it's perfect, yet again.
The point is, if I had simply painted everything the same shade of white, beige or grey, it's unlikely I would have changed anything at all.
Nevertheless, the adjustments were worth it because in the end, seeing those colours in my home fill me with joy everyday.
Because colour is timeless.
How the black and white trend has evolved
So first, when the black and white trend arrived on the scene 5 years ago, I too thought it seemed SO FRESH.
There's a mint green house in my neighbourhood that I'd driven by a million times, and suddenly it was painted white with black trim and I remember thinking, "Wow so much better."
Then a new restaurant in our small town was painted white with new black signage, and again I admired how fresh it looked when compared with every other store surrounding it.
But then the trend caught on like wildfire. 🔥
Homes and buildings that should never have been painted white (or black for that matter) were suddenly everywhere.
Then my eDesign clients kept asking me how the white house they wanted could somehow be different from their neighbours identical white house.
And to add insult to injury, as if it was possible for WHITE or BLACK to get worse, it did. Because in an effort to differentiate our homes from the neighbours house, we installed black or grey brick, and suddenly black accent walls on the EXTERIOR became a thing.
And then? I became jaded about the black and white trend.
So, when the reader at the beginning of this post innocently asked me if they should paint their garage door black or white, here's how I responded:
"Neither. I would avoid black like the plague."
Her response to that?
"Well that's rude."
And she was right. Without the context I've just given you, it did sound rude.
But really all I'm trying to do is save the world from the grey, black and white movie that we are suddenly living in.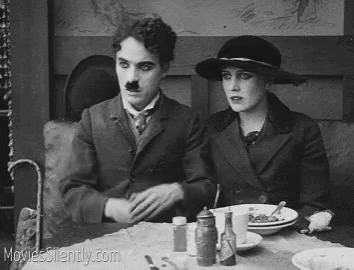 So, what's the answer to her garage door colour? She should leave her garage door white to match the house.
Terreeia and I were in Victoria this weekend and we drove by a mural that was black, grey and white. I'd bet a million dollars that wall mural was painted in the last 3-4 years.
Because since when are murals black, white and grey?
Colour is timeless
In August I received this photo from a follower along with this message:
"Hey Maria, I just wanted to show you a picture of a yellow house you saved! We recently bought this house and I had been dead-set on painting it white.

While I still think it would be pretty white, I 100% agree with you that it would end up just blending in with all the white/black houses going up.

You've helped me embrace the COLOUR! It's so true that you can't tell when a yellow house was painted. Thank you!"
When I posted this yellow house on Instagram another follower said, "Funny enough, my realtor told me yellow houses sell faster. Everyone pulls up, smiles and says I love a yellow house."
So if black or white still seems like the freshest, most exciting choice for you, that's fine – I get it. But if it's not too late, I'd like to suggest that you choose anything other than black or white because I promise you–and I know this from decades of experience–you will fall out of love with too much of any trendy neutral.
It's kind of like during the grey trend, a client asked if I thought it was a good idea to paint her house charcoal. And I replied: Why not brown?
"Brown?" She replied. "Ewwwww."
Here's the thing. 5 years before that she would have asked me for brown. Because that WAS the trendy neutral.
It might seem like you've always loved grey, black or white, but in reality you've been conditioned. You've seen it so much over months and years that you start to think you've always loved it.
The trendy neutral of the moment will come and go but colour is timeless.
If I cannot talk you out of black or white then try using it sparingly. Remember, I'm trying to save you from regret.
Over to you my lovelies. Are you team colour or team black and white?
Learn how to choose colours for your exterior with my masterclass here.
Work with me on your renovation, exterior or new build project here.
Become a True Colour Expert this Spring live with me.
Related posts:
The Black and White Exterior Colour Mistake Everyone is Making
Never Paint this Style of Exterior Black