My Exterior Colour Selection Masterclass has a new module covering all things colour. It's the ultimate guide to choosing exterior paint colours for your home – so you can make your home stand out without being trendy.
Do you ever think about what's next after the black and white modern farmhouse exterior?
Well if you don't that's ok, I'm here to think – obsess – about it for you.
The black and white house trend
I've been doing colour for a loooong time. And I've seen the pattern of trends coming and going. Let me just say, I've never seen an exterior trend take over faster and more completely than any the black and white trend. Ever.
And you all keep sending me pics of what you're seeing around your neighborhoods. 😳 Follow me on Insta to see these daily.
And I predict that if it's true that a trend falls out of favour as soon as we've seen it done too many times (and too often done poorly) then that's also when it suddenly collapses into feeling dated.
Well that's going to happen to the biggest exterior trend of all time at a relatively overwhelming scale.
So what then?
Not long ago, I would have said that a white exterior is perfectly timeless. And technically it is.
But context is everything, and it's the CONTEXT that has shifted. If your house is stark white right now, especially if it has black windows and black accents, it now gets lumped in with the TREND that will very shortly have us looking for the next thing.
Because novelty is a real driver of trends in design. And so is creating a look that expresses who you are.
What makes a home timeless?
I'm constantly honing in on what is timeless. Not to create strict conformity, but instead to create spaces versatile enough to offer just that–a backdrop to decorate with your personal evolving interests (and NOT require a renovation every 5 years).
It's not as easy to distinguish the look of an exterior with the storytelling that is good decorating.
My previous home and white garden
While I guess it's possible that stark white siding with black windows and black linear accents everywhere is an evolution of American culture, much like the relatively uniform stone villages of Europe. I don't see this black/white look as being charming enough to be as CLASSIC as the always elegant and understated Cape Cod, for example.
I predict that very soon, people will be coming to me desperate to update and differentiate their black and white exterior from the rest of the houses in the neighbourhood.
In my eDesign department, we already have constant requests in our All Inclusive Exterior consultations to create a look that is "different" to the white house on the left and the white house on the right.
All black has become the "bold" (not so bold if bold means distinctive 😏) alternative to white. But I don't recommend that.
Dark exteriors date even faster than white ones. Because every trend cycle is defined by a specific neutral. Remember brown? Grey? Well, black is the new brown.
SO. What do I recommend? Of course, I always try to nudge my clients towards COLOUR.
How to choose timeless COLOUR for your exterior
I was thinking, in time, as black begins to look as flat, boring and predictable to everyone as it does to me (and so many others in the design industry) people will probably start painting their black trim a colour.
But I don't think that ever looks right. It just looks like, "I couldn't commit to colour so I just painted the trim."
Instead, consider painting your exterior a colour with crisp white trim. That's what's timeless.
When you're ready to leave black and white in the past, or if you're building and you don't want to just do the same as everyone in your area, I've got you.
I've just added a NEW module to the MasterClass for Exterior Colour Selection. It's full of visual examples of the best non-neutral colour for exteriors, especially for updating the ubiquitous modern farmhouse exterior.
*If you already have this online course, simply login here to view the new module.
Since so many exteriors have fixed elements such as stone or brick to coordinate with, that up until now the Exterior Masterclass has focused largely on getting the neutral undertones right based on my System for Understanding Undertones.
Looking for a silver lining for the black and white trend? If you've managed to avoid unnecessary stone on your exterior, and you have ample trim to paint white, chances are good that your exterior can be a COLOUR rather than a neutral.
Yellow is a classic colour for a charming farmhouse. In the new module I've got tips on how to get yellow, the trickiest of colours, right.
If you're adventurous, almost any colour will work as long as you get it right for the surroundings. I teach you how to do that as well in the new module.
But if peach, or whatever your favourite colour is, feels a bit too eccentric for you, greens are a great bridge to colour.
Earthy greens are trending. And while I personally prefer happier colour, I can absolutely get behind and earthy green exterior. It's a warmer, less predictable alternative to stark black and white.
Clean happy greens, pale muted greens and deep dramatic greens all play well with the landscape and with black and white accents. So they will happily fit into any neighbourhood that is predominantly black and white.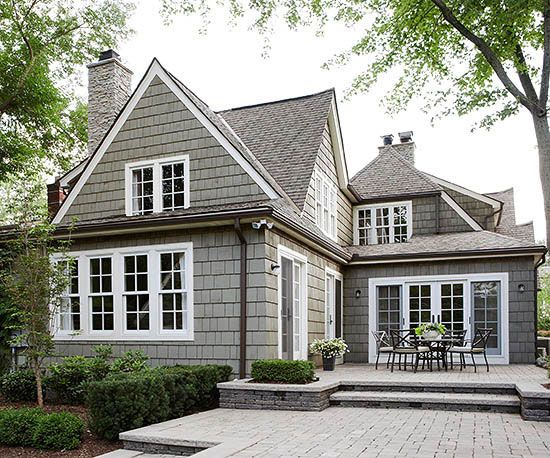 What are timeless neutral paint colours for exteriors?
And if colour is too much for you, this new module has YOU covered too!
I recommended some pale neutral body colour options with white trim and black accents as a less predictable and softer alternative to stark white and black. If you're not ready to take the plunge into colour, a pale neutral is always a timeless choice. I'll show you how to do it RIGHT.
Because, it's my job to stay one step ahead.
And it's my job to keep determining what is timeless to help you from falling into the ditch of constantly renovating to chase the trends.
My prediction is, once you paint your house your favourite colour, you'll never go back to the boring neutral everyone else is defaulting to. Find the best colour and neutral inspiration, along with tips for choosing the right exterior elements in my Exterior Colour Selection Masterclass.
Self-guided online learning with 18 highly-focused video lessons you can watch over and over again from your computer or iPad. Buy now.
So, I want to hear from you now… do you feel stuck when it comes to choosing a colour? Are you renovating or building in a neighborhood filled with black and white?
Related posts:
Take the Burden Off with Customized Exterior eDesign Services
The Black & White Exterior Colour Mistake EVERYONE is Making